We've updated our Privacy Policy.
By continuing to use this site, you are agreeing to the new Privacy Policy.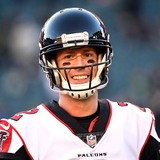 A lot of talk about quarterbacks and contracts this offseason has mostly been focused around impending free agent Kirk Cousins. But, a quarterback who might become the league's next highest-paid player is Atlanta Falcons signal caller Matt Ryan.  #Atlanta Falcons near mega-deal for QB Matt Ryan … and it could be the #NFL's first-ever $30M per year contract | READ MORE – https://t...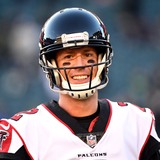 In advance of March 14, the start of free agency in the NFL, Pro Football Rumors will detail each team's three most glaring roster issues. We'll continue this year's series with the Atlanta Falcons, who finished with a 10-6 record before being bounced in the first round of the playoffs. Depth Chart (via Roster Resource) Pending Free Agents: Ricardo Allen, S (RFA) Matt Bryant...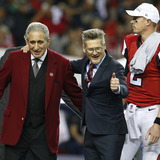 Former NFL MVP Matt Ryan has one year remaining on his contract. It stands to reason that the team will be in negotiations with Ryan on an extension throughout the offseason.But in a quarterback market that continues to be redefined each and every offseason (almost monthly for that matter), it doesn't look like the Falcons themselves are willing to break the bank on an extension...
LIKE WHAT YOU SEE?
GET THE DAILY NEWSLETTER: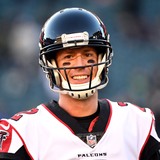 Matt Ryan has spent the entirety of his 10-year career with the Falcons, and has achieved much success with the team. The Falcons nearly won a Super Bowl last season, and Atlanta appears to be a legitimate contender for at least the next few years.Team owner Arthur Blank made it clear on Friday that he wants Ryan to lead the team — for as long as he plays football.Blank sat down...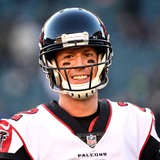 Reigning NFL MVP Matt Ryan did not have a tremendous 2017 campaign. His Atlanta Falcons team fell short in its hopes of repeating as conference champs, losing to the Philadelphia Eagles in last weekend's NFC Divisional Playoffs.As for Ryan, he put up just 20 touchdowns compared to 12 interceptions en route to leading an offense that ranked in the middle of the pack in scoring. This...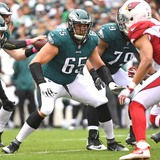 What does it all mean? Following their surprising 15-10 win over the Atlanta Falcons in the NFC Divisional Playoffs, Philadelphia Eagles offensive tackle Lane Johnson took to the field in a dog mask. This was absolutely freaky to see on live television. When NBC cut to Johnson, viewers were thrown for a loop in a big way. And understandably so.Then, it became abundantly clear what...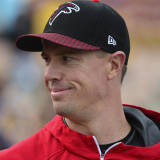 Matt Ryan on Wednesday was back at practice with the Atlanta Falcons after missing Tuesday's session."He's here today and we're back getting out things going and our preparation, so I won't address the topic with you guys, that is Matt's story to tell," Falcons head coach Dan Quinn said, via the Atlanta Journal-Constitution. "I did want to make sure that you knew he was back in action...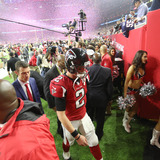 Know what Atlanta Falcons quarterback Matt Ryan is tired of hearing about?The Super Bowl loss.Ryan and the Falcons were obviously going to face endless questions this summer after blowing the lead against the New England Patriots and now staring a Super Bowl hangover right in the face.For Ryan, though, the process of putting the gaffe behind the team started months ago, as captured...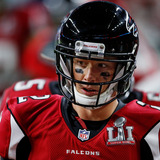 You can't blame a player for getting hung up on a Super Bowl loss, especially if it's the unprecedented 25-point blown lead the Falcons endured back in February. It would be fair to argue that Matt Ryan is one of the least culpable people for that particular defeat. Sure, he wasn't without error in the quarter-plus of the Super Bowl, but his offense was responsible for 21 of the...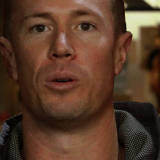 Welcome to The Mulligan, where we examine the athletes, coaches, teams, referees, oddsmakers or anyone else in sports who should get a do-over for a bad beat that might not have been entirely in their control. This week, we look at Atlanta quarterback Matt Ryan's Super Bowl effort and why he deserves a mulligan for that game.Matt Ryan. He's the NFL MVP and the greatest quarterback...
MORE STORIES >>
Falcons News

Delivered to your inbox

You'll also receive Yardbarker's daily Top 10, featuring the best sports stories from around the web. Customize your newsletter to get articles on your favorite sports and teams. And the best part? It's free!