We've updated our Privacy Policy.
By continuing to use this site, you are agreeing to the new Privacy Policy.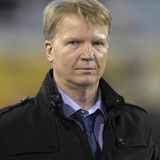 Ahead of Saturday's deadline for NFL teams to trim their rosters down to 53 players, the Bills cut quarterback Matt Simms, who is the son of former NFL player Phil Simms. The younger Simms went undrafted out of Tennessee in 2012 and had spent the previous three seasons with the Jets. While it would figure that having Phil Simms as your father would be a good thing in terms of landing...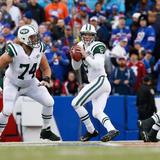 If Matt Simms' goal entering the Buffalo Bills' final preseason game was to make plays that would force people to take notice, he certainly succeeded. Take a look at this gem he uncorked in the third quarter Thursday against the Detroit Lions: Ahhh yes, the old "chuck the ball up and see what happens play." Usually it works better if you attempt it when your body isn't rotating...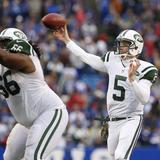 TJ Rosenthal kicks off another week of New York Jets coverage at Turn On The Jets with his weekly No Huddle – Make sure to give TJ a follow on Twitter and Turn On The Jets a follow on Facebook. The Simms Debate Matt Simms is one of two things. The former New York Jets backup to the backup was released last week. He was either: just another guy who deserved a chance to get a look...
LIKE WHAT YOU SEE?
GET THE DAILY NEWSLETTER: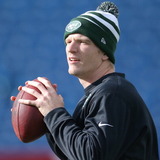 By Vincent Frank Even while he was a member of the disastrous New York Jets quarterback depth chart over the past three seasons, Matt Simms existed in relative obscurity. Over the past two seasons, the former Tennessee quarterback has thrown just 39 regular season passes. Never considered much of a NFL prospect, Simms went undrafted back in 2012. This came on the heels him throwing...
New York Jets quarterbacks coach David Lee was not among those who were charmed, nor amused, when Matt Simms busting out New York Giants wide receiver Victor Cruz's trademark salsa dance after throwing a touchdown pass during the third quarter of Friday's preseason game against Cruz's Giants team. In fact, Lee intimated that he threatened […] The post Jets QB coach: I told Matt Simms...
Matt Simms was playing the New York Giants in a preseason game on Friday night, so he figured that would be the perfect time to do his best impression of Victor Cruz's salsa dance. After throwing a touchdown pass to give the Jets the lead in the fourth quarter, Simms broke out his salsa dance. […]
The New York Jets defeated the Philadelphia Eagles 27-20 in their final preseason game. Matt Simms, son of Giant great Phill Simms, is doing all he can to make the Jets roster. Mark Sanchez and Geno Smith both sat out of Thursday night's game along with most of the other Jets starters. For the rest of the Jet players, Thursday night was a chance to prove to coaches they belong on...
Sometimes in the NFL, you have to be at the right place at the right time. It seems Jets quarterback Matt Simms has positioned himself at just that perfect place at the perfect moment, and in doing so, he'll have a game to show the New York Jets he can help the team. Simms, who would normally play very little for the Jets even in preseason play, will be the beneficiary of three...
MORE STORIES >>
Falcons News

Delivered to your inbox

You'll also receive Yardbarker's daily Top 10, featuring the best sports stories from around the web. Customize your newsletter to get articles on your favorite sports and teams. And the best part? It's free!