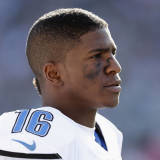 Former Detroit Lions receiver Titus Young — who is currently serving a four-year prison sentence in California — has had a recent parole request denied.Nathan Fenno of the Los Angeles Times cited California's Board or Parole Hearings, who denied the request because of Young's "history of violent criminality.""The board's two-page report on Young issued Jan. 31 noted 'a pattern of...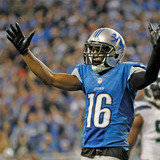 The tragic tale of Titus Young entered another chapter when the former Detroit Lions receiver was sentenced to four years in prison.This sentence, reported by TMZ Sports, stems from a 2016 incident in which the young man left a court-ordered mental health facility and promptly got involved in a vicious street fight with his neighbor."According to court records, Young recently pled...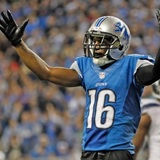 By Jesse Reed Titus Young will not face prison time for felony assault charges stemming from his strange, violent behavior in 2013. Instead, the Los Angeles County Superior Court has given him a chance to change his ways, giving him five years probation, rather than locking him up. According to David Leon Moore of USA TODAY Sports, Young has a one-year stay at Crosby Center, an...
POLICE BLOTTER
via The Oakland Press Titus Young, the troubled former Detroit Lions wide receiver, was arrested twice Sunday within 15 hours by the Moreno Valley Police Department in southern California. According to The Oakland Press (Rochester, MI) Young was stopped at 12:01 a.m. on Sunday after making an illegal left turn in front of a patrol car.  Young was stopped and arrested for suspicion...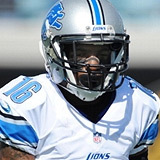 ANTISOCIAL MEDIA
Lions wide receiver Titus Young is lucky to still have a job.  But judging by two tweets from early Tuesday afternoon, he either doesn't realize that or he wants to be unemployed. Remember back nearly two months ago when he was accused of purposely sabotaging the Lions offense by lining up incorrectly?  It's befuddling how the Lions didn't cut him after that. Well, Titus finally...
DRAMA IN DETROIT
Second-year Lions wide receiver Titus Young is back on the practice field after being kicked out of practice ten days ago and being made inactive for the Thanksgiving Day game against Houston.  And now we have learned why Young got into a bickering match with Lions' receivers coach Shawn Jefferson on the sidelines during the Green Bay game two weeks ago. Per Dave Birkett of the Detroit...
Titus Young returned to practice on Wednesday for the first time since he was sent home for selfish behavior and later deactivated for the Detroit Lions' Thanksgiving Day game against the Houston Texans. Disciplinary action is nothing new for Young, but the latest childish act he reportedly pulled takes his immaturity to an entirely new level. According to Dave Birkett of the Detroit...
MORE STORIES >>
Lions News

Delivered to your inbox

You'll also receive Yardbarker's daily Top 10, featuring the best sports stories from around the web. Customize your newsletter to get articles on your favorite sports and teams. And the best part? It's free!