We've updated our Privacy Policy.
By continuing to use this site, you are agreeing to the new Privacy Policy.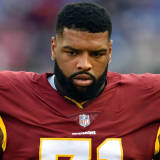 The Redskins have formally placed tackle Trent Williams on injured reserve. Williams recently told reporters that he was due to undergo knee surgery, so he'll now get a head start on the operation and recovery.  Last year, Williams gutted it out to play 10 games on his injured knee. Finally, the injury has caught up with him. The 6-8 Redskins aren't playing for much in these final...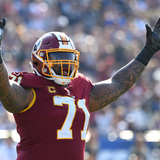 Trent Williams has previously been suspended for a positive marijuana test in his career. Speaking to Master Tesfatsion of The Washington Post, the Washington Redskins left tackle opened up on why he smoked pot to begin with."A lot of times, it's just for that simple reason in itself," Williams said, per Tesfatsion. "Getting a concussion, dealing with headaches, whatever. Not saying...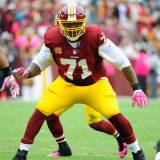 Washington Redskins offensive tackle Trent Williams has been suspended four games by the NFL for violating the Policy and Program for Substances of Abuse, ESPN's Adam Schefter reported Tuesday evening. This is a tremendous blow to a Washington squad that is reeling after a bad loss to the Detroit Lions in Week 7 and a tie against the Cincinnati Bengals last weekend in London. Now...
LIKE WHAT YOU SEE?
GET THE DAILY NEWSLETTER: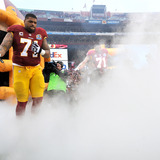 By Larry Brown Trent Williams is getting paid. The former Oklahoma Sooner agreed to a five-year, $66 million contract extension with the Washington Redskins. Williams is getting $43.25 million guaranteed, including $32 million at signing, according to NFL Media's Ian Rapoport. #Redskins made LT Trent Williams the highest paid T in history. $13.2M avg. $43.25M in guarantees....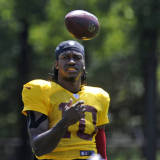 By Steve DelVecchio Robert Griffin III took one heck of a beating in a preseason win over the Detroit Lions last week, and a lot of that had to do with poor offensive line play. However, many of the hits were the result of Griffin not calling the right protections or being indecisive on his feet. During his press conference on Thursday, RG3 indicated that the entire Washington...
The Washington Redskins will look to snap a two game losing streak  this week against the San Francisco 49ers Sunday at Levi's Stadium. The Redskins still have a bitter taste of last week's embarrassment against Tampa Bay in their mouths. After last weeks performance, fans are starting to give up on Robert Griffin. Griffin threw two first quarter interceptions, one of which was returned...
Washington Redskins fans were looking forward to playing the Tampa Bay Buccaneers because this seemed like the ideal match up for the Redskins to turn around their season. The 1-8 Buccaneers offense was ranked 29th in the NFL and has given the ball away 19 times (third-most in the league). Bucs quarterback had only four touchdown passes this season, and the Bucs started a replacement...
The Washington Redskins looked to continue their winning streak by beating the Minnesota Vikings. The Skins came into Sunday s game against the Vikings fired up after their win against the Cowboys last week. Instead of using the momentum from their past two victories and building on it, the Redskins had yet another letdown. Fans expected Robert Griffin to come back and lead his team...
The offensive line of the Redskins was a disaster this year.  Even though Trent Williams is the only member of the line that should not be cut as a starter, he did not have his best year.   Several mental errors plagued him this year.  The Shanahan's always have certain players they throw in the doghouse, and this last year one of them was certainly Fred Davis.  Fred is Trent...
Washington Redskins left tackle Trent Williams will be making another trip to Hawaii to play in the 2014 Pro Bowl on January 26, 2014. Trent Williams was the only Redskins player to be named to the squad and will be attending his second straight Pro Bowl, although last year he didn't actually play in the [...]
MORE STORIES >>
Redskins News

Delivered to your inbox

You'll also receive Yardbarker's daily Top 10, featuring the best sports stories from around the web. Customize your newsletter to get articles on your favorite sports and teams. And the best part? It's free!