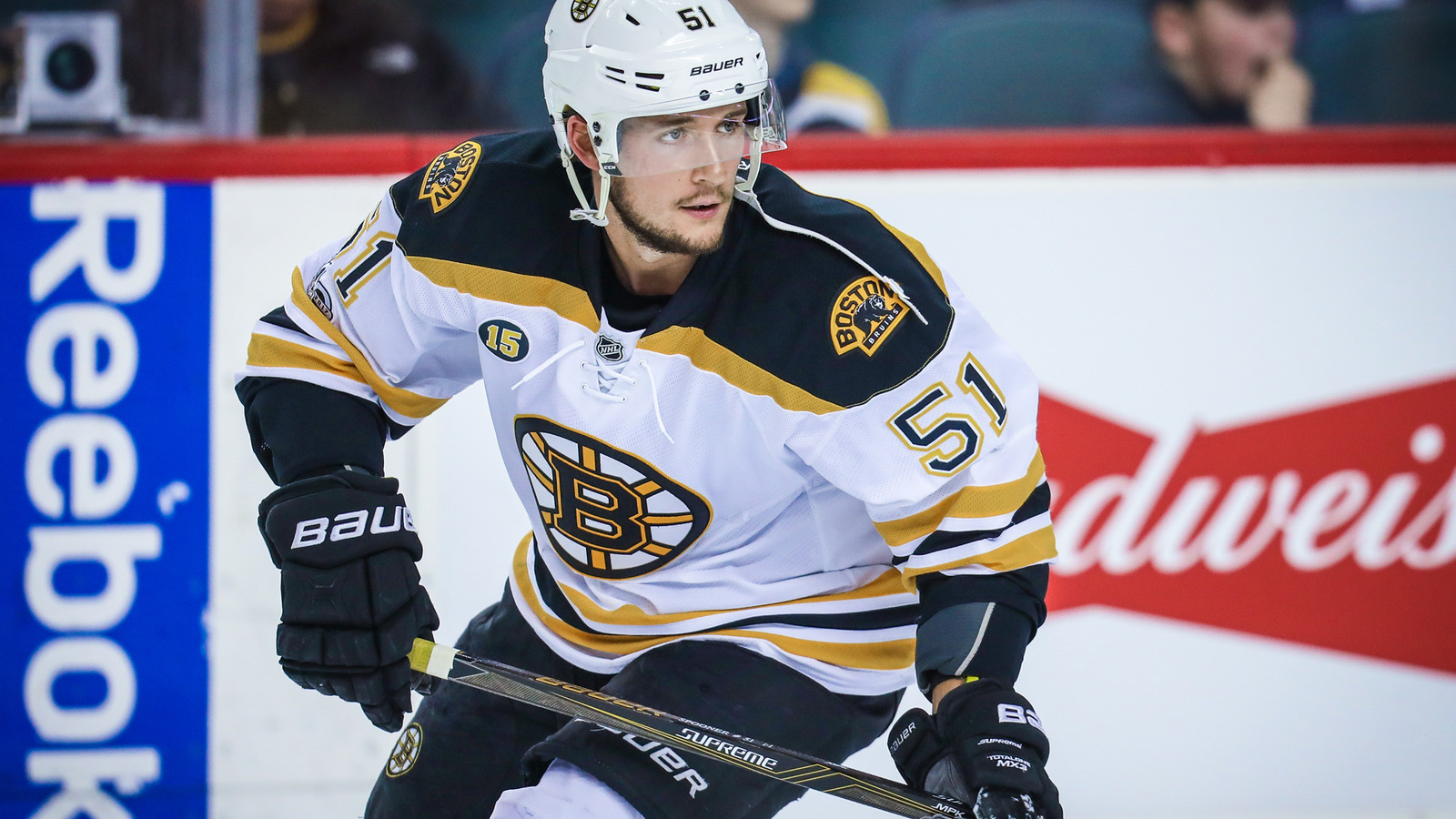 The Boston Bruins re-signed center Ryan Spooner.
Sergei Belski/USA TODAY Sports
Offseason in the NHL means re-signing players, trades, new deals, players moving around between the U.S. and Canada to play for one of the 31 teams in the league, and for some unfortunate few, arbitration. The Boston Bruins have been fortunate to avoid arbitration since their hearing with forward Blake Wheeler after the 2010 season, which resulted in a one-year, $2.2 million deal. But that seven-year avoidance was set to end on July 26, 2017, because on July 6, 25-year-old forward Ryan Spooner, who just finished his third season with the Bruins, filed for arbitration ahead of the deadline.
In a tweet from CSSNE sportswriter Joe Haggerty on July 24, the arbitration numbers from both the Bruins and Spooner's camp were confirmed: The Bruins had submitted a $2 million offer, and Spooner's camp submitted a $3.85 million figure for a one-year contract, an almost $2 million gap, showing the level of confidence the Bruins have in Spooner versus the confidence Spooner has in himself. Let's take a look at Spooner's numbers over the past few seasons to get an idea of what's going on:
2015: Spooner signed a two-year, $1.9 million contract
2015-2016 season: 13 goals, 36 assists, 49 points
2016-2017 season: 11 goals, 28 assists, 39 points
To many Bruins fans, Spooner's asking price was not proportional to his production during the 2016-17 season, having taken a 10-point regression, and when the Bruins and Spooner agreed to a one-year, $2.825 million deal on Wednesday morning ahead of the hearing, many people began to ask why he got an almost $1 million increase. Was he worth the cap space if this downward trend continued into next season? Fans and analysts would say no, he's not, but according to DJ Bean from CSSNE.com, settling outside of arbitration was in the better interest of the Bruins organization because it "locks in the player at an affordable number while avoiding a potentially messy process." 
The Bruins, while not often among those in arbitration, are no stranger to how the hearings go and who is most likely to win, and Spooner would have had the upper hand in arbitration.
Unfortunately, the arbitrators do not necessarily know how well the player has performed throughout his career and do not see comments from coaches; they have a sheet of paper containing performance statistics and numbers that they judge the case on, and according to CBS Boston's Felger and Mazz, "He's [Spooner] a classic case of a player that looks a certain way on paper, versus the way he looks to your eyeballs," and Spooner is very appealing on paper. 
According to that sheet of paper, during the 2016-2017 season, Spooner scored at a rate of 2.18 points per 60 minutes of all situational play, higher than David Krejci and Patrice Bergeron, and he was second in power play assists, just behind Torey Krug. He is also very low in penalty minutes, which Spooner's agent could spin to mean he's a very disciplined player because he stays out of the penalty box. But, as any hockey fan knows, and as Felger pointed out, it is very hard for him to take a penalty when he's "light on the puck, light on the corners, doesn't challenge corners, doesn't play defense. I feel like he's almost always a non-factor at both ends of the ice… but that's about it."
As for the Bruins organization's opinion about Spooner, it is easy to see that he is not showing the dependability he should be after playing three pro seasons in terms of defense and production. Former head coach Claude Julien was not shy about his opinion of Spooner and his lack of a defensive component to his game, and current head coach Bruce Cassidy has also been very candid, stating on Toucher and Rich that "For me, I didn't like his offensive game at the end. He wasn't playing to his strengths…We can work with him on his weaknesses. We're there to coach up the defensive part of it, but he wasn't attacking and that was disconcerting to me, that he's a guy that should be creating offense in the series [against Ottawa] where offense was hard to find and we weren't getting enough of it, so we made the switch." 
The switch being Spooner was pulled from the lineup in favor of Sean Kuraly, after having "been a ghost for the first four games of the series against the Senators," according to Boston Globe's Fluto Shinzawa.
Bruins general manager Don Sweeney's comments after the deal was confirmed on Wednesday can be viewed as an optimistic outlook on Spooner's coming season, or it can be taken as a warning that if he doesn't "continue to take the necessary steps with his development to be an even more complete, two-way player" like they expect, then he will be on the trading block. Spooner himself is optimistic, stating "I'm excited for the season. I think the biggest stride I can take is to show that I can be trusted and bring some more grit to my game. I think if I do that it's going to help me out as a player and help the team." Well, for Spooner's sake and the sake of the Bruins' upcoming season, let's hope he can build that trust and prove he was worth the money and aggravation.
MORE FROM YARDBARKER
Bruins News

Delivered to your inbox

You'll also receive Yardbarker's daily Top 10, featuring the best sports stories from around the web. Customize your newsletter to get articles on your favorite sports and teams. And the best part? It's free!