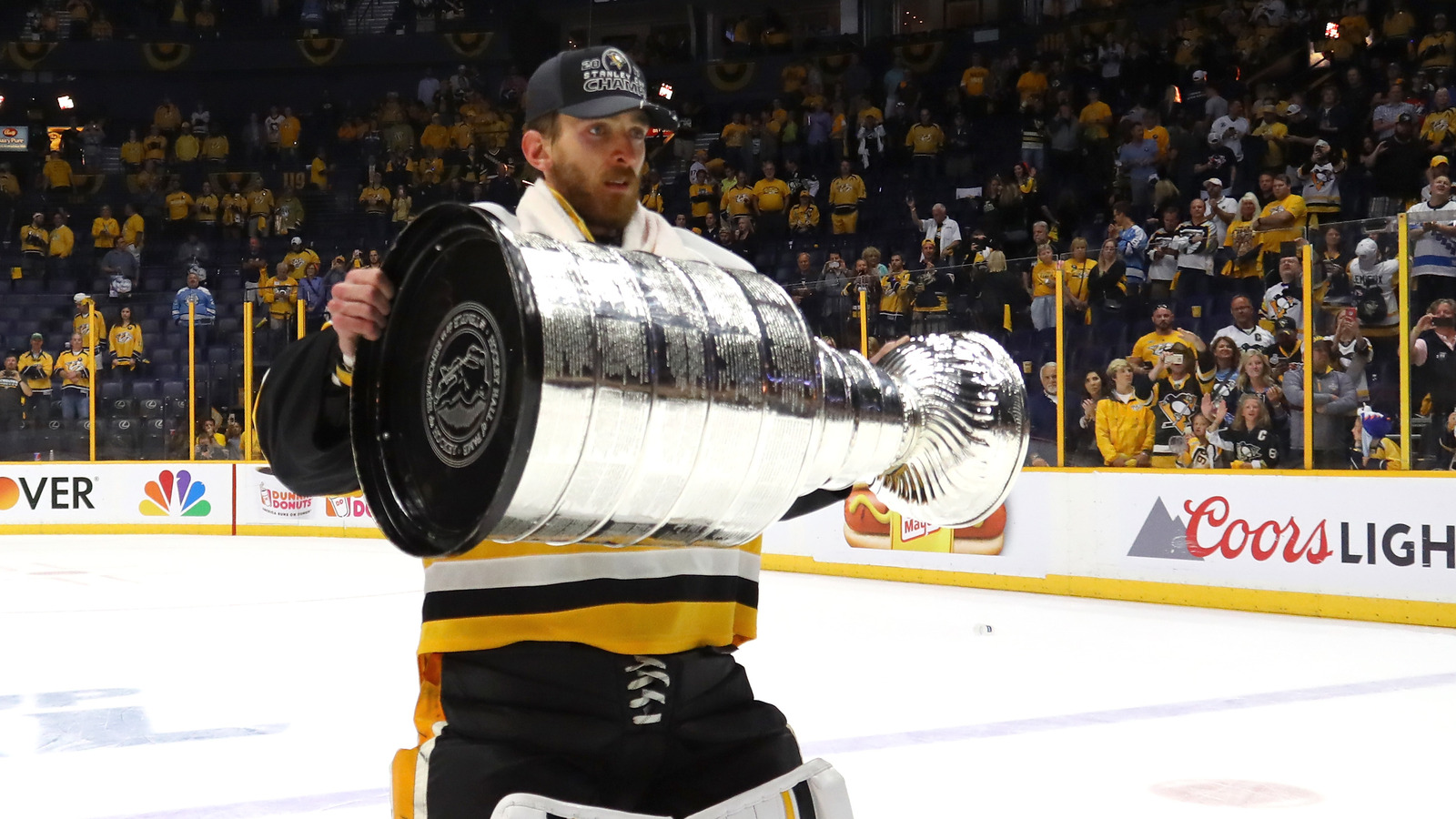 Matt Murray #30 of the Pittsburgh Penguins celebrates with the Stanley Cup Trophy after defeating the Nashville Predators 2-0 to win the 2017 NHL Stanley Cup Final.
Bruce Bennett/Getty Images
Pittsburgh Penguins goaltender Matt Murray already has two Stanley Cup championships under his belt as a starter, and he just recently turned 23. His longtime girlfriend is understandably thrilled, but that doesn't mean she is immune to funky playoff beard sweat.
During the postgame celebration after Pittsburgh's win over the Nashville Predators Sunday night, Murray's girlfriend Christina Sirignano came onto the ice to delivery a victory kiss. Her reaction immediately after went viral.
A decent lipreader might tell you Sirignano said "he's so wet," and it turns out that's what the issue was. After seeing the clip, Sirignano took to Instagram and joked about how sweaty Murray's beard was.
"PSA: he tasted fine but his beard was so sweaty it was like I was kissing Beckham," she wrote.
Murray and Sirignano have been dating for years (you can see more photos of her here), so this probably isn't the first time she was grossed out by his sweaty beard. And if Sirignano could do it all over again next year, we're sure she would.
We know a certain someone is getting a lot of the credit for the Penguins winning another Cup, but Murray is technically still a rookie and has two titles of his own. The goalie's career couldn't be off to a better start.
MORE FROM YARDBARKER
Penguins News

Delivered to your inbox

You'll also receive Yardbarker's daily Top 10, featuring the best sports stories from around the web. Customize your newsletter to get articles on your favorite sports and teams. And the best part? It's free!