Separating MLS playoff contenders from pretenders
We are just about a month away from this year's edition of the biggest crap shoot in all of sports: the MLS Cup playoffs. A long, 34-game season will come down to 12 of MLS's best teams having to play five or six of their best games in order to raise the trophy in December.

There have been some teams that have lived up to expectations and are solid favorites to make their way through the playoff minefield, while there are a couple of surprises you should keep your eyes on — in addition to teams that are not quite out of the playoff race just yet and still have a shot at making it.

So it's time to take a look at how things are shaking out for the teams that are still alive. Let's see who are legit contenders, shake out the pretenders and get an idea of what to expect as these teams start getting to the business end of this long campaign.

Eastern Conference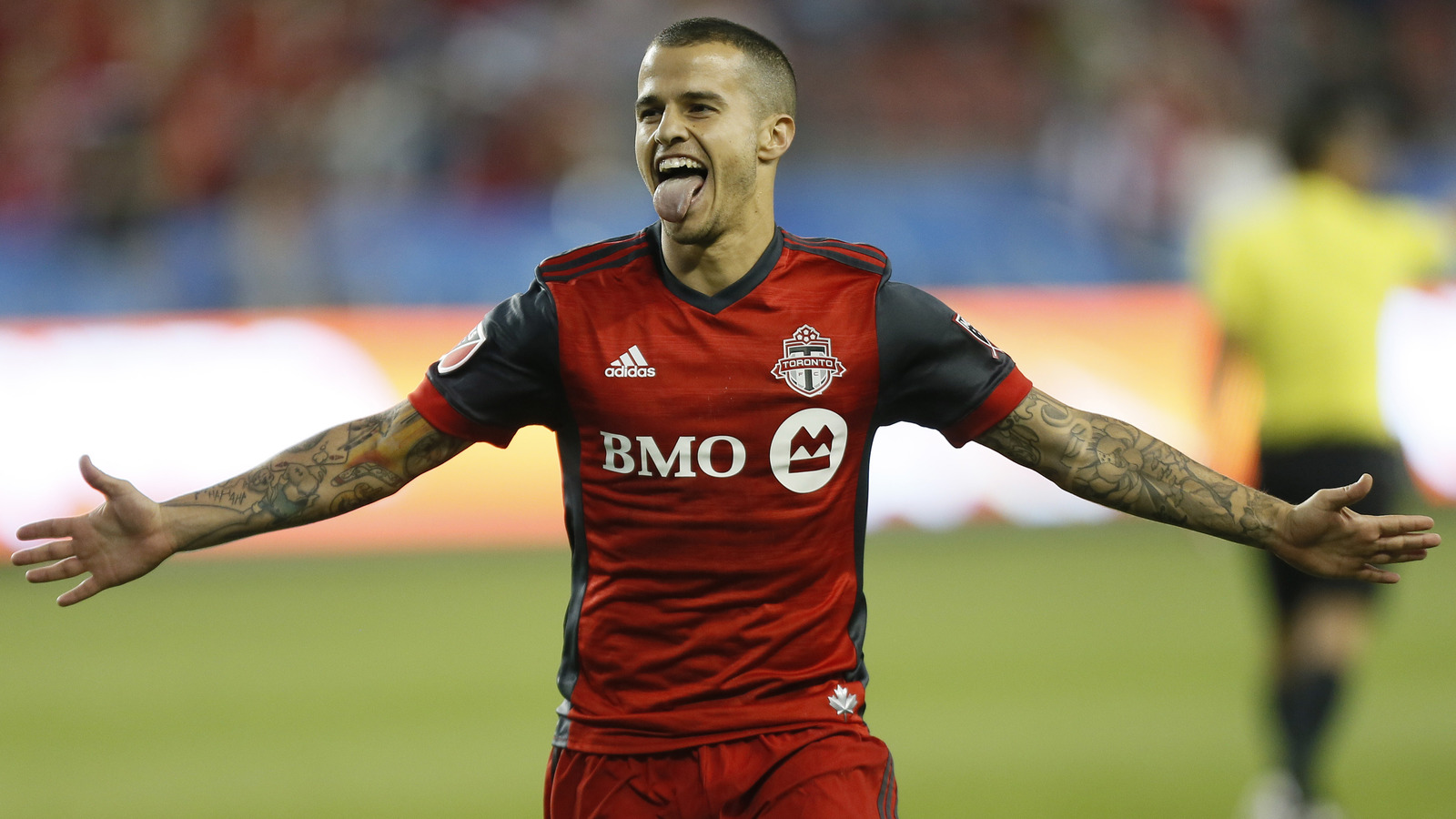 Sebastian Giovinco and Toronto FC are the team to beat in the Eastern Conference.
John E. Sokolowski-USA TODAY Sports
Going into this season, the defending Eastern Conference champions Toronto FC were the undisputed favorites to repeat. After all, they managed to keep their squad from 2016 intact in a league where change is almost inevitable. The fearsome trio of Sebastian Giovinco, Jozy Altidore and Michael Bradley have lived up to all expectations, and each has made huge contributions to what should be a Supporters' Shield-winning season for the Reds. Last year's MLS Cup winners had to go through Toronto to win the trophy, and it's very likely the road to the Cup will once again go through the Six.
As a whole, the Eastern Conference playoff field appears to be set; it's only a matter of deciding order. Said order could wind up being extremely important this season, as the trend of teams playing very well at home but badly on the road is ever-present in the East. For instance, a team like Atlanta United — powered by the lethal connection of Miguel Almiron and Josef Martinez — could thump the New England Revolution by seven goals at home but manage to lose twice at D.C. United.
Wildly different form like that, depending on the venue, could be the difference between Atlanta possibly making a deep run in the playoffs and having their Cup chase end after just one game in the Wild Card round. The same could be said of Columbus Crew and Chicago Fire. The Crew have Kekuta Manneh and Federico Higuain firing them to success, and Nemanja Nikolic recently tied the Fire's single-season goal-scoring record with 18 this year. However, these are still two teams that are great at home but could easily flop on the road.
Moving along, the two New York teams will be extremely tough outs. NYC FC has been impressive this season, buoyed by another Golden Boot-caliber season from David Villa, and the New York Red Bulls have a wealth of playoff experience that comes from the likes of Bradley Wright-Phillips and Sacha Kljestan, among others. You have to figure with the way this tournament works, they'll have to have a breakthrough eventually.
Meanwhile, there are a handful of teams that are currently below the red line that still have a shot, but things aren't looking good. The New England Revolution can't buy a win away from Foxborough (which is basically what cost Jay Heaps his job), a severe midseason slide from Orlando City has probably doomed them after it took too much time for the Cyle Larin-Dom Dwyer partnership to get going, and the Montreal Impact will have to go on a tear and hope other teams fall by the wayside if they're going to sneak in. It's not looking good for teams below that red line, while the teams above it are feeling pretty comfortable at the moment.
Western Conference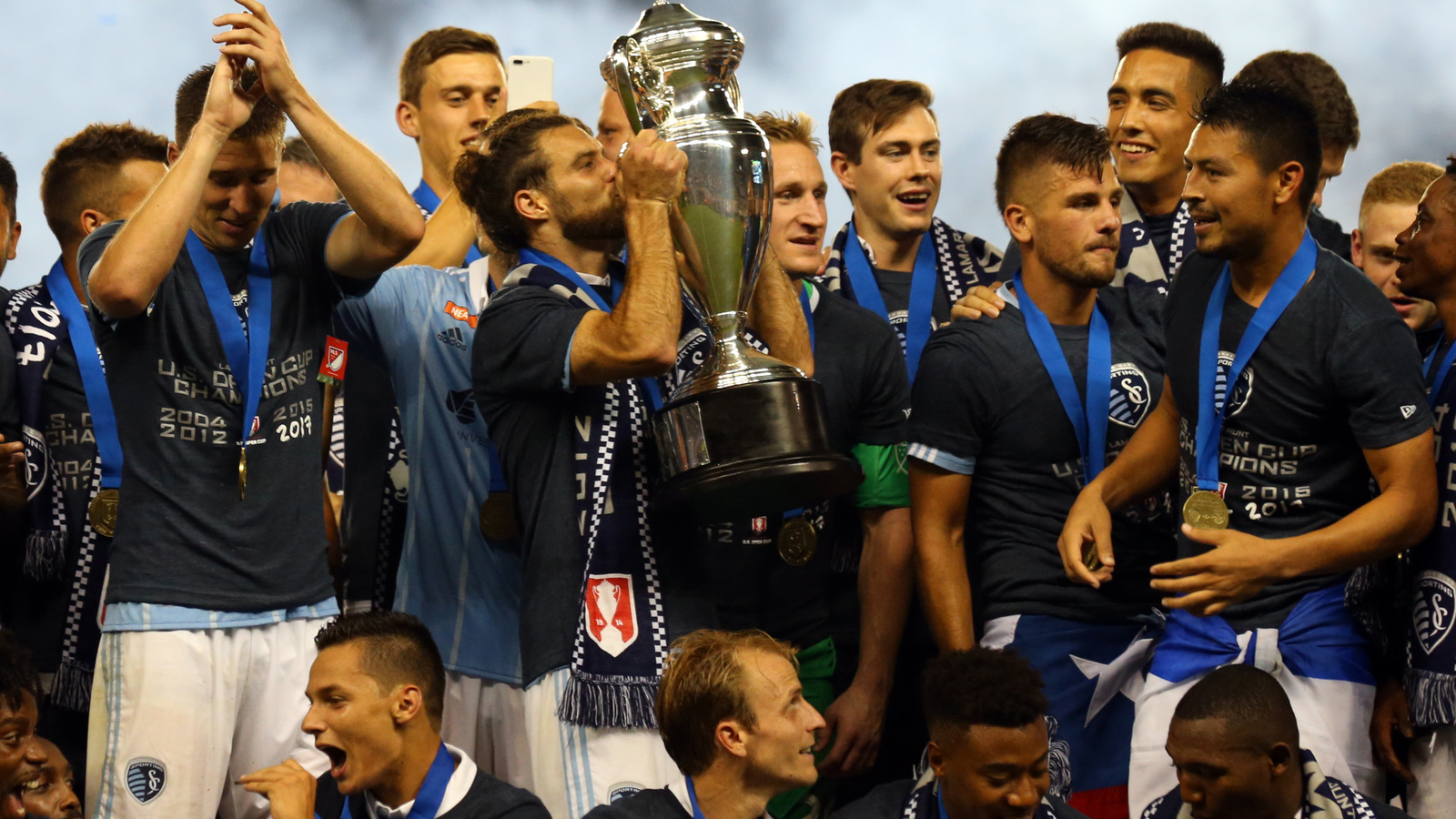 Sporting Kansas City hopes the U.S. Open Cup title propels them to the MLS Cup.
Jay Biggerstaff-USA TODAY Sports
While there's a clear favorite in the East, the Western Conference doesn't really have a team that's head and shoulders above the rest. Sporting Kansas City has probably been the most consistent of the bunch, as they've stayed at or near the top of the standings for most of the season. Erik Palmer-Brown and Matt Besler have been extremely solid this year, and their form has also extended into the U.S. Open Cup, where they lifted that trophy for the third time since 2012. They're another one of those teams that's a beast in front of their home crowd but shaky on the road, but if they can at least get a home playoff game (either in the Wild Card or just by finishing top two in the conference), there's no reason to believe that they'll fail to make a run.

Then we have the Vancouver Whitecaps, who have made their way to the top of the Western Conference standings despite underlying stats that don't seem to indicate this could be sustained. The Whitecaps are a virtual lock to make the playoffs, but some people believe they may just be taking advantage of a conference that's on a down note this year. Still, you have to give credit to manager Carl Robinson for making sure that his club was the one that made the best of the current situation.

Aside from the two aforementioned teams plus the defending MLS Cup champion Seattle Sounders and Portland Timbers (who are riding an MLS-record eight-game scoring streak and an MVP-caliber season from Diego Valeri), there figures to be a major fight for the final two playoff spots in the West between four teams. Real Salt Lake have recovered from an atrocious start and are in the conversation, and while they may not make it, a lot of credit has to be given to Mike Petke for turning what could've been a disastrous campaign into something to build upon in the future. The Houston Dynamo have proved themselves to be the epitome of the Jekyll/Hyde teams that I've been talking about so far. They're 9-1-3 in Houston but 1-9-5 away from BBVA Compass Stadium.

Meanwhile, their Texas rivals at FC Dallas have failed to live up to their lofty expectations, but if Maxi Urruti, Michael Barrios and the rest of Oscar Pareja's men can take care of business down the stretch, they could have a shot at making it back in the playoffs. On the other hand, the San Jose Earthquakes could end up being one of the most likely teams to drop below the red line when it's all said and done. Their current goal differential of -16 suggests that they should be in the company of teams like the Galaxy and Rapids, who also have -16 goal differentials.
Predictions
So how will this all shake out once the playoffs start? Here's what I expect to play out:
East:
Toronto FC
New York City
Atlanta United
Chicago Fire
Columbus Crew
New York Red Bulls
West:
Sporting Kansas City
Vancouver Whitecaps
Portland Timbers
Seattle Sounders
FC Dallas
Houston Dynamo
MORE FROM YARDBARKER
Soccer News

Delivered to your inbox

You'll also receive Yardbarker's daily Top 10, featuring the best sports stories from around the web. Customize your newsletter to get articles on your favorite sports and teams. And the best part? It's free!