Two-time Grand Slam champion Victoria Azarenka says the ongoing custody battle over her son was been 'Hollywood-worthy'.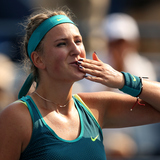 By Steve DelVecchio Victoria Azarenka blasted the chair umpire during her relatively easy first-round victory over Lucie Hradecka at the U.S. Open on Tuesday. Azarenka, who won in straight sets, was so upset over a line call at one point that she decided to walk over to the chair umpire and insult her knowledge of the sport. "Have you ever played tennis?" the former world No...
Oh no! Victoria Azarenka announced today that she will miss Roland Garros due to a persistent foot injury. "Unfortunately I will not be able to compete in Roland Garros this year. Working hard on my recovery & getting back on the court," she said on Twitter and Facebook. Vika hasn't played since Indian Wells, and while we are excited about Roland Garros which starts this Sunday...
Victoria Azarenka defeated Sloane Stephens in straight sets in the fourth round of the Australian Open on Monday to advance to the quarterfinals of the tournament. Though her easy win was quite impressive, it's not what we want to focus on. After her match, Vika did an interview with 7 Sports that was televised on […]
Redfoo's debut solo album is coming soon. For those of you who can't wait another second, you at least have this video of the single "Let's Get Ridiculous" to tide you over. We present it for you here because look who it is making a cameo! Victoria Azarenka, girlfriend of Redfoo and pretty good tennis player. Of all the possible cameos in this tour-de-force of a music video, she...
I'm sure there are some of you out there that have had fantasies of Victoria Azarenka as your personal sexy flight attendant, and you can thank her boyfriend RedFoo for bringing your fantasy to life!  In his new video (short film?) for his song "Let's Get Ridiculous" Vika makes a cameo in a tight leopard print dress (because that is what ALL the trendy flight attendants wear these...
Victoria Azarenka struts her stuff in a cameo appearance in boyfriend Redfoo's latest music video, which was released on Saturday. The video is for a song called "Let's Get Ridiculous," and it actually plays out more like a short movie than a music video. Redfoo acts as an outlaw throughout the video and is pursued […]
MORE STORIES >>
Tennis News

Delivered to your inbox

You'll also receive Yardbarker's daily Top 10, featuring the best sports stories from around the web. Customize your newsletter to get articles on your favorite sports and teams. And the best part? It's free!