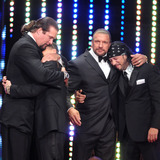 X-Pac took to Twitter on Monday to assure his fans that he has not suffered a drug relapse, but that may not help keep the WWE legend out of jail.X-Pac, whose real name is Sean Waltman, was arrested over the weekend for trying to bring methamphetamine and marijuana through customs at Los Angeles International Airport before his flight to the United Kingdom. The 44-year-old has been...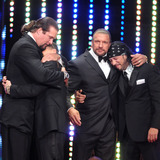 WWE legend X-Pac, whose real name is Sean Waltman, has found himself in some serious trouble with the law after he was arrested at Los Angeles International Airport over the weekend.Law enforcement sources told TMZ that Waltman was flying out to a wrestling event in the United Kingdom when he tried to bring marijuana and meth through customs. The 44-year-old was arrested, and police...
Coming off the heels of Stone Cold Steve Austin podcast asked Paul "Triple H" Levesque if Chyna should be inducted into the WWE Hall of Fame. His response was most definitely, but that it is a double edged sword. Mainly what he was pointing to was what she did in her personal life during her wrestling career and after. She had made a sex tape with fellow wrestler Sean Waltman aka...
MORE STORIES >>
WWE News

Delivered to your inbox

You'll also receive Yardbarker's daily Top 10, featuring the best sports stories from around the web. Customize your newsletter to get articles on your favorite sports and teams. And the best part? It's free!