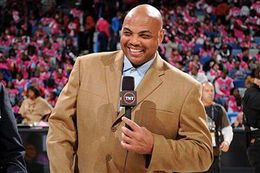 Charles Barkley has spent the past two days giving his opinion on everything from issues plaguing society, to certain NBA topics. On Friday Barkley cause serious waves when he appeared on the CNBC program Closing Bell, and said that he agreed with the verdict in the George Zimmerman trial.  Barkley later joined ESPN for an interview, and discussed some of the moves made in the NBA so far this off-season. He defended Dwight Howard's defection to Houston, he stated that  the Eastern Conference will be competitive and fun to watch. And then he turned his attention to the Los Angeles Lakers. While Barkley does think Kobe Bryant will return to form after his Achilles injury, he has no faith in the  Lakers,  saying that the  Lakers "stink." "IT DON'T EVEN MATTER. IT DON'T EVEN MATTER," Barkley said when talk about Bryant returning earlier than expected came up. "I love Kobe Bryant. He's going to come back and probably play pretty good, but the Lakers are gonna stink, bro. The Lakers stink. "The Lakers … they're finished for next year." Can't fault Charles for being honest. H/T Larry Brown Sports

Read the rest of this story...
MORE FROM YARDBARKER
All Sports News

Delivered to your inbox

You'll also receive Yardbarker's daily Top 10, featuring the best sports stories from around the web. Customize your newsletter to get articles on your favorite sports and teams. And the best part? It's free!