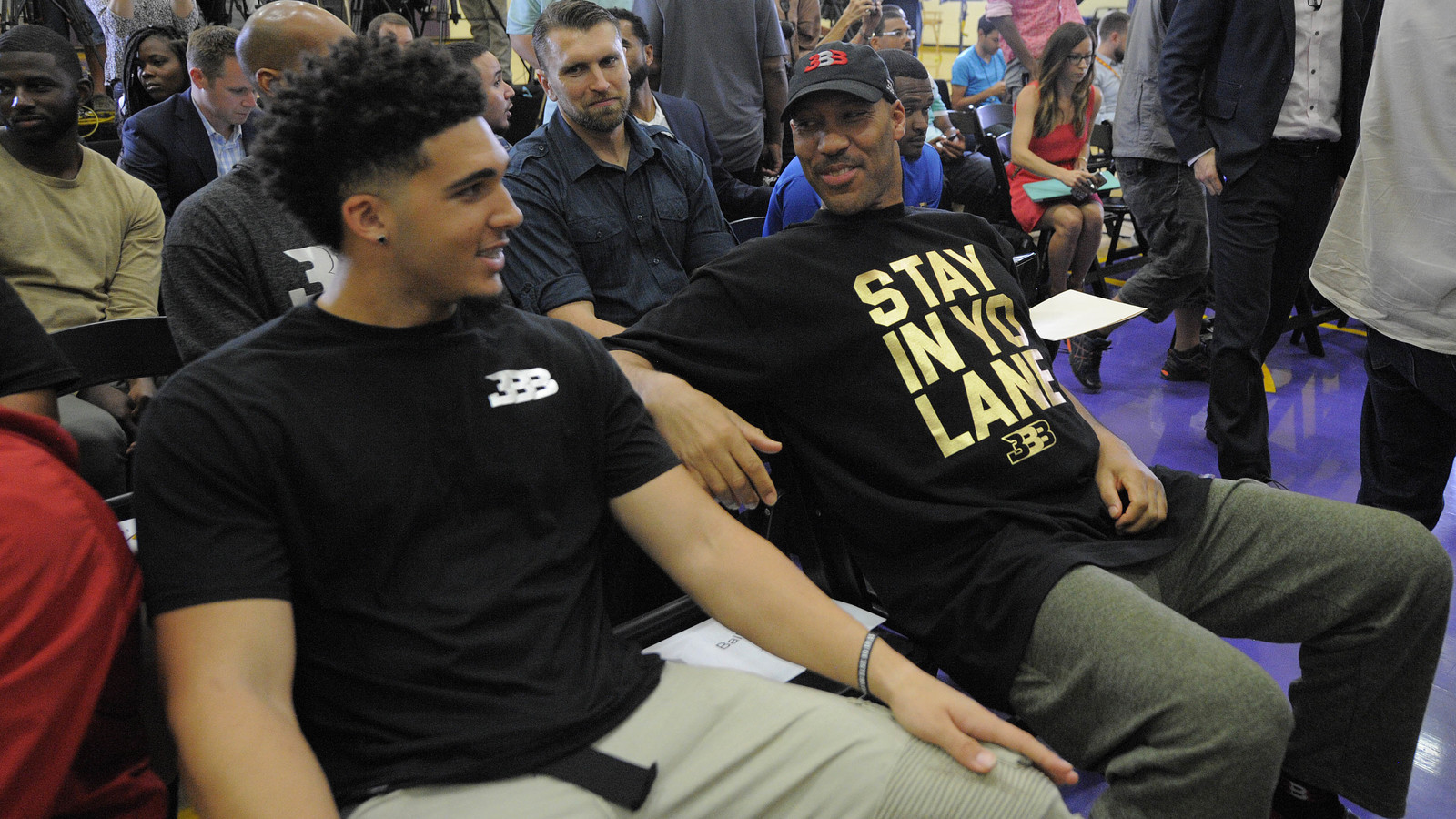 June 23, 2017; Los Angeles, CA, USA; LaVar Ball father of newly drafted Los Angeles Lakers player speaks with his son LiAngelo Ball at Toyota Sports Center.
Gary A. Vasquez-USA TODAY Sports
Despite the potentially serious nature of the crime, LaVar Ball downplayed the arrest of his son, LiAngelo Ball, and two other UCLA players, Cody Riley and Jalen Hill, after they were detained on suspicion of shoplifting in China — a crime that could have carried a rather extensive prison sentence.
On Friday, Ball continued his dismissive nature, implying that President Donald Trump had little to do with the three returning home to the United States after their charges were ultimately dropped.
"Who?" Ball told ESPN. "What was he over there for? Don't tell me nothing. Everybody wants to make it seem like he helped me out."
While on a diplomatic trip to Asia, Trump claims to have raised their case with President Xi Jinping of China, ultimately leading to their expedited release and return to the U.S. on Tuesday.
Do you think the three UCLA Basketball Players will say thank you President Trump? They were headed for 10 years in jail!

— Donald J. Trump (@realDonaldTrump) November 15, 2017
Upon their return home, the three UCLA players did, in fact, thank President Trump for his involvement.
"I would like to thank President Trump and the United States government for the help that they've provided as well," LiAngelo Ball said in a press conference on Wednesday.
Riley and Hill offered similar thanks, but no appreciation had been extended to Xi, which prompted another Trump tweet.
To the three UCLA basketball players I say: You're welcome, go out and give a big Thank You to President Xi Jinping of China who made…..

— Donald J. Trump (@realDonaldTrump) November 16, 2017
….your release possible and, HAVE A GREAT LIFE! Be careful, there are many pitfalls on the long and winding road of life!

— Donald J. Trump (@realDonaldTrump) November 16, 2017
Given what we know of both Trump and LaVar Ball, it's unlikely this public exchange has reached its conclusion.
MORE FROM YARDBARKER
Bruins News

Delivered to your inbox

You'll also receive Yardbarker's daily Top 10, featuring the best sports stories from around the web. Customize your newsletter to get articles on your favorite sports and teams. And the best part? It's free!