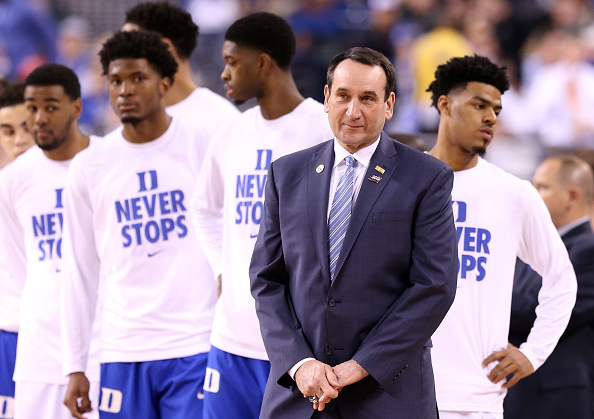 There are several reasons Duke should win the national championship.
Streeter Lecka/Getty Images
By Eddie Maisonet
In the first game of the Final Four on Saturday night, Duke thrashed Michigan State in a 81-61 victory. With the 20-point win, Coach Mike Krzyzewski and his Blue Devils reminded the world why they are one of the best teams in the country. Duke will face the Wisconsin Badgers, who defeated the undefeated Kentucky Wildcats 71-64 in the other national semifinal, on Monday night in Indianapolis.
Honestly, I've always had my doubts about this Duke team. The Blue Devils play four freshman and only go eight deep, as their three most dynamic players are all freshmen in Jahlil Okafor, Justise Winslow and Tyus Jones. However, all three have solidified themselves as future first-round picks and made big plays in huge moments for Duke. Along with senior leader Quinn Cook and sophomore Matt Jones, Duke's led the charge with stout defense and proficient shooting.
We will touch base on the challenges facing the Blue Devils as they prepare for the Badgers with the five reasons why their bid for a fifth national championship in the Mike Krzyzewski era will be successful.
Dominate the paint
Jahlil Okafor put up an efficiently impressive 18-point, six-rebound, two-block game against Michigan State, reminding the world why he's a consensus top-two pick in the 2015 NBA Draft. The 6-foot-11 freshman will have his hands full in dealing with Frank Kaminsky defensively, but it's Okafor's ability to wear down opposing teams with his play near the rim that makes Duke almost impossible to stop. Once the opposition decides to double-team, it will be up to Quinn Cook, Tyus Jones and Matt Jones to knock down shots from beyond the arc.
Quinn Cook's time to shine
Every time I watch Quinn Cook on television, I ask myself, "Does Cook still have eligibility?" While it seems like Cook's been in Durham forever, the reality is that the Duke point guard has matured into a reliable and efficient player. Cook's true shooting percentage of 61.3 percent is one of the best in college basketball, and now that he doesn't have to be the primary ball-handler (that's Tyus Jones' job) Cook's turnover numbers are down and he is more committed defensively. If Cook shines on Monday night, Wisconsin might be in real trouble.
Duke's defensive adjustments
While Kentucky had the No. 1-ranked defense in the country going into its game versus Wisconsin, the Badgers took advantage of UK's switching to get open looks around the perimeter. John Calipari was not only unwilling to change his scheme, but he oddly put Willie Cauley-Stein on Sam Dekker and Trey Lyles on Kaminsky. Krzyzewski will prove his weight in gold with his ultimate test against college basketball's top-ranked offense, but Duke has adjusted well in the tourney by holding its four tournament opponents to 55 points a game on 40.2 percent shooting from the field. Look for the Justise Winslow vs. Sam Dekker match to be incredibly exciting.
The unknown quantity of Justise Winslow
Here's the thing about Justise Winslow - he does literally everything on the court. He can rebound. He can block shots. He can be a lock-down defender. He can be a facilitator. Oh yeah, and he can get his own shot when necessary. Winslow is fascinating as he's skyrocketed up draft boards, but we really have no idea what Winslow actually is as a commodity. On Monday night, Winslow will likely be tasked to do a bit of everything, as our continued discovery into Winslow's game will be fun to watch.
The role players
Grayson Allen's dunk in the second half of Duke's contest versus Michigan State might've been the most memorable moment in a game that was somehow devoid of big moments. What was more fascinating was how the entire Duke squad was pumped up after that big play. Guys like Allen, Matt Jones and Marshall Plumlee have stepped up in key spots after Rasheed Sulaimon was dismissed from the roster in January. It could be a defensive play, a three-pointer or another dunk, but those players could make all the difference in a close contest.

MORE FROM YARDBARKER
Blue Devils News

Delivered to your inbox

You'll also receive Yardbarker's daily Top 10, featuring the best sports stories from around the web. Customize your newsletter to get articles on your favorite sports and teams. And the best part? It's free!