--------------------------------------------------------------------------------- SUPPORT CLNS MEDIA: Powered by... HIMS for Men's Health: http://forhims.com/report, promo code: report for discount on first purchase. RXBar, go to http://RXBar.com/CLNS; enter the promo code CLNS for 25% off your first order. eHarmony, go to http://eHarmony.com and use the promo code: GARDENREPORT...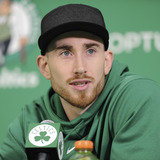 Boston Celtics president of basketball operations Danny Ainge revealed in an interview Thursday on 98.5 The Sports Hub's "Toucher & Rich" show that Gordon Hayward recently suffered a setback in his rehabilitation. Ainge noted Hayward's setback occurred approximately a month-and-a-half ago, adding it was caused by "progressing a little too fast" through rehab. Ainge added the...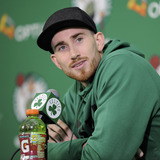 Gordon Hayward wants to return this season, but that's looking more and more unlikely. In fact, Celtics president of basketball operations Danny Ainge says Hayward suffered a setback during his recovery. While Brad Stevens says Hayward isn't playing this season, the forward isn't counting it out. But it looks like Stevens is right. In the meantime, the Celtics are 46-22 and 4.5 games...
BRAD STEVENS meets with the media following the Celtics 2OT loss to the Washington Wizards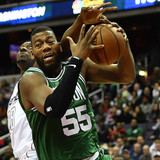 Daniel Theis' season-ending knee injury will force the Celtics to make adjustments in their frontcourt, as Taylor Snow of Celtics.com details. While the C's figure out how to replace Theis' minutes, Brad Stevens says he expects the rookie to make a full recovery and eventually return "better than ever.""You really feel for him," the Celtics' head coach said of Theis. "He was a guy...
Boston Celtics head coach Brad Stevens knew it was going to be a tough night. Guard Jaylen Brown is in the concussion protocol and was not available following a scary fall against the Minnesota Timberwolves last weekend. All-Star center Al Horford was under the weather and also not available for the game. Stevens and the Celtics encountered another hurdle when All-Star Kyrie Irving...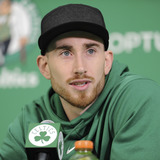 Boston Celtics head coach Brad Stevens says Gordon Hayward isn't coming back this season."He's not playing this year. I don't know what else to say."But Hayward isn't giving up on that goal just yet. In fact, he's still eyeing a return. Of course, he notes the possibility remains that it isn't going to happen.Without him, the Celtics are 46-20 and just 2.5 games behind the Raptors...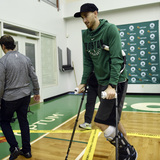 The question of a possible Gordon Hayward return keeps coming up in Boston, but Brad Stevens's answers are getting firmer and firmer.After the Players' Tribune posted a video of Hayward getting a bit of lift on his jump shots, Stevens faced more questions about a possible return before the end of the season. He responded, however, with a firmer answer — Hayward isn't even close to...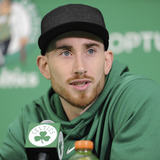 There has been ramped up speculation in recent weeks that injured Boston Celtics star Gordon Hayward may be able to play at some point this season. That was all taken to a new level when a video surfaced of Hayward walking without a limp after suffering a dislocated left ankle and fractured tibia on opening night.Despite being optimistic about Hayward's recovery, Celtics head coach...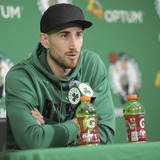 Only a few minutes into his Celtics debut, Gordon Hayward would be lost for the foreseeable future. Many assumed that he would miss the entire season. But now, head coach Brad Stevens is here to make it clear: Hayward isn't playing this season."He's not playing this year. I don't know what else to say."But he doesn't stop there. After all, rumors (and videos) don't stop circulating...
MORE STORIES >>
Celtics News

Delivered to your inbox

You'll also receive Yardbarker's daily Top 10, featuring the best sports stories from around the web. Customize your newsletter to get articles on your favorite sports and teams. And the best part? It's free!