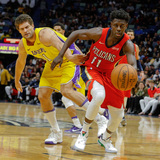 Spurs chairman and co-chief executive officer Julianna Hawn Holt has filed for divorce from former chairman and CEO Peter Holt, Tom Orsborn and Patrick Danner of the San Antonio Express-News write. The couple has been married for more than 30 years and their separation has raised questions about the Spurs' future.However, there is no intention to sell the franchise, which is valued...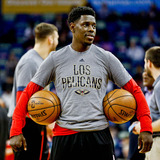 Throughout the offseason, we'll be counting down the Top 50 players in the NBA from 50 to 1. Who will just miss the cut? Which names do you expect to see? Regardless, you'll be able to find them all right here.Why He's Great: Jrue Holiday has every NBA skill. He is above-average across the board. He makes almost 37 percent of his three-pointers. Additionally, he plays very good defense...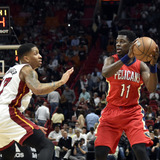 Jrue Holiday may not re-sign with the New Orleans Pelicans immediately after all. Following a report on Friday afternoon that Holiday would re-up early in the free agency process (more on that here), Tony Jones of the Salt Lake Tribune reported that Holiday could sign with the Indiana Pacers. Given that the Pelicans can offer Holiday more money, the chance to pay alongside Anthony...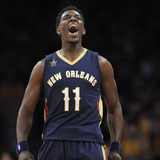 New Orleans Pelicans point guard Jrue Holiday was expected to be among the top free agent players at his position.While that might still very well be the case, there's reportedly concern among other NBA teams that Holiday will ink a lucrative five-year deal with New Orleans quickly after free agency starts. This would be a rather large boon for New Orleans in free agency. With Anthony...
Four years ago, Jrue Holiday and Nerlens Noel were traded for each other. Now this summer, they could end up on the same team. ESPN's Ian Begley reports Thursday that the Dallas Mavericks are interested in Holiday, noting that some in the organization see him as a free agent target. Holiday, who averaged 15.4 points and 7.3 assists per game in 2016-17, fits a position of need for...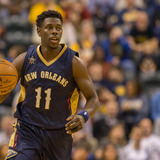 It wouldn't be an absolute shock if the Dallas Mavericks were major players in free agency this summer. Coming off a 2016-17 season that saw the Mavs put up their worst record in two decades, owner Mark Cuban cannot be happy with the status quo.Dallas could have up to $33 million to spend in free agency. And while that's dependent on what the team decides to do with future Hall of...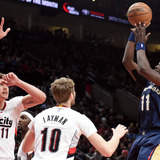 New Orleans Pelicans head coach Alvin Gentry may just be raising the boombox over his head for point guard Jrue Holiday this summer.In an appearance on SiriusXM NBA Radio on Tuesday, Gentry said that re-signing Holiday will be "a number one priority" for the Pelicans. Holiday, 26, averaged 15.4 points and 7.3 assists per game for New Orleans in 2016-17. An unrestricted free agent...
It's really cool to see professional athletes combine their on-field performance with charity work around their communities. We have seen this multiple times in the NBA with players donating specific amounts of cash to help those impacted by natural disasters.New Orleans Pelicans guard Jrue Holiday will do just this. In helping lend a hand to those impacted by the series of tornadoes...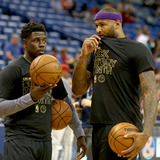 If you're looking for the culprit behind Jrue Holiday's recent struggles, you best blame it on the Boogie.The New Orleans Pelicans point guard admitted Monday that it has been hard to be aggressive and look for his own shot ever since the addition of All-Star center DeMarcus Cousins to the lineup, per Scott Kushner of The Advocate. In the three games since Cousins arrived (all losses...
Could the Philadelphia 76ers be throwing it back to the pre-Process days? According to a report by Zach Lowe of ESPN on Wednesday, the Sixers "will take a hard look" at New Orleans Pelicans point guard Jrue Holiday this summer in free agency. The 26-year-old Holiday, who is averaging 13.9 points and 7.1 assists per game this season, played the first four seasons of his NBA career...
MORE STORIES >>
Pelicans News

Delivered to your inbox

You'll also receive Yardbarker's daily Top 10, featuring the best sports stories from around the web. Customize your newsletter to get articles on your favorite sports and teams. And the best part? It's free!