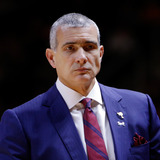 Nothing deflates the excitement of finally eyeing the bracket on Selection Sunday quite like perusing the seeds and match-ups and seeing a team you just don't have much familiarity with. You know the school, the coach, and maybe a player, but you haven't seen them play and aren't even really sure how good they are. Even though the NCAA selection committee gave them a seed, there...
DAYTON, Ohio (AP) Dyshawn Pierre scored 26 points, including two key free throws with 19.9 seconds left, and Dayton defeated George Washington 77-70 on Friday night. George Washington took a 61-57 lead on Kevin Larsen's layup with eight minutes to play but the Colonials missed their next eight shots and the Flyers took control. A 3-pointer by Charles Cooke tied the game at 61...
Dayton Flyers forward Dyshawn Pierre has been reinstated from a semester-long suspension, is practicing with the team and is "thrilled" to be back with the team. Pierre offered more in a statement. "I am thrilled to be back with my team and coaching staff," Pierre said. "I would like to thank everyone who has supported me through this most trying time. My family and I are very disappointed...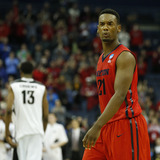 Dayton senior forward Dyshawn Pierre has been suspended by the university in the wake of a sexual assault allegation from a fellow student. On Wednesday, Pierre's lawyer spoke out against Dayton's decision to suspend the star player following an accusation that did not lead to a criminal charge. "Ignoring that decision made by qualified professionals, the University of Dayton subjected...
Dayton Flyers star forward Dyshawn Pierre is not enrolled in classes for the fall semester and will miss the team's first 10 games as a result. Matt Norlander of CBS Sports reported the unfortunate development. ESPN's Jeff Goodman also reported on Twitter that Pierre was suspended for the first semester, but did not give a reason as to why. Dayton's leading returning scorer, Dyshawn...
During the play-in game against Boise State, Dayton center Dyshawn Pierre got a big rebound but lost a little something in the process. Namely, his dignity, after his teammate accidentally pantsed him on a rebound attempt. When Pierre came down with the rebound, teammate Kyle Davis' foot appeared to get caught in his shorts, bringing them down.  And the cheerleaders' reactions...
Dayton forward Dyshawn Pierre had a forgettable moment during the Flyers' play-in game for the NCAA Tournament Wednesday against Boise State. Pierre grabbed a rebound late in the second half of the game but lost his shorts on the play. Luckily not a ton was revealed since so many players wear padded undergarments these day,...Read More
The Dayton Flyers were understandably ecstatic on Thursday when they knocked off No. 6 seed Ohio State to advance to the third round of the NCAA Tournament. The victory took 40 minutes of hard-nosed basketball and hustle, and the celebration got a bit dangerous. After Aaron Craft missed a runner and the final seconds ticked […]
MORE STORIES >>
College Basketball News

Delivered to your inbox

You'll also receive Yardbarker's daily Top 10, featuring the best sports stories from around the web. Customize your newsletter to get articles on your favorite sports and teams. And the best part? It's free!
THE COLLEGE BASKETBALL HOT 10