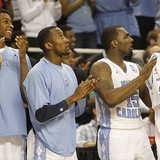 Is SEC Football more powerful than the NCAA itself? A post on Facebook made me think about the situation that is ongoing between the NCAA and the two North Carolina guards, P.J. Hairston and Leslie McDonald. You can't say if UNC was in the SEC this situation would be over and done. But that is not the problem, the problem is we don't know when a resolution will come out. Why can...
Once again rumors are flying around about P.J. Hairston, who was pulled out of yesterday's practice, meaning that the college web boards are buzzing like a swarm of bees. Stories about the guard have been flying around on so many web boards, be it North Carolina ones, as well as the usual ABC'ers like NC State and Kentucky, that the shooting guard is done for this season. First off...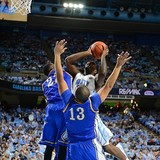 My esteemed colleague here at ISPORTSWEB, Femi Zaccheus, did a post about a letter outlining someone's resignation over head coach Roy Williams' handling of the P.J. Hairston situation. In it he brought up many great points. Before I give you my side, here is the letter that stirred a lot of controversy in web boards and social media outlets having to do with UNC Basketball… Roy...
The P.J. Hairston saga has been long and drawn out, and there isn't an immediate end in sight. Currently Hairston is indefinitely suspended after having several high-profile incidents with the law this summer. This week Jack Halperin; a tutor at UNC resigned while criticizing Roy Williams for allowing Hairston to stay on the team. In his letter he wrote: Roy, after 23 years as an...
NBC Sports' Rob Dauster lamented the monotony on the college basketball offseason following the July recruiting period in this tweet: I always forget just how boring the CBB world is after July ends. Can PJ Hairston go drive too fast again or something? — Rob Dauster (@RobDauster) July 31, 2013 Still, I think we can all do with a little less speeding from North Carolina's P.J...
For the entire start to the back story, read up on it here.  The quick version is that P.J. Hairston ... UNC's top player for the upcoming 2013-14 college basketball season ... was pulled over at a checkpoint.  He and his riding buddies were in a rental car (they are all under 25) found with weed, cigars, no drivers licence and apparently someone threw a gun out the window.  There...
SCARY SCENE
North Carolina guard PJ Hairston was taken off the court in a stretcher and diagnosed with a concussion after hitting his head on the floor following a collision with one of his teammates during the Tar Heels' 82-70 win at Boston College Tuesday. Hairston was attempting to block a shot on defense when he collided with teammate Dexter Strickland. His head landed hard on the floor...
MORE STORIES >>
College Basketball News

Delivered to your inbox

You'll also receive Yardbarker's daily Top 10, featuring the best sports stories from around the web. Customize your newsletter to get articles on your favorite sports and teams. And the best part? It's free!
THE COLLEGE BASKETBALL HOT 10