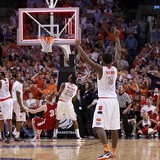 Syracuse University's men's basketball team will not see any post-season match ups. But, it's not a sanction coming down from the NCAA. The university itself has decided to pull the team from any ACC, NCAA, or NIT appearances this year in light of an ongoing NCAA investigation regarding possible athletic department violations that Syracuse reported in 2007. School officials explained...
Rakeem Christmas is undoubtedly one of the best big men in the country, he has been the anchor for a struggling Syracuse Basketball team this season. Now that the Orange will not play in the NCAA Tournament this year, how will this effect Christmas during the NBA Draft? Rakeem Christmas #25 of the Syracuse Orange takes a shot over Beejay Anya #21 of the North Carolina State Wolfpack...
Simply put, Rakeem Christmas is a different player this year than he was the last three years. Christmas came back this year and needed to be a big time player on a team that had lost four key parts. There were questions as to whether he could make the adjustments. Tuesday night seemed like a culmination of sorts for Christmas, he scored 35 points on 21 shots. All in all, he dominated...
It took me a whole day to be able to get down and write this article because Tuesday's game against Michigan was one of the most frustrating games I have watched as a Syracuse basketball fan. The part that bothers me the most is that they didn't play that poorly, and they could have easily still won this game, but the Cuse ended up falling to the Wolverines 68-65. There were two...
As I anticipated, Syracuse men's basketball took care of business on Sunday, November 16, 2014 as they disposed of Hampton 65-47 at the Carrier Dome. Christmas has shined in the first two games for the Orange. This game was a bit closer than the first, but there were quite a few bright spots that make me even more excited for Thursday's matchup with California. Rakeem Christmas...
Follow The Fizz on Twitter for the latest SU basketball news via Zimbio The Syracuse Orange are now 25-0 after its most recent thrilling win against the North Carolina State Wolfpack, though Syracuse has had its share of speed bumps along the way, especially at the center position. To start the year, Syracuse had three centers on its roster: Baye Moussa Keita, Rakeem Christmas and...
Rakeem Christmas has now become an enormous part of the equation for Syracuse, and the freshman stepped up with the spotlight on him Saturday. Rak City has been forced into action after the loss of Fab, and had his best game of his collegiate career, ripping down 11 boards and swatting 3 shots to go along with 8 points. He played a very intelligent game, and didn't try to do too...
MORE STORIES >>
College Basketball News

Delivered to your inbox

You'll also receive Yardbarker's daily Top 10, featuring the best sports stories from around the web. Customize your newsletter to get articles on your favorite sports and teams. And the best part? It's free!
THE COLLEGE BASKETBALL HOT 10