By Steve DelVecchio It has been nearly two months since P. Diddy allegedly lost his cool on the UBCLA campus and was arrested for trying to fight a football coach. Have the two sides managed to smooth things over? On Wednesday, Diddy shared an Instagram photo of his son Justin Combs at practice and captioned it "GO BRUINS!!!!!!!!"   A photo posted by @iamdiddy...
Sean "Diddy" Combs will not be charged with a felony in the infamous kettlebell case involving him and UCLA strength and conditioning coach Sal Alosi. Nathan Fenno of the Los Angeles Times reported the update. No felony charges for Sean Combs in UCLA kettlebell incident. Case referred to L.A. City Attorney to decide on charging with misdemeanor. — Nathan Fenno (@nathanfenno) July...
By Vincent Frank Music mogul Sean "P. Diddy" Combs has apparently avoided felony charges stemming from an incident on campus at UCLA last month. The incident occurred after Diddy viewed his son, Justin Combs, being verbally accosted by Bruins strength coach Sal Alosi during practice. Diddy was originally charged with three counts of assault with a deadly weapon and one count of...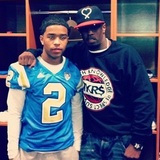 By Steve DelVecchio Former UCLA coach Rick Neuheisel recruited Justin Combs, the son of Sean Combs, back in 2011. On Tuesday, Neuheisel admitted that his recruitment of Combs had plenty to do with the fact that his dad is music mogul P. Diddy. While co-hosting his show on Sirius XM College Sports Nation, Neuheisel said he was thinking about the UCLA program as a whole in addition...
Though his hip-hop mogul father, Sean "Diddy" Combs, was arrested on suspicion of three counts assault with a deadly weapon, plus a count each of assault and battery and making terrorist threats, UCLA Bruins junior defensive back Justin Combs has come out in full support of him. On his Instagram, Combs posted a picture of himself and his father in full support of his family. ...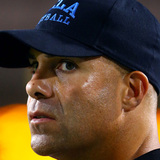 By Steve DelVecchio P. Diddy, whose real name is Sean Combs, defended himself on Tuesday amid accusations that he attacked a UCLA strength and conditioning coach Sal Alosi and swung a kettlebell at a football intern. In a statement through one of his representatives, Diddy claimed he acted in self-defense when he got into a physical altercation at the UCLA athletic facility. ...
Justin Combs made a splash when he signed to play for UCLA. Not because of his football accolades, but because of his last name. He's the son of hip hop mogul Sean "P. Diddy" Combs, who on Monday was arrested for assault with a deadly weapon on a UCLA assistant football coach. The headlines went wild when Justin for his 16th birthday received a $360,000 Maybach as a present from...
NEW YORK -- Sean "Diddy" Combs was defending himself in an incident at the University of California, Los Angeles, that led to his arrest, a representative the hip-hop mogul's company said Tuesday. "The various accounts of the event and charges that are being reported are wholly inaccurate," Nathalie Moar, a rep for Combs Enterprises, said in a statement to The Associated Press. ...
Via Associated Press
Well, this is awkward. According to a TMZ Sports report, hip hop mogul Diddy has been arrested for allegedly assaulting a member of the UCLA Bruins' coaching staff at a campus facility. For those unaware, Diddy's son, Justin Combs, is on the team. The report states that a coach was yelling at Combs on the field before his father intervened. At that time, Diddy allegedly confronted...
P. Diddy's son, Justin Combs, has been committed to the UCLA football program for well over a year now. Like most other high school athletes who are recruited to play a sport in college, the cornerback received a full scholarship from the Bruins. Unlike most others, he didn't need the full ride. Obviously, P. Diddy has enough money to pay for his son's college tuition. The fact that...
MORE STORIES >>
College Football News

Delivered to your inbox

You'll also receive Yardbarker's daily Top 10, featuring the best sports stories from around the web. Customize your newsletter to get articles on your favorite sports and teams. And the best part? It's free!
THE COLLEGE FOOTBALL HOT 10