Print a new bracket here if your previous bracket already blew up after all of Thursday's upsets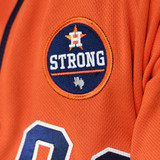 Former President George W. Bush is a fixture in the Houston area. No matter where we stand in term of his politics and presidency, his family has done a whole heck of a lot to help build up the Houston community.Teaming up with fellow former President Bill Clinton, the two friends have also done a lot of tremendous work within the broader international community.So it makes sense...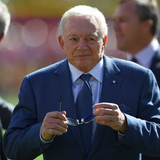 Dallas Cowboys owner Jerry Jones is working hard behind the scenes to block a potential contract extension for NFL Commissioner Roger Goodell.How hard is he working? According to this report from Ken Belson of The New York Times, Jones has hired world-renowned lawyer David Boies to help block Goodell's extension."Jones told the six owners on the league's compensation committee last...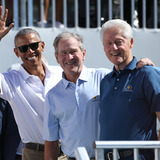 Prior to teeing off at the Presidents Cup, golfer Phil Mickelson took a selfie with former U.S. Presidents Bill Clinton, George W. Bush and Barack Obama, all of whom were on hand.The picture was posted on to Twitter by Mickelson's brother and caddie, Tim. Imagine being a photobomber in that picture.Regardless of one's political affiliation, it's nice to see three former leaders having...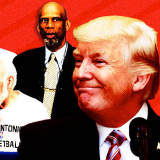 Front Five: The top stories that shaped both sports & politics this week "To this day, I feel like there's a cloud, a pall over the whole country in a paranoid, surreal sort of way." - San Antonio Spurs head coach Gregg PopovichWhile May is generally the time for playoff basketball talk, coaches and owners alike did not hold back their opinions on President Donald Trump this...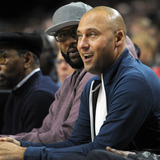 Derek Jeter and Jeb Bush recently teamed up in an effort to buy the Miami Marlins, and according to a report, they succeeded.Scott Soshnick, who writes for Bloomberg, broke the news Tuesday. "A group led by former Florida governor Jeb Bush and former New York Yankees captain Derek Jeter have won the auction for the Miami Marlins baseball team, according to a person with knowledge...
The 43rd President of the United States and former Texas Governer George W. Bush paid a visit to Southern Methodist University's campus Tuesday. SMU football tweeted this picture of the former-POTUS holding up their play-calling poster, featuring Bush's face as one of the schemes. Thanks @GeorgeWBush_43 for stopping by practice and speaking to the team and helping call some plays...
George W. Bush enjoys a good National Championship hoops game and he certainly enjoys a good fart.  Sitting next to Bill Clinton at Jerry's World in Dallas, Dubya couldn't help but let one fly Monday night.  And judging by that silly grin, he enjoyed every bit of it.  Meanwhile, someone needs to wake up Clinton…and tell the attractive blonde in front to pipe down and watch the game...
A few years ago I wrote this post lauding George W. Bush for what is quite possibly, considering the situation, the greatest single act of sport I've ever witnessed in my life time. Today, one day before we stop to honor the lives lost on that infamous day of September 11th, 2001, I'm re-posting that article (with all of the extraneous stuff removed) because, quite frankly, if we...
MORE STORIES >>
Entertainment News

Delivered to your inbox

You'll also receive Yardbarker's daily Top 10, featuring the best sports stories from around the web. Customize your newsletter to get articles on your favorite sports and teams. And the best part? It's free!