Jerry Seinfeld wanted no part of Kesha's attempt at a warm embrace on Monday night. The two were both at The David Lynch Foundation's National Night of Laughter and Song on Monday night, and Seinfeld, at one point, was doing an interview with Tommy McFly of 94.7 Fresh FM. Kesha interrupted the interview in search of a hug, but all she got was a rejection. She approached Seinfeld...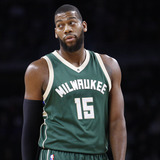 Bucks big man Greg Monroe has an MCL sprain in his left knee and is expected to miss at least the next few games. The team announced on Twitter that the 25-year-old Georgetown product underwent an MRI on Wednesday which revealed the diagnosis. Charles F. Gardner of the Milwaukee Journal Sentinel added that the sprain is of the Grade 1 variety and is not expected to sideline Monroe...
By Jason Rowan The New York Mets have been on an absolute tear of late and their hot streak was further bolstered on Wednesday night when new acquisition Yoenis Cespedes bashed his first home run with his new team. And the Mets might have to thank a new denizen of Citi Field for him getting off the snide after 43 at-bats: The "Rally Parakeet." Cespedes' round-tripper, coming...
It's difficult for Jerry Seinfeld to seem ticked off. Even in his sitcom, angry Jerry always had that smirk on his face. For proof, I dare you to read these quotes from CBS 2 New York about his experience at the MLB All-Star Game without reading them in the "exasperated Jerry voice" he'd always use with Kramer. "This is one of the lowest moments of my lifetime of Mets fandom, when...
MORE STORIES >>
Entertainment News

Delivered to your inbox

You'll also receive Yardbarker's daily Top 10, featuring the best sports stories from around the web. Customize your newsletter to get articles on your favorite sports and teams. And the best part? It's free!