We honestly believe that cheese can make almost anything better. And unless you're a vegan or are lactose intolerant, you likely agree. Cheese can be paired with almost any bread, meat, vegetable, and even some fruits. In fact, sometimes we forget exactly how versatile this dairy delight truly is. In honor of National Cheese Lover's Day on January 20, we decided to make a list to...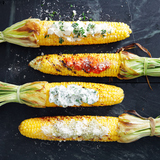 This year, Independence Day is on a Tuesday, which is less than ideal for planning purposes. Many people will probably spend the upcoming weekend enjoying some much-needed R&R, go back to work on Monday, and then realize that the Fourth of July is the next day and they haven't made any food yet. Even for those who pay attention to their calendar, is it really ideal to prepare...
About a month ago I went on the craziest, wildest, most extreme hunt for a wedding dress I've ever been a part of. Unfortunately, the dress search wasn't my own; or for any of my close friends or family for that matter. I was down in Boston at Filene's basement event where thousands of women from all over the world come to find their dream dress at bargain prices. Bulls have nothing...
MORE STORIES >>
Entertainment News

Delivered to your inbox

You'll also receive Yardbarker's daily Top 10, featuring the best sports stories from around the web. Customize your newsletter to get articles on your favorite sports and teams. And the best part? It's free!