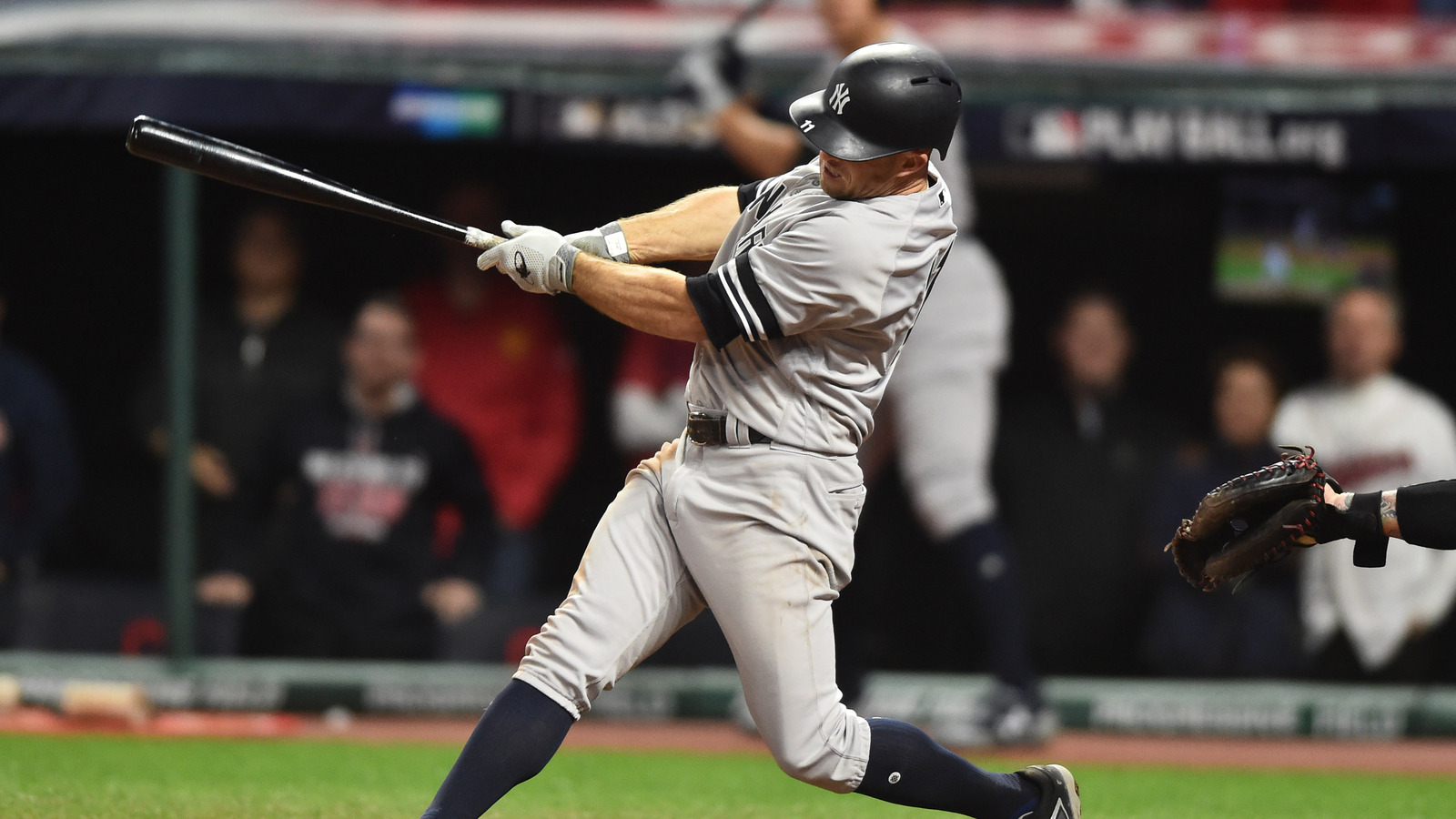 Oct 11, 2017; Cleveland, OH, USA; New York Yankees left fielder Brett Gardner (11) hits a 2 RBI single during the ninth inning of game five of the 2017 ALDS playoff baseball series against the Cleveland Indians at Progressive Field. 
Ken Blaze-USA TODAY Sports
Brett Gardner delivered one of the best at-bats of the series — if not the season — during the 9th inning of Game 5 of the ALDS between the Cleveland Indians and New York Yankees on Wednesday.
Gardner worked Indians closer Cody Allen for 12 pitches before delivering a single that helped score two runs and give the Yankees a cushion and some much needed momentum in Game 5.
Gardner was up with two on and two out in a 3-2 game. He fell behind 1-2, worked a full count, and then fouled off five straight pitches before drilling a single to right. Aaron Hicks scored from second. Todd Frazier, who was on first, took advantage of some lazy/poor Indians fielding and was able to advance home after the throw in from right field wasn't handled cleanly.
That took a tight 3-2 game and made it 5-2 for the Yankees. Cleveland may have felt that a 3-2 deficit was manageable even against Aroldis Chapman, but 5-2 seemed almost insurmountable.
Here's a recap of the at-bat from pitch-to-pitch:
The at-bat from Gardner was so impressive it even had former Red Sox legend David Ortiz praising the rival after the game on FS1.
"The at-bats that Gardy had — there's just a ton of fight in this club," manager Joe Girardi said after the game. "A great at-bat by Gardy, a heads-up play by Frazier, and to tack on two runs was really important."
MORE FROM YARDBARKER:
QUIZ: Name every MVP and Cy Young winner in Yankees franchise history
The New York Yankees have 25 MVP award winners and 5 Cy Young award winners in franchise history. How many of these MLB superstars can you name?
Clue: Year award was won
MORE FROM YARDBARKER
MLB News

Delivered to your inbox

You'll also receive Yardbarker's daily Top 10, featuring the best sports stories from around the web. Customize your newsletter to get articles on your favorite sports and teams. And the best part? It's free!