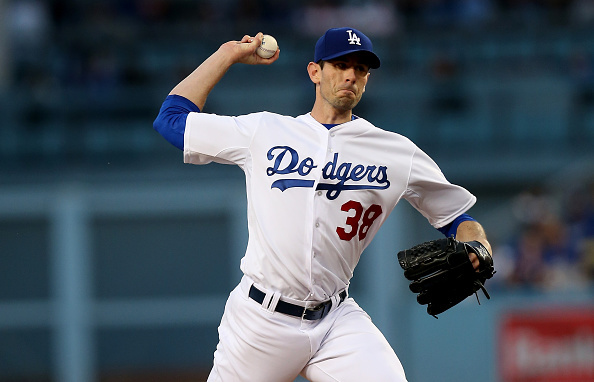 Brandon McCarthy is out for the season for the Dodgers as team injuries start to add up.
Stephen Dunn/Getty Images
By Alex Campos
The Los Angeles Dodgers are deeper than they have been in years, and that depth will be tested in the coming weeks as three key players have missed time recently.
Brandon McCarthy - Torn UCL, out for season
This one hurt to hear, as McCarthy left in the sixth inning of his start on Saturday in San Diego with arm tingling after giving up a home run to Justin Upton. Preliminary tests came back clean, but an MRI on Monday confirmed the Dodgers' worst fears, a torn UCL and possible Tommy John-surgery for McCarthy.
McCarthy had one of the weirdest seasons I've seen out of a pitcher. He was simultaneously dominating batters and getting shelled. In four starts, McCarthy went 3-0 with a 5.87 ERA in 23 innings. McCarthy also struck out 29 batters, giving him a 11.3 SO/9 rate and a 7.25 K/BB ratio. McCarthy had an incredible run of giving up homers, giving up nine in his four starts and posting a HR/FB ratio of 37.5%. It would have been fun to see his numbers come down and he would have been a great fourth starter when Hyun-jin Ryu returned, but now the Dodger rotation is a huge question mark after Clayton Kershaw and Zack Greinke.
Julio Urias isn't a candidate. Nip that in the bud right now. Mike Bolsinger and Scott Baker have started games for the Dodgers this year and haven't been a complete train wreck. Carlos Frias is on the Dodger major league roster and started twice last year. Joe Wieland and Zach Lee are two of the better pitching prospects in the Dodgers' system and have been impressive this year, especially Lee.
The Dodgers can probably survive until Ryu and Brandon Beachy return from their injuries, but there will be temptation to make a splash closer to the trade deadline. The Cincinnati Reds aren't expected to contend and their ace, Johnny Cueto, is in the final year of his contract. Cole Hamels has been on the market for seemingly forever. David Price is also entering the final year of his contract, but the Detroit Tigers will probably be a playoff team and not be too keen to trade him. Would the Dodgers give up one of their super prospects (Urias or Corey Seager) and others for Hamels or Cueto? I sure hope not.
Yasiel Puig – Hamstring, 15 Day DL
Puig originally hurt his hammy during the Seattle series, and reaggrevated it in San Diego, forcing Puig to the DL for the first time in his career.
According to ESPN's Mark Saxon, manager Don Mattingly thinks Puig believes he would be able to play "in four or five days", but Puig is on the DL to ensure he comes back at 100 percent.
This move was made a little easier by the resurgence of Andre Ethier, who many (myself included) have been writing off for a couple years. Ethier has completely shut me up and looks good at the plate, with a .310 average and two homers in 51 plate appearances. He hasn't looked too bad in the field, so him starting for the next couple weeks isn't the worst thing in the world. Especially if other teams take notice, maybe Ethier picks up a little trade value over the next two weeks.
Puig's name missing from the lineup is far from ideal, but the Dodgers have Ethier and Scott Van Slyke, who would probably start on most other teams, coming off the bench. Which is good because of the next injury.
Carl Crawford – Unknown
After tripling last night, Crawford was taken out of the game for Van Slyke.
This possible oblique injury could linger for a while, so there's no telling how long Crawford will be out. This opens the door for more Van Slyke, which isn't a bad thing. However, this also could give Alex Guerrero a shot at left.
Guerrero, who is off to an insane start this season, has fans clamoring for him to start over Juan Uribe at third, which I disagreed with here. Guerrero has definitely earned more playing time and a chance to show what he can do defensively, but last year Guerrero also started three games in left. With Crawford's injury, this opens up another position that Guerrero can maybe play not horribly while he continues to rake.
Tonight's game could be Guerrero's first test in left. The Dodger starting outfield is currently full of lefties (Ethier, Joc Pederson and Crawford?) and they face lefty Madison Bumgarner tonight. Last week against MadBum, the Dodgers sent out Puig, Chris Heisey and Van Slyke. There's a good chance SVS would have played tonight even without injuries, but it would surprise me if both Ethier and Pederson start against Bumgarner.
There are unconfirmed whispers that Enrique Hernandez could be getting called up, as he is out of the lineup in game one of a double header in AAA. The outfield tonight could very well feature Hernandez, Guerrero and Van Slyke, which would probably be a lot of fun to watch. Pederson is the best defensive outfielder on the Dodgers, so he could still start in center despite having to face one of the tougher lefties in the MLB
Regardless of what happens, this series is already considerably more enjoyable than the three-game sweep the Dodgers suffered in San Francisco last week. The Dodgers loaded up on depth in the offseason, and it's about to be tested a little earlier than everyone had hoped.
MORE FROM YARDBARKER
Dodgers News

Delivered to your inbox

You'll also receive Yardbarker's daily Top 10, featuring the best sports stories from around the web. Customize your newsletter to get articles on your favorite sports and teams. And the best part? It's free!