Cardinals right-hander Bud Norris is hoping the back end of the bullpen is where he continues his Major League career. The 33-year-old, who has 188 starts under his belt, had 19 saves in 23 opportunities last season with the Angels. It was a very different role over that seemed to suit the nine-year veteran.
Bud Norris exited his first spring start as a member of the Cardinals with a left hamstring spasm.
Starting pitcher, reliever, or closer? Which one is it St. Louis? The Redbirds made yet another signing this offseason, but similar to the others it was a low cost, low risk signing. St. Louis signed Bud Norris to a one year $3 million contract last week, but fans were left wondering what role Norris is going to play with the Cardinals in 2018. The nine year veteran emerged as a...
A familiar foe for many St. Louis Cardinals fans is now donning the birds on the bat following a rather surprising move earlier this week. Long-time Houston Astros starter and former Cardinal-killer Bud Norris agreed to terms on a 1-year, $3 million deal with St. Louis. And while Norris was feared at times when he faced the Cardinals, initial fan reactions to the deal have been lukewarm...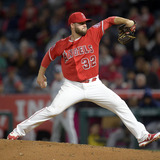 The Los Angeles Angels may be getting their lights-out closer back soon.The OC Register's Jeff Fletcher reports that Bedrosian faced batters Saturday during extended spring training. Fletcher believes Bedrosian is close to being sent out for a rehab assignment. Bedrosian, 25, last pitched on April 21 and went on the DL afterwards with a groin injury. He was 1-0 with three saves,...
Braves GM John Coppolella breaks down the deal that sent Bud Norris to the Dodgers.
It's not something I've ever officially written down, but I've tried to observe a personal policy of not bothering to write about Bud Norris. Do I really need to explain? I assume you get it. The level of interest you've had in reading about Bud Norris — that's more or less been my level of interest in writing about Bud Norris. And I certainly didn't think I'd be writing about him...
"He's just staying on the attack." -- Brian Snitker on Bud Norris and more from @Braves' win over Mets.
"It's been mental, first and foremost" -- Bud Norris tells Paul Byrd what's fueled rebound with @Braves rotation.
Worst MLB teams in the modern era (since 1900)
MORE STORIES >>
Cardinals News

Delivered to your inbox

You'll also receive Yardbarker's daily Top 10, featuring the best sports stories from around the web. Customize your newsletter to get articles on your favorite sports and teams. And the best part? It's free!