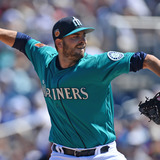 The Giants have agreed to a minor-league deal to bring righty Chris Heston back into the fold, according to a report from Alex Pavlovic of NBC Sports Bay Area. Other terms of the contract are not yet known.Heston, 29, is a former 12th-round pick who debuted in the majors with the Giants back in 2014. He went on to turn in a strong rookie campaign in the following year, etching his...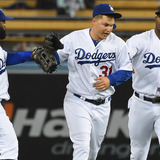 Friday was a busy day for the Los Angeles Dodgers. The club claimed infielder Mike Freeman and pitcher Chris Heston from the Seattle Mariners. To make room, Andrew Toles and Scott Kazmir were moved to the 60-day disabled list. Kazmir started the season on the disabled list and has yet to pitch at all in 2017. Still, since the date can be retroactive to the beginning of the season...
  The San Francisco Giants sent pitcher Chris Heston to Triple-A Sacramento on Friday, hoping to give him a small break before the stretch drive. The 27-year-old Heston is 11-7 with a 3.34 ERA this year and threw a no-hitter against the New York Mets on June 9. Heston, however, has had trouble going deep into games in recent weeks, making it past the fifth inning just once in four...
SAN DIEGO, CA – JULY 21: Chris Heston #53 of the San Francisco Giants pitches during the first inning of a baseball game against the San Diego Padres at Petco Park July 21, 2015 in San Diego, California. (Photo by Denis Poroy/Getty Images) In the Giants' 9-3 victory over the San Diego Padres on Tuesday night, right-hander Chris Heston carried a no-hitter for six innings in what...
Chris Heston was listed on only two of the six major preseason prospect reports. John Sickels listed him in his "Others" section at the end of his top-20 list, and FanGraphs' own Kiley McDaniel placed Heston 14th on his list. Kiley called him an "inventory starter" but did allow for some potential as well. Here […]
Chris Heston who? For San Francisco Giant fans they know all to well about the rookie pitcher. During spring training, Chris Heston got an invite to join the team and try to make the 40-man roster. Chris Heston is not the first pitching prospect that you would think that the San Francisco Giants would give an invite to. Some fans were hoping to see 2014 first round draft pick Tyler...
San Francisco Giants starting pitcher Chris Heston, center right, celebrates with teammates after he threw a no-hitter against the New York Mets in a baseball game Tuesday, June 9, 2015, in New York. The Giants won 5-0. (Mandatory Credit: AP Photo/Frank Franklin II) For the fourth year in a row, a San Fransisco Giants starting pitcher has thrown a no-hitter. This time it was rookie...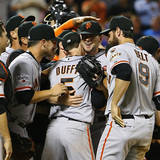 By Vincent Frank It wasn't Matt Cain. It wasn't Tim Lincecum. It wasn't 2014 World Series MVP Madison Bumgarner. Instead, little-known San Francisco Giants starter Chris Heston made history Tuesday night against the Mets in New York. Chris Heston. History. #DomiNoNo pic.twitter.com/qy2ykxoIfq — MLB (@MLB) June 10, 2015   The 27-year-old starter threw a 11-strikeout no-hitter...
San Francisco Giants' Chris Heston works against the Pittsburgh Pirates during the first inning of a baseball game Tuesday, June 2, 2015, in San Francisco. (AP Photo/Ben Margot) It's hard for any pitcher to get due recognition on a staff that includes all-world ace Madison Bumgarner in addition to established veterans like Tim Hudson and Tim Lincecum. But the Giants' 27-year-old...
Giants Chris Heston #53 pitches in the first inning against the Pittsburg Pirates at AT&T Park on June 2 (Mandatory Credit: Ezra Shaw/Getty Images) Chris Heston has an opportunity to amend consistency on the pitchers mound as the Giants face off against the New York Mets on Tuesday, June 9 at Citi Field. The right-hander rookie will enter his first career appearance against...
MORE STORIES >>
Giants News

Delivered to your inbox

You'll also receive Yardbarker's daily Top 10, featuring the best sports stories from around the web. Customize your newsletter to get articles on your favorite sports and teams. And the best part? It's free!