We've updated our Privacy Policy.
By continuing to use this site, you are agreeing to the new Privacy Policy.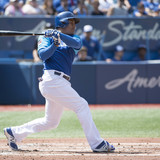 The Blue Jays announced that outfielder Ezequiel Carrera has been outrighted after clearing waivers. He had recently been designated for assignment, but will now return to camp as a non-roster invitee. That's the best possible result for Toronto, which had to expose Carrera to the waiver wire in order to add reliever Seung-hwan Oh.It appears that Carrera has accepted his assignment...
One of the newest Blue Jays, outfielder Curtis Granderson joins Sportsnet's Starting Lineup to discuss how his deal with this club came about, and why he truly believes this team has just as good of a chance to get him the World Series ring that has eluded him in his career. ---------------------------------------------- Subscribe to Sportsnet on YouTube - http://sprtsnt.ca/2paAT2L...
Curtis Granderson joins Tim and Sid to discuss his excitement with joining the Toronto Blue Jays, why he thinks the team will surprise and what is holding up the free agent market.
LIKE WHAT YOU SEE?
GET THE DAILY NEWSLETTER:
Mike Wilner joined Rob Wong and Josh Goldberg to talk about the signing of Curtis Granderson to a one-year contract with the Blue Jays, who will be helping their outfield but not completing it by any means.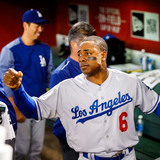 Curtis Granderson is heading to Canada.The Athletic's Ken Rosenthal reported on Monday evening that Granderson and the Toronto Blue Jays have agreed to a one-year, $5 million contract that is pending a physical. The Blue Jays are a little weak in the outfield, which explains the move. Beyond center fielder Kevin Pillar, their other outfielders include Steve Pearce, Dalton Pompey...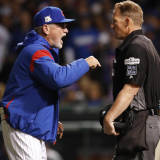 Cubs manager Joe Maddon, once again, went off on an umpire crew over a controversial call during Wednesday night's game, but at least he was able to have some fun about it afterward.Maddon appeared to have a good point in arguing a phantom foul tip call in Game 4 of the National Championship series, and many analysts and fans seemed to agree with him.The play in question took place...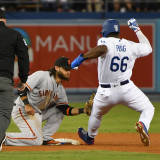 Los Angeles Dodgers manager Dave Roberts decided to bench Yasiel Puig on Sunday after his frustrations boiled over following a game-ending play on Saturday night.Puig was thrown out trying to steal second base at the end of a 2-1 loss to the Giants Saturday night. Puig made the decision to attempt the steal on his own, and then did not slide. The combination of events left Roberts...
Noah Syndergaard is pouring one out on social media for his fallen comrades.The New York Mets right-hander took to Twitter on Friday to post a tribute to his now-former teammates Curtis Granderson, Lucas Duda, Jay Bruce, and Neil Walker, all of whom were traded away in the last few weeks. Syndergaard also threw in some Napoleon Dynamite GIF action for good measure. Rest assured,...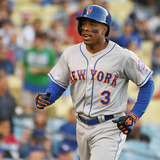 Curtis Granderson just can't let go of his — now former — teammate Lucas Duda, literally.The Mets traded Duda to the Rays on Thursday, and received relief pitcher Drew Smith in exchange. It wasn't a blockbuster or highly-publicized move, but don't tell that to Granderson.Grandy and Duda were clearly besties, as evidenced by the reaction from the Mets outfielder when Duda prepared...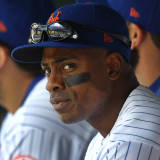 The New York Mets already shipped out one player, so the Milwaukee Brewers are figuring why not see if they're willing to trade some others.According to FOX MLB reporter Ken Rosenthal, the Brewers have shown interest in Curtis Granderson. Granderson is batting just .223, though his on-base percentage (.325) and slugging percentage (.450) are respectable. He is in the final year of...
MORE STORIES >>
Blue Jays News

Delivered to your inbox

You'll also receive Yardbarker's daily Top 10, featuring the best sports stories from around the web. Customize your newsletter to get articles on your favorite sports and teams. And the best part? It's free!