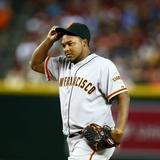 Jean MachiRemember Jean Machi last year with the Red Sox? You know, the guy that actually was our closer for a while? You don't? Well, that's probably better for your overall psyche. Keep it that way. Anyway, Machi has been signed by old friend Theo Epstein to play on the North Side of Chicago for the Cubbies. It's just a minor-league contract for the the soon-to-be 34-year old,...
Coming into the season the San Francisco Giants bullpen was seen as one of the strengths of the team. It started off that way. However, during the Giants recent downhill tumble the bullpen has become not quite unreliable but certainly isn't what it was the first two months of the season. What happened to the Giants bullpen? Also, what else is going on with the team as the trade deadline...
Many of general manager Brian Sabean's offseason acquisitions were deemed questionable. The aging Tim Hudson and the oft-injured Michael Morse were brought in and greeted with much uncertainty from fans. However, their resurgence this season along with the bounce back seasons of players such as Angel Pagan and Jeremy Affeldt has allowed for a spirited debate over who has been the...
Alright, so which Giants pitcher did it? Was it Jose Mijares, who's on the left and gets blamed for the fart, or was it Jean Machi, who was on the right and smelled it first? The world may never find out. GIFs via Carmen K H/T Eye on Baseball
MORE STORIES >>
Mariners News

Delivered to your inbox

You'll also receive Yardbarker's daily Top 10, featuring the best sports stories from around the web. Customize your newsletter to get articles on your favorite sports and teams. And the best part? It's free!