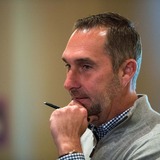 Cardinals GM John Mozeliak is not sugarcoating things about his team's play of late.Mozeliak spoke with reporters on Friday while announcing some moves and said that his Cardinals are not a playoff team. The Cardinals are on a 7-game losing streak and have gone 5-17 in their last 22 games. Among the team's moves was designating Jhonny Peralta for assignment to create space for Kolten...
It's time. Jhonny Peralta has to be released. Truthfully it is shocking that he has held a spot on the Cardinal roster for as long as he has. The fact of the matter is that Peralta truly doesn't contribute anything to this team at this point in his career. His offensive capabilities have become abysmal and he is a liability in the field. Jhonny Peralta is hurting the team more than...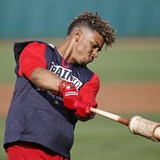 There is no more exciting and rapidly developing position in the game today than shortstop. It has become a new beast over the past few years across MLB. By all indications, it's a wave that is just getting underway. In each of the past two seasons, a Rookie of the Year selection has been a shortstop, and in last year's All-Star Game, of the six shortstops selected, each made his...
PORT ST. LUCIE, Fla. -- St. Louis Cardinals shortstop Jhonny Peralta has undergone surgery for a left thumb injury and likely will be sidelined for about 10 to 12 weeks.Manager Mike Matheny anticipates Peralta will return to the team's spring training site in Jupiter, Florida, in a few days. The surgery took place in St. Louis after Peralta got a second opinion.Matheny said he hasn...
JUPITER, Fla. -- St. Louis shortstop Jhonny Peralta injured his left thumb and could miss the first two months of the season.Cardinals general manager John Mozeliak said Peralta is expected to return to St. Louis for a second opinion of what he said may be a damaged ulnar collateral ligament."We did take an image of it and it does look like it's been torn," Mozeliak said Monday ...
Via Associated Press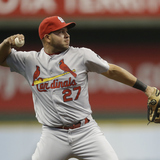 There is a perception that the St. Louis Cardinals are chasing the Chicago Cubs in the National League Central this season, and that chase may have grown just a little bit tougher. Shortstop Jhonny Peralta suffered what appears to be a torn ligament in his thumb on Saturday, and the injury could keep the All-Star shortstop out for two to three months. Jhonny Peralta has a torn...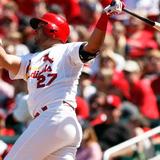 With all due respect to Carter Capps, it looks like we have our first major injury of spring training. Jhonny Peralta suffered a left thumb injury on Saturday. Early indications are that he tore a ligament, could miss 2-3 months. — Jenifer Langosch (@LangoschMLB) March 7, 2016 The Cardinals have a good team, and are looking to contend again this year, but they don't have a lot...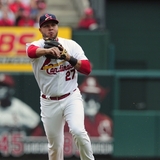 You have to be able to admit when you were wrong. Two years ago I criticized the St. Louis Cardinals signing of shortstop Jhonny Peralta—not because of Biogenesis, but due to age and assumed regression—and thought it was $52 million poorly spent. Peralta proved that wrong in a big way in 2014. It wasn't so much the .263/.336/.443 batting line—in line with career averages—but his...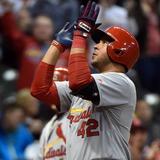 As Rocky Balboa once told his son, "Life will beat you to your knees if you let it. It's not about how hard you can hit. It's about taking the hits and keep moving forward." Those words can apply to St. Louis Cardinals fans before Jhonny Peralta's game winning 2 run home run at Wrigley Field Wednesday night. The game of baseball can pound a fan to its knees and keep them there. It...
Let's take a look at ten hitters that are currently in red-hot form. 10. Jhonny Peralta, Cardinals On pace to exceed all his yearly averages, Peralta has taken advantage of the second chance granted to him when he signed with the Cards this offseason following a 50-game suspension in 2013 for PED involvement. Two of his three homers this month have come over the past seven days...
MORE STORIES >>
Cardinals News

Delivered to your inbox

You'll also receive Yardbarker's daily Top 10, featuring the best sports stories from around the web. Customize your newsletter to get articles on your favorite sports and teams. And the best part? It's free!