The Dodgers' bullpen lost Brandon Morrow in the offseason and potential replacement Tom Koehler this spring, but Kenley Jansen and Josh Fields provided a little reassurance in their first Cactus League outings on Thursday.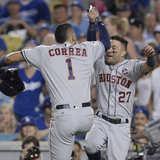 As soon as Kenley Jansen blew the save in Game 2 of the World Series, the Los Angeles Dodgers were toast.Houston's bats exploded late in Game 2 on Wednesday night. They score two runs off Jansen, handing him his first earned run and blown save of the postseason on a solo home run in the ninth by Marwin Gonzalez to tie it in the ninth. With the tough part — scoring off Jansen — out...
The Dodgers reinstated Yu Darvish (aka "Yu San") from the 10-day disabled list for his start on Sunday and placed righty Josh Fields on the 10-day DL with a lower back strain.
The Atlanta Braves are in the midst of another sub-.500 season that's seen them fall well out of the National League...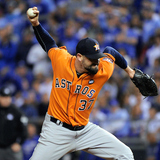 Holding a 2-1 series lead and up 6-2 on the Kansas City Royals in the eighth inning of a closeout Game 4 of the 2015 ALDS, the Houston Astros needed just six outs to advance to the ALCS. Instead, they watched their bullpen quartet of Will Harris, Tony Sipp, Luke Gregerson, and Josh Fields totally implode, allowing seven runs on six hits and three walks in the final two frames as...
Over the last calendar year, Houston righty Josh Fields has been a top-30 reliever. That may not be the type of lede that grabs you by your collar and shakes a click out of you, but the "how" might intrigue you. Because Fields has changed one thing — a new pitch has helped — but it's something that he changed mentally that really made the difference. And his faith had everything...
The Phillies have made a signing, and it's a third baseman.  However, he is not likely the solution.  Today the Phillies signed third baseman Josh Fields to a minor league contract.    Once a top prospect, Fields will likely go into Spring Training along the lines of the many minor league infielders the Phillies have signed over the years.  Hopefully they will get lucky. Fields...
MORE STORIES >>
Dodgers News

Delivered to your inbox

You'll also receive Yardbarker's daily Top 10, featuring the best sports stories from around the web. Customize your newsletter to get articles on your favorite sports and teams. And the best part? It's free!