Earlier this week the 34-year-old Mike Pelfrey retired from Major League Baseball and is now a coach Newman University. Pelfrey spent the peak of his career as a mainstay in the New York Mets rotation, after being quickly summoned to the big leagues at age 22. From 2008-2011, Pelfrey would offer around 200 innings in each of those four seasons. While two of those seasons were quite...
The former Mets pitcher is taking a coaching position Former Mets starting pitcher Mike Pelfrey has announced his retirement. Pelfrey is taking a coaching position at Newman University, where his big league expertise will surely prove useful for up-and-coming hurlers looking to prove their stuff. Pelfrey will most likely be remembered for his time with the Mets. His past five seasons...
Veteran right-hander Mike Pelfrey has decided to retire from professional baseball to become a coach at Newman University, according to a report by SB Nation on Wednesday.
Veteran right-hander Mike Pelfrey has decided to retire from professional baseball to become a coach at Newman University, according to a report by SB Nation on Wednesday.
The righty will move on to life as a college baseball coach. Former Detroit Tigers pitcher Mike Pelfrey has retired from Major League Baseball. Pelfrey made a long career out of being an unremarkable pitcher. Over his 12 seasons in the major leagues, he had a career ERA of 4.68, a 4.46 FIP, and a 1.51 WHIP. Nothing in those numbers is particularly abysmal, nor are they the type of...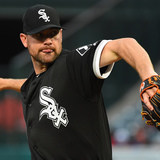 Right-hander Mike Pelfrey appears to be moving on from his days on the mound, as Wayne Cavadi of NCAA.com reported recently (thanks to alert reader Alex Hudson for the tip). Pelfrey, who played at Wichita State University and is finishing up his degree there, has agreed to join the baseball coaching staff of another local school, Newman University. After a dozen years in the majors...
Chicago White Sox right-hander Mike Pelfrey is a survivor of Tommy John surgery, but only in the technical sense of having returned to a major-league mound after having undergone the procedure. Prior to going under the knife, the 6-foot-7 right-hander was a solid, midrotation starter for the New York Mets. Since surgery, however, he's been a shell of his old self. Pitching for the...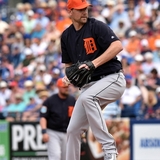 CHICAGO (AP) Detroit Tigers right-hander Mike Pelfrey has been activated off the disabled list and moved to the bullpen. Pelfrey had been sidelined since July 31 with a lower back strain. He said Monday he is ''fine'' with the decision because ''everybody in the rotation is throwing well.'' The 32-year-old Pelfrey is 4-9 with a 4.76 ERA in 21 starts this season. He has appeared...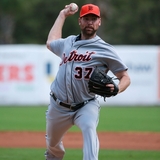 DETROIT -- The Detroit Tigers will be facing a much better and more confident Miami Marlins team Tuesday than the one they beat twice to open the 2016 season. And while Miami is on an uptick, Detroit is just ticked after getting swept for the third time this season by the Cleveland Indians this past weekend. The Tigers have stiffened their bullpen in the last week but their rotation...
Mike Mulholland | MLive.com Mike Pelfrey made a big pitch that got himself out of a jam Sunday and apparently thought first base umpire Mike DiMuro was congratulating him with a fist bump. Of course, DiMuro wasn't.  Pelfrey's juices were just flowing.  Hopefully this gets DiMuro and his buddies to expand the strike zone for Pelfrey so he can get his 5.68 ERA down near respectability...
MORE STORIES >>
White Sox News

Delivered to your inbox

You'll also receive Yardbarker's daily Top 10, featuring the best sports stories from around the web. Customize your newsletter to get articles on your favorite sports and teams. And the best part? It's free!