We've updated our Privacy Policy.
By continuing to use this site, you are agreeing to the new Privacy Policy.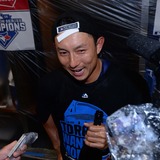 Toronto Blue Jays infielder Munenori Kawasaki gave an interview for the ages roughly two weeks ago after his team clinched its first division title since 1993 to earn a trip to the playoffs. Kawasaki told a reporter he was too drunk to answer questions in English and preferred Japanese instead. It's hard to top that interview, but he gave his best effort while drenched in champagne...
It has been a magical year for the Toronto Blue Jays. The team clinched its first division title since 1993 and is peaking at the right time heading into the postseason. The Jays demolished the Baltimore Orioles on Wednesday 15-2 and won the AL East title. With a record of 92-66, the team has a great chance to have home-field advantage leading up to the World Series. Players and...
Buffalo Bisons fan favorite Munenori Kawasaki was up to his old tricks after the P.A. announcer wished him a "Happy Birthday". Not quite sure what Kawasaki was doing but it was entertaining as always. Your browser does not support iframes. The post Munenori Kawasaki Reacts To Birthday Announcement appeared first on Baseball Hot Corner.
LIKE WHAT YOU SEE?
GET THE DAILY NEWSLETTER:
The Toronto Blue Jays officially made the tough and soon to be unpopular decision to demote fan favourite Munenori Kawasaki after Tuesday's loss at the hands of the Tampa Bay Rays. The Jays needed to secure a roster spot in order to activate All-Star Jose Reyes from the disabled list making Kawasaki expendable. Reyes was on the bench near the end of the game and is expected to be...
Toronto Blue Jays Japanese pop sensation Munenori Kawasaki was up to his old tricks with teammate Mark DeRosa on Intentional Talk. Kawasaki even dropped a "Got Heem" that would have made Brian Wilson proud to call his own. Host Chris Rose and Kevin Millar are killing themselves in laughter during the entire ordeal. Classic Kawasaki The post Hilarious Munenori Kawasaki Got Heem Interview...
Prior to the start of the Toronto Blue Jays and Chicago White Sox contest at US Cellular Field infielder Munenori Kawasaki got in some work with some Blue Jays fans who made the trip south. Kawasaki plays catch with multiple fans adding to his reign as a fan favourite. Baseball is an International language. The post Toronto Blue Jays' Munenori Kawasaki Plays Catch With Fans appeared...
Munenori Kawasaki. Never heard of him? Well, you won't forget him now. The second-year infielder from Japan hit a walk-off double Sunday to lift the Blue Jays to a 6-5 win over the Orioles. But that's not the reason you will remember him. This is. Not sure what's the best part of the video: Kawasaki taking out his notebook, his exuberance during the interview or his teammates...
Don't mind Muneori Kawasaki.  He's just preparing for a baseball game the way that any Major League player prepares.  Right?   1. The smoothest mechanical bull ride ever.  Solid form. via Reddit   2. He's still working on his Vanna White.  It needs serious work. via Reddit   3. Like the annoying little twerp in the AT&T commercial: "I can stand on my head and waaaaaaaave my...
On Wednesday the Seattle Mariners officially announced the signing of Japanese shortstop Munenori Kawasaki to a minor league contract. He has been invited to minor league camp. What Could Munenori Kawasaki Bring To The Seattle Mariners? We analyze that here on the Mariners blog.CACTUS LEAGUE Spring Training is around the corner. Follow the Mariners with NWSportsBeat.com as they...
Seattle Mariners blogger Danny Ferguson tells us Munenori Kawasaki says he's been invited to spring training by the Seattle Mariners. The Mariners had a backup short stop on their wish list for this off season, but they may get a replacement starter instead. Danny goes on to say if he were Brendan Ryan he'd be calling his agent and hitting the gym. What about Nick Franklin?
MORE STORIES >>
Cubs News

Delivered to your inbox

You'll also receive Yardbarker's daily Top 10, featuring the best sports stories from around the web. Customize your newsletter to get articles on your favorite sports and teams. And the best part? It's free!