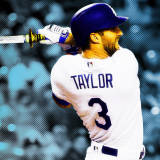 Following a 6-1 win over the defending champion Chicago Cubs in Game 3 of the NLCS, the Los Angeles Dodgers are now one victory away from their first NL pennant in nearly three decades, and Chris Taylor's 2017 breakout season is a big reason why.On a team featuring Clayton Kershaw, Justin Turner and Yasiel Puig amongst others, Taylor has become the unlikeliest of stars. Acquired...
"Here is another way to look at this: The Yanks felt similarly after the 1995 season about a young corner infielder with power (Russ Davis) and a talented lefty starter (Sterling Hitchcock) as the Mets feel now about the powerful Ike Davis and lefty Niese. The Yanks turned their duo into dynasty cornerstones Tino Martinez [...]
If the purpose of a great writer is to conjure up strong emotions from your audience then my fellow 'Barker jasoncarulli would be awarded the Pulitzer Prize tomorrow if it were up to me. After reading his article (http://yardbarker.com/mlb/articles/The_Evil_Has_Shifted/33388), all I could think of was that these four paragraphs penned by Mr. Carulli should be collected and distributed...
MORE STORIES >>
MLB News

Delivered to your inbox

You'll also receive Yardbarker's daily Top 10, featuring the best sports stories from around the web. Customize your newsletter to get articles on your favorite sports and teams. And the best part? It's free!