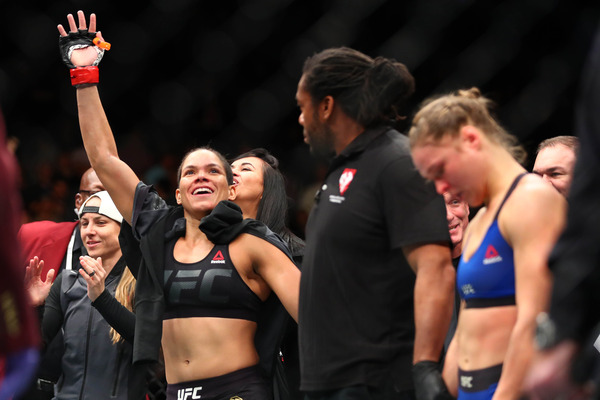 Amanda Nunes claims she trained harder before her fight with Miesha Tate than she did for her bout against Ronda Rousey.
Mark J. Rebilas-USA TODAY Sports
Amanda Nunes can safely say she is a better fighter than Ronda Rousey after she knocked Rousey out in less than 50 seconds last week, but that is not stopping the UFC women's bantamweight champion from kicking the former champ while she's down.
In an interview with TMZ on Wednesday, Nunes said she knew she could beat Rousey since the first time she saw Rousey fight in the UFC. Nunes was then asked directly if she believes Rousey is overrated.
"Yes, for sure," she replied. "UFC made this happen (by promoting her so heavily). I've known I could beat Ronda Rousey since I saw her first fight."
Perhaps the most insulting thing Nunes said was her revelation that she trained more to fight Miesha Tate than she did to fight Rousey. Assuming that's true, it says a lot about how Rousey is viewed in terms of being the most dominant female MMA fighter of all time. Then again, we all saw what Nunes did to Tate, so it makes sense that she trained harder for that fight.
Nunes stands nothing to gain by downplaying Rousey's skills, so she must truly think she is overrated. After she beat a supposedly refocused and determined Rousey in 48 seconds, you can't really blame her.
MORE FROM YARDBARKER
MMA News

Delivered to your inbox

You'll also receive Yardbarker's daily Top 10, featuring the best sports stories from around the web. Customize your newsletter to get articles on your favorite sports and teams. And the best part? It's free!