We've updated our Privacy Policy.
By continuing to use this site, you are agreeing to the new Privacy Policy.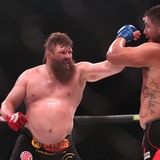 The fans in attendance at Mohegan Sun Arena in Connecticut were not happy with the judges for the result of the Matt Mitrione-Roy Nelson fight at Bellator 194 on Friday night.Mitrione won the fight by majority decision, with the judges scoring the fight 28-28, 29-28 and 29-28 in favor of Mitrione.After the result was announced, fans could be heard booing: Many felt that Mitrione...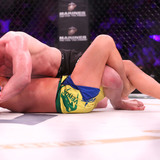 Inglewood, Calif. – Welcome to the official LBS live blog of Bellator 192 taking place in Inglewood, Calif. at The Forum and being televised on Paramount Network. The fight card is jam-packed and will be headlined by two events: Rampage vs. Sonnen and Lima vs. MacDonald.Rory MacDonald is fighting in Bellator for the second time and will be looking to dethrone Douglas Lima, who is...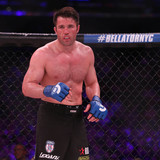 40-year-old Chael Sonnen's showdown against Quinton "Rampage" Jackson at Bellator 192 may be the final fight of his career, but it appears as if he'll be ready.Sonnen, who is known for his work ethic and dedication to his craft, has been training hard for the upcoming fight.Don't believe me? Check out this sparring video. Sonnen is listed as a 15:10 underdog in Saturday's fight.
LIKE WHAT YOU SEE?
GET THE DAILY NEWSLETTER: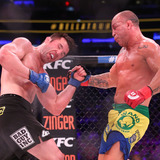 Chael Sonnen defeated Wanderlei Silva by unanimous decision at Bellator NYC inside Madison Square Garden Saturday night, and the 40-year-old immediately got to working on setting up his next fight after the victory.Sonnen hit Silva with a number of punches and was able to take him down in all three rounds, earning a 30-27 score in his favor from two judges and 30-26 from the other...
It's been years in the making, but Chael Sonnen and Wanderlei Silva will soon finally square off in the Octagon. The two have long hated each other, and were supposed to square off in 2014, but it wasn't to be. Fortunately, Bellator is renewing their passion and the two will go toe-to-toe on Saturday night to headline the Bellator 180 card. Sonnen and Silva attended their pre-fight...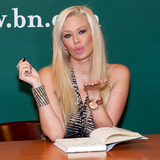 Jenna Jameson responded to a vulgar zinger she was the target of during Thursday's Bellator 170 press conference between Tito Ortiz and Chael Sonnen.Sonnen and Ortiz are fighting on Saturday in a heavily hyped fight. Sonnen is known for having a big mouth, so it's no surprise he brought out the blasts during the press conference. That included a reference to Jameson, whom Ortiz dated...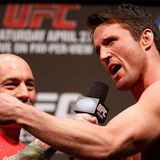 Chael Sonnen is sticking to his guns.The three-time UFC title contender retired just over two years ago ahead of a sanction handed down from the Nevada State Athletic Commission after testing positive for several banned substances.Sonnen decided to call it a career and then he was handed a two year suspension from the governing body in Nevada, but as that sanction comes near its...
Chael Sonnen's two year suspension from mixed martial arts ends in July of next year, but the 38 year-old has confirmed that he won't be looking to make a comeback. "I am not coming back," Sonnen told Ariel Helwani on The MMA hour show. "I am not putting a toe in the water. I don't know how to speak any more clear." Sonnen announced his retirement from the sport after being handed...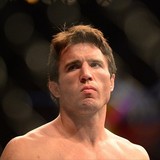 Oh, boy. Chael Sonnen (pictured), one of the biggest cheaters in MMA history, might not be done with tainting the sport just yet. Apparently, after Sonnen's two-year drug suspension expires in July 2016, the controversial wrestler might return to the cage. "His manager believes that after his suspension is up next year, that he'll fight again," reporter Ariel Helwani revealed on...
Roughly five months after getting fired from the UFC and FOX for flunking two random drug tests within a matter of four weeks, former UFC middleweight top contender Chael Sonnen (pictured) has been signed by ESPN. "I love to break down fights," Sonnen told The Associated Press. "I love to watch them. The fact that ESPN will allow me to do that on the air in a fancy suit and call...
MORE STORIES >>
MMA News

Delivered to your inbox

You'll also receive Yardbarker's daily Top 10, featuring the best sports stories from around the web. Customize your newsletter to get articles on your favorite sports and teams. And the best part? It's free!