In 1998, a fresh faced young man by the name of Dan Henderson emerged from the amateur wrestling ranks to try his hand at the underground sport of mixed martial arts. Like so many other amateur wrestlers, he found this new revolution in combat sports intriguing, as it presented him with an opportunity to continue using his wrestling skills while pocketing some money not available...
The careers of Michael Bisping and Dan Henderson are irrevocably intertwined. Ever since Henderson's right hand connected with Bisping's jaw at UFC 100, you couldn't speak of one without thinking of the other. So it seems fitting that now that both fighters are on the precipice of propelling their legacies to the next level, they should meet again at UFC 204. For Bisping, UFC 204...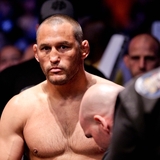 Legendary mixed martial artist Dan Henderson has one fight remaining on his contract with the UFC. The former Olympic wrestler, who is also a former Strikeforce champion and two-division PRIDE champion, however, is mulling retirement ahead of his upcoming contract negotiations. Henderson, 45, spoke with MMAjunkie.com and revealed he is not sure how much he has left in the tank. ...
In less than two weeks, on November 7th, Dan Henderson will face Vitor Belfort.  Before that fight, let's take a look at the career of the man they call 'Hendo'. "Hendo", like most fighters, began his career with high school wrestling.  His team captured the California state championship, then went on to win the national championship.  Next, during his time at Cal State Fullerton...
Dan Henderson took to Twitter earlier to that his next fight has been scheduled by the UFC and that the promotion should make the announcement later on tonight. Henderson would continue to toy with fans on the popular social networking service, firing off a few more "clues" to help them figure out who his next opponent will be. Who had their money on me vs Jacare? — Dan Henderson...
Dan Henderson is winning both inside and outside of the Octagon. The 44-year-old walloped Tim Boetsch in his UFC fight on Saturday night, and then he celebrated his victory inside the cage with his smoking hot wife. It was almost straight out of a scene from "Talladega Nights." Check out Hendo's wife Rachel Malter just...Read More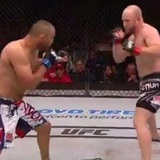 On a card that saw 10 of 12 fights end inside the distance, 44-year-old Dan Henderson (31-13) capped it off with a 28-second KO of Tim Boetsch (18-9). Chalk up KO number 15 for the man with the most lethal right hand in the history of the sport. The highlights are all yours to enjoy below.  
Dan Henderson suffered his fifth loss in six fights at UFC On FOX 14 this past Saturday night in Sweden against Gegard Mousasi, but as the dust settles on the event the 44 year-old has vowed to continue fighting. "Absolutely," was Henderson's definitive statement when asked on the UFC On FOX 14 post-fight show if he wanted to continue with his career. "I want to fight right now...
Throughout the course of this week Ronaldo 'Jacare' Souza and Dan Henderson have been trying their best to make UFC matchmaker Joe Silva's job a little easier by suggesting they fight each other next in the Octagon. It was actually 'Jacare's' coach Josuel Distak who started the ball rolling during an interview with Sherdog.com on Tuesday after floating the idea that his fighter would...
After losing four of his last five bouts, Dan Henderson has announced that he is going to move back down to the UFC's middleweight division. It's been five years since he last fought at 185lbs in the Octagon, and it proved to be a fight that would live long in the memory as it saw him produce one of the most famous knockouts in MMA history against Michael Bisping at UFC 100. Henderson...
MORE STORIES >>
MMA News

Delivered to your inbox

You'll also receive Yardbarker's daily Top 10, featuring the best sports stories from around the web. Customize your newsletter to get articles on your favorite sports and teams. And the best part? It's free!