Originally posted on
Sportsnaut
| Last updated 4/29/15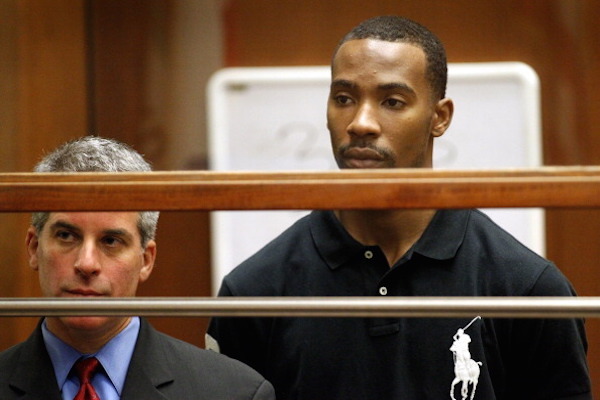 Former NBA player Javaris Crittenton faces up to 23 years in prison for his role in the murder of a mother of four.
Al Seib-Pool/Getty Images
By Vincent Frank
Javaris Crittenton, who played parts of just two seasons in the NBA after the Los Angeles Lakers made him the 19th pick in the 2007 draft, admitted responsibility for his role in the murder of a 22-year-old mother of four.
In accepting a plea in the murder case, the Georgia Tech product faces 23 years in prison.
The details of this case are about as disturbing as it gets.
Crittenton, 27, was seeking revenge against a man who he believed had stolen some jewelry and an iPhone from him. In an incident that he called an accident, the mother of four, Julian Jones, was killed.
In accepting responsibility for his role in the shooting death of the woman, Crittenton issued an apology to her family in open court.
Crittenton's cousin, Douglas Gamble, accepted a three-year sentence for his role in the murder. Both are suspected gang members.
After leading Georgia Tech to the NCAA Tournament as a freshman in 2006, Crittenton declared for the NBA Draft, where he was selected in the first round by the Lakers. He was then traded from the Lakers to the Memphis Grizzlies 22 games into his rookie season before being dealt to the Washington Wizards.
Back in 2009, Crittenton was involved in the whole Gilbert Arenas gun incident, and suspended by the team. He was released shortly thereafter, ending his NBA career.
MORE FROM YARDBARKER
Hornets News

Delivered to your inbox

You'll also receive Yardbarker's daily Top 10, featuring the best sports stories from around the web. Customize your newsletter to get articles on your favorite sports and teams. And the best part? It's free!