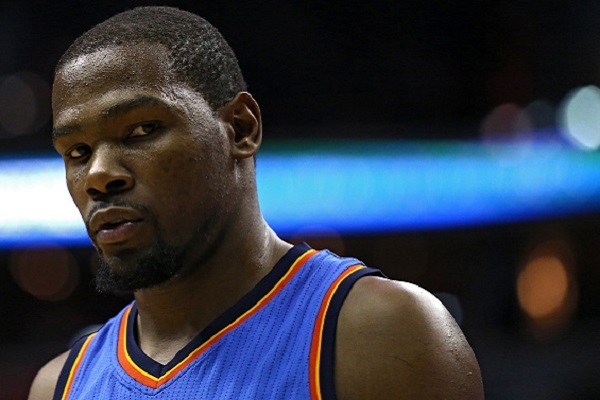 Kevin Durant made strong comments about his future in OKC.
Patrick Smith/Getty Images Sport
By Larry Brown
Kevin Durant gave Oklahoma City Thunder fans a reason to breathe a sigh of relief after saying that he would love to spend his entire career with one team.
Durant will be a free agent in 2016, and he supported LeBron James' decision to return home to Cleveland, leading to much speculation that he would consider signing with his hometown Washington Wizards when the time came. He also gave fans a reason to panic in February when he hinted he might not be loyal to the Thunder in his next contract negotiations. However, not much long after, he seemed to backtrack over Twitter.
Now, in his strongest comments on the subject yet, Durant expressed a serious desire to remain with the Thunder for the rest of his career.
"I love it here, man. I love my teammates, I love the city, I don't really think about anywhere else," Durant told Revolt TV in a recent interview via ESPN's Royce Young. "I hear it all the time, don't get me wrong, and once you hear it you're kind of like [looks up, thinking]. But for me, I love staying in the moment, and I'm one of those guys that would love to stick it out with one team my whole career.
"Kobe [Bryant], Tim Duncan, Dirk Nowitzki type. That's awesome," he said. "But you never know what the future holds sometimes and how teams may feel about you after a while, but I love it here and I would love to get my jersey retired here."
Given how emotional Durant has been this year and how he has gone back-and-forth with the media, it's hard to know how seriously to take these comments. Like he said, he's been living in the moment a lot lately, so maybe his feelings will change. But this is still a great sign for the Thunder and probably makes them feel as comfortable as ever about their likelihood of retaining him for the future.
Though Durant is out several months because of his latest foot surgery, there is little doubt that the Thunder would love to have him as long as they can.
MORE FROM YARDBARKER
Thunder News

Delivered to your inbox

You'll also receive Yardbarker's daily Top 10, featuring the best sports stories from around the web. Customize your newsletter to get articles on your favorite sports and teams. And the best part? It's free!