NBA Referee Hotline Bling: Rihanna calls 'Brick'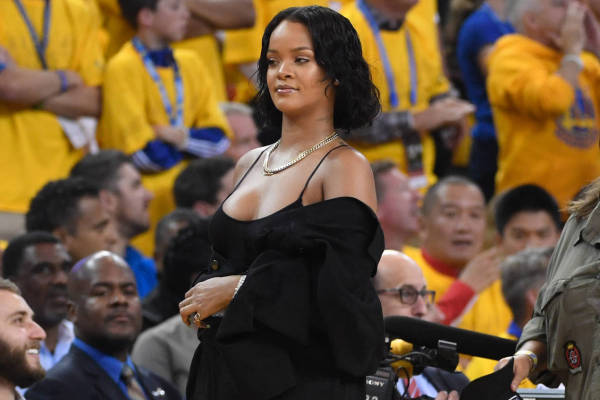 Rihanna created a bit of a distraction with the announcers during Game 1 of the 2017 NBA Finals between the Golden State Warriors and the Cleveland Cavaliers.
Kyle Terada-USA TODAY Sports
The NBA still maintains a hotline where players can call to complain about NBA referees. And you better believe that's still open in the playoffs, when calls are bigger, beefs are hotter, and the stakes are higher. It's like a message board for NBA players, only no one is just yelling "First!" and hanging up. Each week, we'll present a look at the hotline's responses, which are about as genuine as the fandom of most of the fans in Oakland. We know when that hotline blings, that can only mean one thing: a pop star has found hate in a hopeless place.
Rihanna vs. Kevin Durant
Dear Ms. Fenty,
Thank you for your continued and passionate support of the NBA, both on and off the court. We are always thrilled to have music superstars sitting courtside at big games, particularly when they're not Drake. Our colleague Jeff Van Gundy wanted us to convey his own particular appreciation, though we declined to send along his Snapchat handle. He says that as far as he's concerned, you are the only girl in the world.
That being said, we couldn't really understand your message. It had an extremely catchy beat, don't get me wrong, but all that we could make out was "La la la la la la" and then the word "Hey" roughly 120 times, interspersed with "Brick!" We can only assume this was directed at Kevin Durant, judging by his stare down after he sunk a three right in front of you.
Ms. Fenty, I don't think yelling at Durant bothers him, given how little he's affected by physical defense, online criticism, jersey burning, and former teammates' pregame costumes. And while we encourage cheering, we wish you would not try to affect the outcome by affecting the players. The broadcast team has already been shook enough.
Take care, NBA Referee Hotline
J.R. Smith vs. Kevin Durant
Dear Mr. Smith,
We looked at the tape, and we found no grounds that Kevin Durant dunked "flagrantly and with willful disregard" for your reputation, so we reject your demand for settlement. However, we are going to have no notify the authorities that you fled the scene of an accident. But there was a great deal of reckless behavior from your whole team. The Cavs' Game 1 defense at the rim was a total car wreck.  And for whatever reason, your team persisted in speeding on offense, even after a severe blowout.
We would notify your insurance company, but it appears that all of your wing insurance is all quite old. The Kyle Korver policy is still active, but it doesn't provide full coverage. The Iman Shumpert requires high premiums, but it's only liability. The Deron Williams policy has been recalled by multiple organizations the past few years. And the James Jones expired years ago. We suggest that next time you exchange information with your colleagues, and see if you can do online transition defense school to erase this from your record.
Sincerely yours, NBA Referee Hotline
Kevin Love vs. Kevin Durant
Dear Mr. Love,
We saw your appeal of this play, claiming Kevin Durant should have been called for a double dribble in the backcourt. Our judgment is that Mr. Durant did not dribble with his first touch; he was merely gathering the ball after his impressive and soul-crushing block of your shot attempt. The ball was still out of control, probably due to the puddle of flop sweat underneath your body. Mr. Durant had no choice but to secure the ball with two hands, given the likely coating of tears, snot, hopes, dreams, and self-respect that you left behind when the block happened.
Mr. Love, we understand you crying after such a play, but what we don't understand is crying to the referees. As Mr. Durant presumably said as he sent your shot back, "Get that weak stuff out of here!"
Sincerely yours, NBA Referee Hotline
LeBron James vs. The Warriors Defense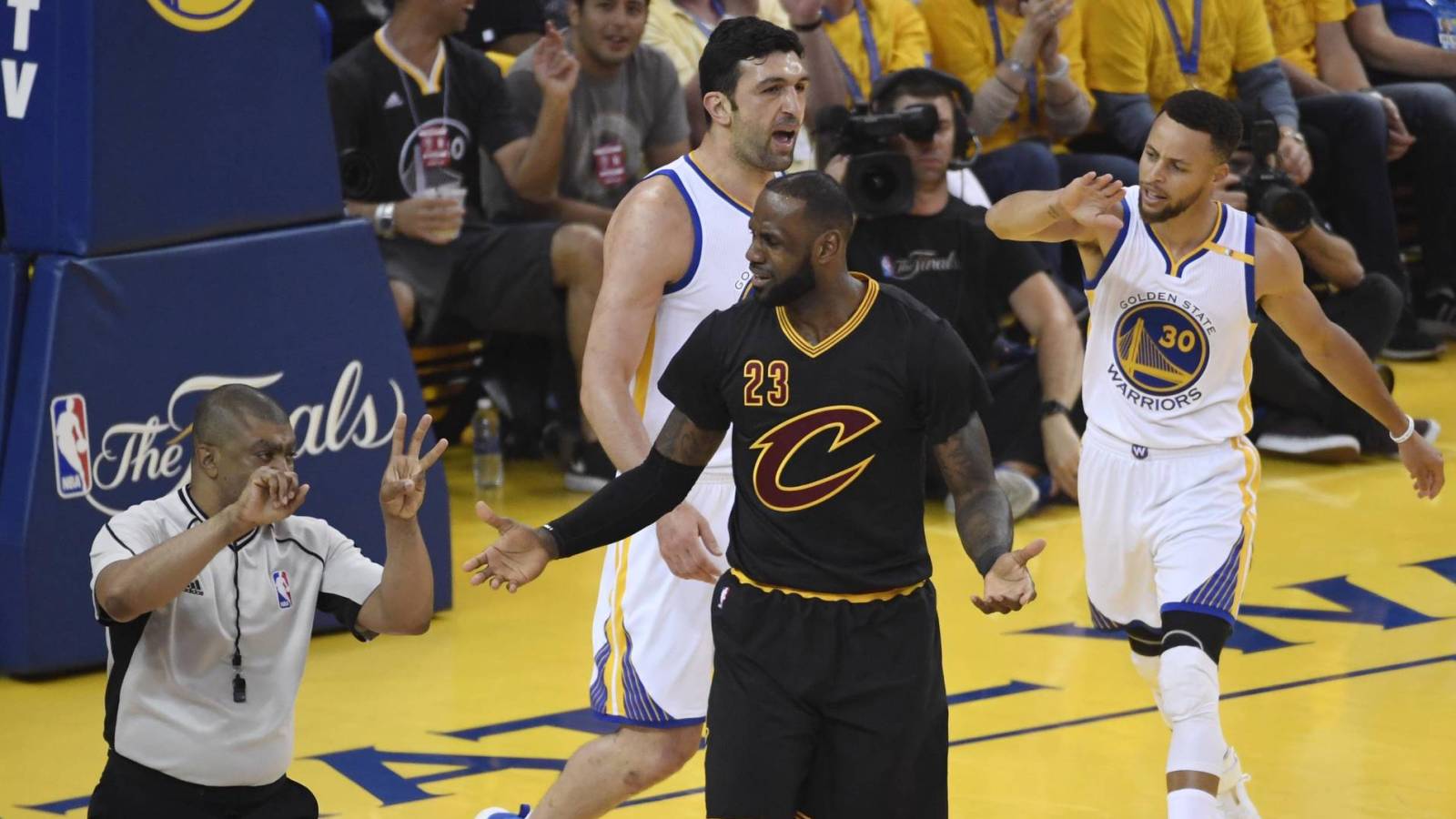 Yes, LeBron. We've heard your complaints. 
Kyle Terada-USA TODAY Sports
Dear Mr. James,
Thanks for your itemized list of the 28 different times that you were fouled on drives to the basket. There is indeed a lot of physical contact in the lane, from bumps to elbows to wrist slaps to wet willies to Indian burns to dead legs. And the referees have indeed had a "let them play" attitude we haven't seen since the Bad News Bears broke training. But the problem is, if the referees started following the rules as strictly as you're asking, we'd also have to do something you'd hate: start calling traveling.
Sincerely yours, NBA Referee Hotline
P.S. If you've noticed some muscle soreness after your fall, we recommend yoga classes and switching onto Zaza Pachulia.
MORE FROM YARDBARKER:
QUIZ: Name every player on the 2015-16 Cleveland Cavaliers Finals-winning team
The Cavaliers brought the city of Cleveland its first sports championship in 52 years after a historic comeback over the Golden State Warriors. Can you name the 15 players on that championship Cavs roster?
MORE FROM YARDBARKER
NBA News

Delivered to your inbox

You'll also receive Yardbarker's daily Top 10, featuring the best sports stories from around the web. Customize your newsletter to get articles on your favorite sports and teams. And the best part? It's free!