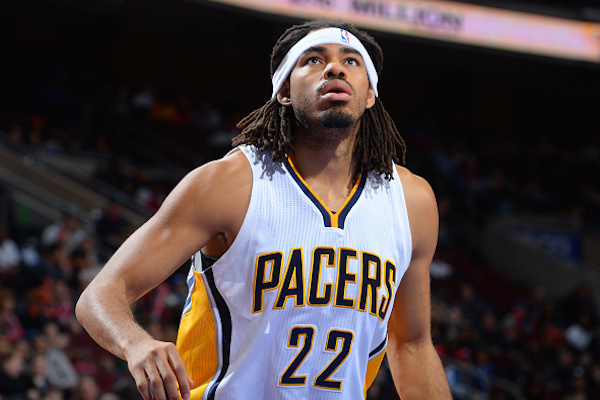 Pacers forward Chris Copeland and a female friend were involved in an incident at 4 a.m. Wednesday morning that resulted in both suffering knife wounds.
Jesse D. Garrabrant/NBAE via Getty Images
By Steve DelVecchio
Indiana Pacers forward Chris Copeland did nothing to antagonize his attacker or instigate a fight before he was stabbed outside a nightclub in New York Cityearly Wednesday morning, at least according to one report.
Jared Zwerling of Bleacher Report has provided more of the alleged details from the incident that resulted in Copeland being stabbed in the midsection and a female friend being slashed. According to Zwerling, Copeland "politely declined" when someone told him about a promotion. In addition to being stabbed, Copeland also reportedly suffered a broken elbow.
Spoke to someone close to Chris Copeland. Was approached by a guy outside 1Oak telling him about some promotion & Cope politely declined ...

— Jared Zwerling (@JaredZwerling) April 8, 2015
Copeland didn't get into a fight. His female friend (not wife) helped ward off attacker. Cope got stabbed and broke left elbow. Surgery now.

— Jared Zwerling (@JaredZwerling) April 8, 2015
It should be noted that someone "close" to Copeland could be a friend who is trying to make him seem completely innocent, but there's nothing the 31-year-old could have said or done to warrant being stabbed.
Unfortunately, this type of stuff happens. Just a few months ago, a WNBA superstar was attacked by a man wielding a knife while in China. Here's hoping Copeland has a speedy recovery.
MORE FROM YARDBARKER
Pacers News

Delivered to your inbox

You'll also receive Yardbarker's daily Top 10, featuring the best sports stories from around the web. Customize your newsletter to get articles on your favorite sports and teams. And the best part? It's free!