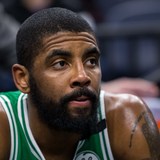 Celtics' president of basketball operations Danny Ainge believes he gave the wrong impression this week when he said Gordon Hayward suffered a setback in his rehab, relays Steve Bulpett of The Boston Herald. Looking back, Ainge believes "setback" was too strong a term and created inaccurate headlines about Hayward's progress."What happened is he went on the AlterG [anti-gravity...
Injuries have limited Nerlens Noel to just 24 games and 6 starts this season, leaving his impending unrestricted free agency as a major uncertainty. The former sixth overall pick will have a choice of where he can sign this upcoming offseason and he intends to approach it in the best shape of his life, Isaac Harris of NBA.com writes."Once this summer ends I'll be working harder than...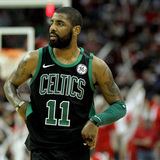 After leaving Sunday's game against Indiana with knee soreness, Celtics star Kyrie Irving suggested that an extended rest period could follow, writes ESPN's Chris Forsberg. Irving sat out last Monday's game vs. Chicago due to knee pain, but it sounds like he'll miss more than one game this time around."I think [rest] will probably be the best thing, just instead of kind of hoping...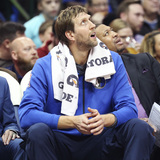 As expected, the Mavericks opted not to offer a second 10-day contract to shooting guard Scotty Hopson, according to Eddie Sefko of The Dallas Morning News. Hopson appeared in just one game and played eight minutes during his time in Dallas.The open roster spot will be used to extend a 10-day deal to Jameel Warney, possibly today. The 6'9″ power forward/center has been playing in...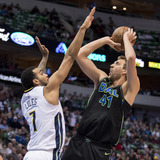 Dirk Nowitzki has spent his entire 20-year NBA career with the Dallas Mavericks. But according to head coach Rick Carlisle, he's not done yet. Seeing Nowitzki for one more season would be great. But the Mavericks are in bad shape. His return doesn't break them, but it certainly doesn't put them over the top.This season, the Mavericks are 21-45. Only three games separate them from...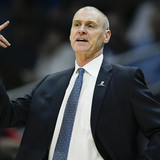 Dallas Mavericks head coach Rick Carlisle not surprisingly has once again been compelled to weigh in on the alleged malfeasance plaguing the organization's front office and ownership. This time it involves allegations of sexual assault against Mavericks owner Mark Cuban stemming from a 2011 incident in Portland, Ore.Carlisle made it abundantly clear he is 100 percent behind Cuban...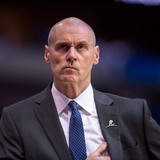 Dallas Mavericks head coach Rick Carlisle on Wednesday addressed the organization's sexual harassment scandal brought to light in a troubling Sports Illustrated piece published this week.Carlisle noted  that "there's going to be a thorough investigation into this from an outside group led by two people at the top of their profession," former New Jersey attorney general Anne Milgram...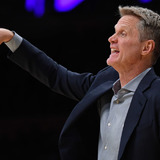 An error at the scorer's table led to a funny exchange involving Steve Kerr and Rick Carlisle during a game between the Warriors and Mavericks.During Wednesday's game at American Airlines Center, the scorer's table accidentally gave Golden State a point that belonged to Dallas. Carlisle noticed and pointed out the error. Kerr responded by saying his team deserved it. One thing that...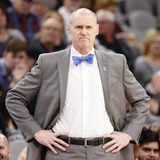 Rick Carlisle summed up the 18-30 Dallas Mavericks with a perfect quote on Monday night.Dallas stunned many by knocking off a Kevin Love-less Cleveland Cavaliers team 104-97. That made it two straight impressive wins for the Mavs, as they also beat the Spurs on the road the day before. That led Carlisle to say this after the game, via Mavs Moneyball's Tim Cato."We're a s— team, but...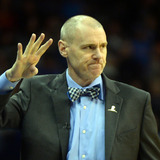 Rick Carlisle's acid tongue has struck again.Speaking with the media after practice Saturday, the Dallas Mavericks head coach was asked about undrafted rookie guard Yogi Ferrell, who just signed a 10-day contract with the team, and proceeded to roast the Mavs' ball-handlers in the process."Yogi is one of the guys high on the call-up list in the D-League, so we'll take a good hard...
MORE STORIES >>
Mavericks News

Delivered to your inbox

You'll also receive Yardbarker's daily Top 10, featuring the best sports stories from around the web. Customize your newsletter to get articles on your favorite sports and teams. And the best part? It's free!