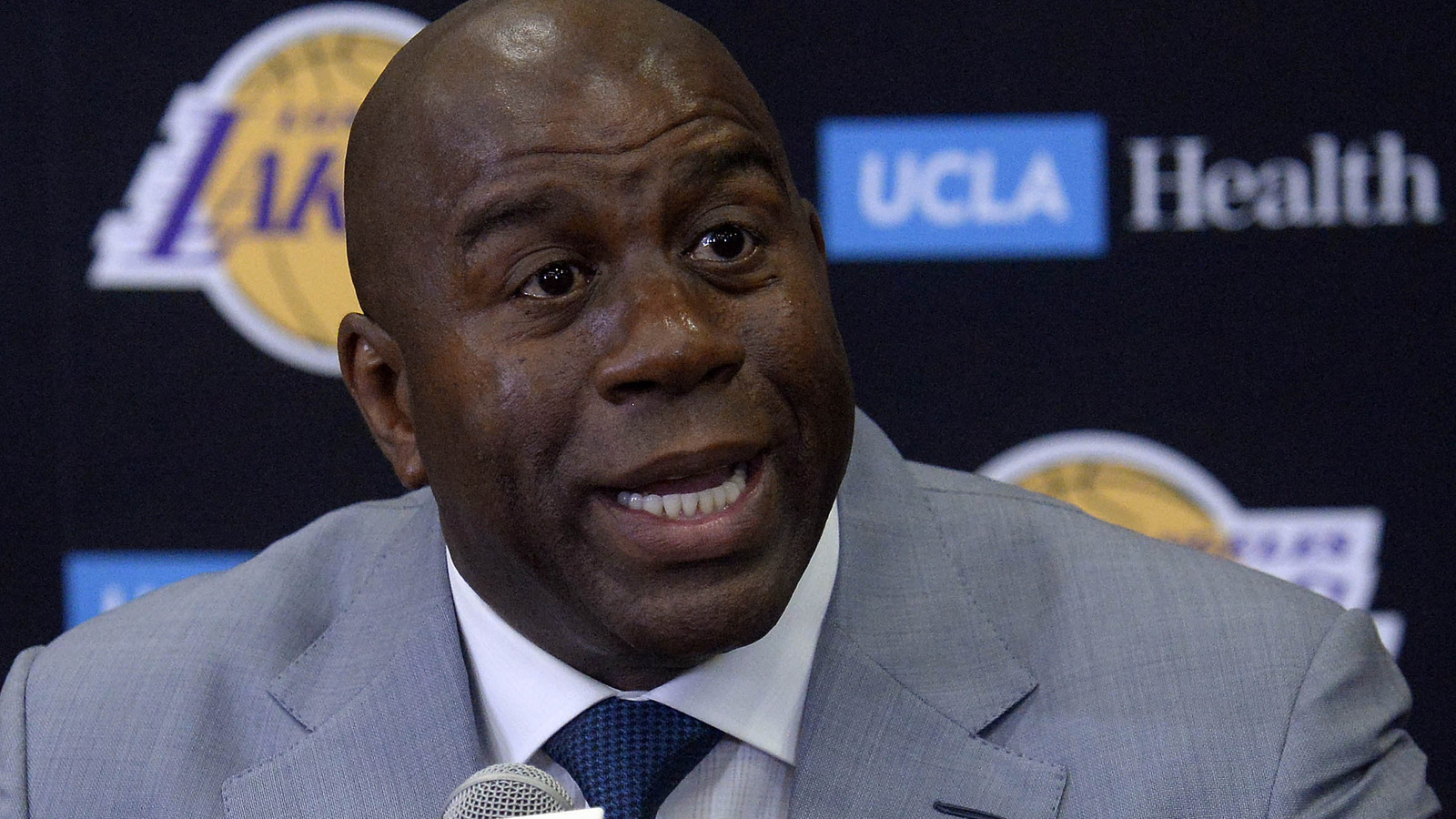 June 23, 2017; Los Angeles, CA, USA; Los Angeles Lakers president of basketball operations Magic Johnson speaks to media before introducing newly drafted player Lonzo Ball at Toyota Sports Center. 
Gary A. Vasquez-USA TODAY Sports
As if the Los Angeles Lakers being accused of tampering with Paul George wasn't strange enough, now the story has taken a rather bizarre turn.
Veteran NBA writer Peter Vecsey, who was the first one to break the news that the Indiana Pacers were filing tampering charges against the Lakers, tweeted an insult at Lakers president of basketball operations Magic Johnson on Sunday in response to a six-year old tweet that Johnson had sent about him.
Is Peter Vecsey still on TV? That's right, no, because he wasn't very good.

— Earvin Magic Johnson (@MagicJohnson) June 17, 2011
Clearly, words from someone dumber than a stump!!!

— Peter Vecsey (@PeterVecsey1) August 20, 2017
To be fair, Vecsey sent the tweet well after breaking the story, presumably after it was brought to his attention by another Twitter user. But it's still a pretty bad look for a journalist, especially in the interest of seeming unbiased. Vecsey's hostility towards Johnson also appears to date back several years.
@CheyosWorld He left before being asked to leave, as I recall. Magic's coaching was almost as bad as his talk show…

— Peter Vecsey (@PeterVecsey1) January 26, 2016
Magic has completely lost it! Actually thinks it's important during playoff HF 2 whine about Paul & Durant having more commercials than Bron

— Peter Vecsey (@PeterVecsey1) May 5, 2013
I'm convinced Magic begs, borrows or steals his opinions and insights from Barkley

— Peter Vecsey (@PeterVecsey1) June 20, 2012
In any case, the NBA has officially confirmed that the Lakers are being investigated on the tampering charge (full details here), so there is definitely something to this story, Vecsey-Johnson feuds notwithstanding.
MORE FROM YARDBARKER:
QUIZ: Name the second-leading scorer on every NBA Champion since 1980
How many 'second fiddles' from every NBA champion in the modern era can you name in six minutes?
CLUE: YEAR / TEAM / POINTS PER GAME
MORE FROM YARDBARKER
NBA News

Delivered to your inbox

You'll also receive Yardbarker's daily Top 10, featuring the best sports stories from around the web. Customize your newsletter to get articles on your favorite sports and teams. And the best part? It's free!