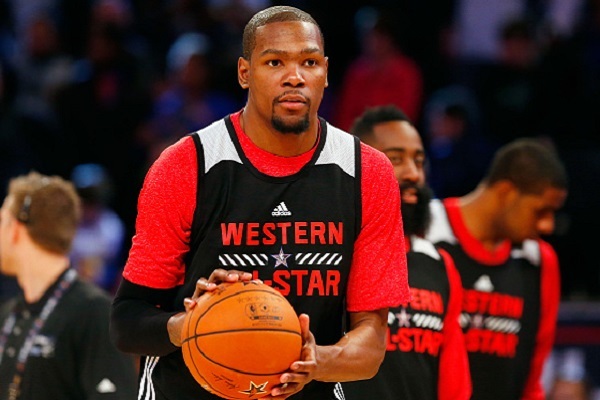 Thunder GM Sam Presti shot down the Kevin Durant trade rumor with a great quote.
Jim McIsaac/Getty Images Sport
By Larry Brown
Sam Presti heard the rumor that he would consider trading franchise icon Kevin Durant and shot it down forcefully.
The rumor started when former Portland exec and now ESPN analyst Tom Penn told Colin Cowherd that he would expect Presti to trade Durant if the 2014 league MVP does not commit to re-signing with the Thunder long term.
Presti was emphatic in denying that he would trade Durant.
"It's ludicrous to assert that we would trade Kevin," Presti told The Oklahoman's Darnell Mayberry Wednesday.
"There's no way to measure what he represents to our organization on and off the floor. He has helped build this organization from the ground up and personifies the Thunder: past, present and future. When he's done playing there will be streets named after him throughout the state and younger generations of Oklahomans will learn about the role Kevin has played in elevating this community in ways beyond basketball."
GMs across all sports, take note: That is how to shoot down a trade rumor.
Presti could not have put it more perfectly than that. Durant means everything to that franchise, city and region. They will never do anything other than try to keep him with the team.
OKC knows there is a lot of chatter about Durant eventually leaving after his contract expires following next season, and it certainly did not help when Durant hinted that he might not be "loyal" to the team next time his contract talks come up. But some of his recent Twitter action does indicate Durant might return to OKC. You know they want him. And after seeing comments like that from his GM, KD has to feel really comfortable with the franchise. Those words would go a long way towards convincing me to stay with a team.
MORE FROM YARDBARKER
Thunder News

Delivered to your inbox

You'll also receive Yardbarker's daily Top 10, featuring the best sports stories from around the web. Customize your newsletter to get articles on your favorite sports and teams. And the best part? It's free!