We've updated our Privacy Policy.
By continuing to use this site, you are agreeing to the new Privacy Policy.
Due to a lack of star players and a pure lack of effort, the Chicago Bulls were blown out by the Denver Nuggets,135-102. Highlighted by top scorers Nikola Jokic and Paul Millsap, the Nuggets could not miss if there was an invisible shield over the rim. This game was over from the beginning...
CHICAGO — Marija Mahorcic wanted to make something special for Nikola Jokic's recent 23rd birthday. So the 12-year-old spent two weeks meticulously drawing and coloring two posters – one featuring Jokic's name and hometown of Sombor, Serbia and another that read "He is not 'The Joker.' He is the King of the NBA." "He's just amazing at basketball," said Mahorcic, who also keeps track...
CHICAGO (AP) — Nikola Jokic had 21 points, seven rebounds and five assists on "Serbian Heritage Night," and the Denver Nuggets routed the Chicago Bulls 135-102 on Wednesday night. Denver shot 61.4 percent (51 for 83) from the field and had seven players score in double figures. Paul Millsap had 22 points and eight rebounds in 27 minutes, and Wilson Chandler made five of the Nuggets...
LIKE WHAT YOU SEE?
GET THE DAILY NEWSLETTER:
MIAMI — The Nuggets' attempt at a late-season playoff push took another hit Monday night, losing a 149-141 double-overtime heartbreaker against the Heat to begin this season-long seven-game road trip 0-2 and slip two games back of the eighth spot in the Western Conference. Here are six takeaways from the contest: 1. Jokic's strength, Jokic's weakness. Nikola Jokic put up another...
Los Angeles Lakers beat the Denver Nuggets 112-103. After the game, Julius Randle made it known he wasn't for all the in-game antics certain Nugget's players were doing. Our HOTTEST video this season!! https://goo.gl/EG3ENK ✅ Help us continue to provide Lakers coverage and SUBSCRIBE: https://goo.gl/5AXSud ✅ Our MOST POPULAR Videos: https://goo.gl/k4Xvqq ✅ Watch Exclusive Lakers...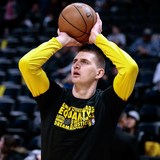 Nikola Jokic was benched for the entire fourth quarter of the Denver Nuggets' loss to the Dallas Mavericks on Tuesday, and it seems like his effort was a big reason why.Jokic scored just four points with nine rebounds and five assists in Denver's 118-107 loss to the 20-45 Mavs. He only played 26 minutes in the game, down from his average of 31.5.After the game, Nuggets coach Michael...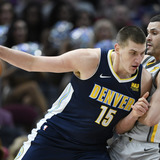 Nikola Jokic's offensive production has dropped dramatically over the last three games, coinciding with the return of Paul Millsap from a wrist injury. Nuggets coach Michael Malone told reporters, including the Denver Post's Gina Mizell, that his offense still revolves around his center. Jokic has averaged 12 PPG and while committing 12 turnovers over the last three games. "Nikola...
Nikola Jokic put on one of the best displays of complete basketball many of us have seen in recent years, completing a triple-double in just over 14 minutes of play. In 14 minutes and 33 seconds, Jokic posted 16 points, 10 rebounds and 11 assists to go along with a steal and two blocks, firmly placing his name in the history books as the fastest recorded triple-double in NBA history...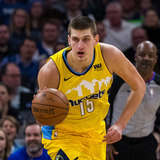 Nuggets center Nikola Jokic is one of the NBA's rising stars, and he showed that in Thursday's 134-123 win over the Bucks, when he recorded a triple-double in a ridiculously short amount of time.Remarkably, Jokic recorded a triple-double before the halftime break, as he accomplished the feat with 1:54 remaining in the second quarter. It was the fastest an NBA player has ever done...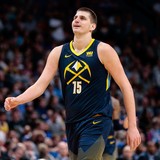 Some nights, you're untouchable. And Thursday night, the Denver Nuggets would be just that. 24 three-pointers later, and the Nuggets had another win, 134-123 over the Bucks. But that's not all. Big-man Nikola Jokić took that "untouchable" feeling to a whole other level. He would ultimately finish with 30 points, 15 rebounds and 17 assists.But in the first half, Jokić would finish...
MORE STORIES >>
Nuggets News

Delivered to your inbox

You'll also receive Yardbarker's daily Top 10, featuring the best sports stories from around the web. Customize your newsletter to get articles on your favorite sports and teams. And the best part? It's free!