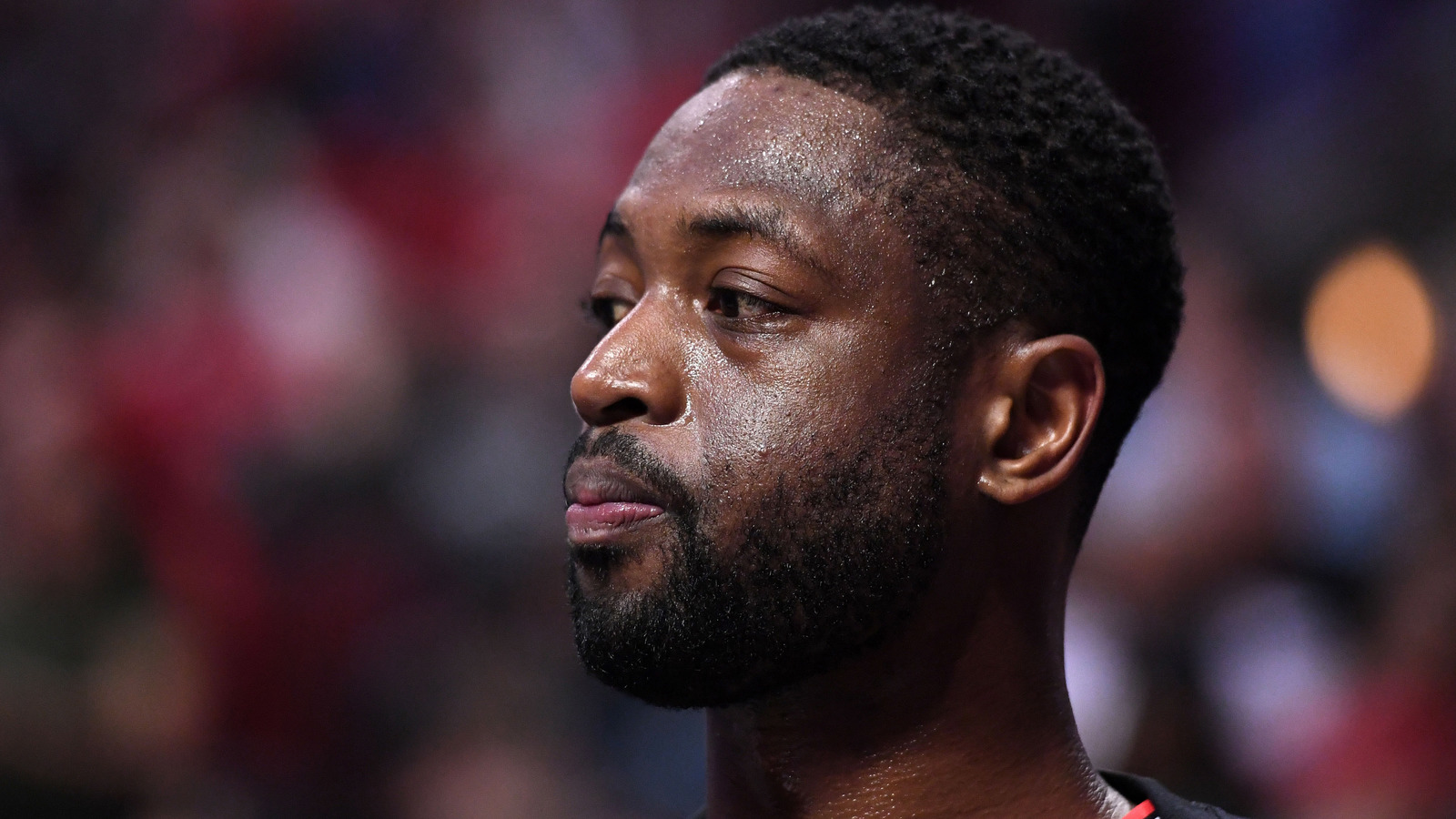 Dwyane Wade's time in Chicago has come to an end.
Mike DiNovo-USA TODAY Sports
After a short one-year stint, Dwyane Wade's time in Chicago is officially over.
ESPN's Adrian Wojnarowski reported Wade reached a buyout with the Bulls on Sunday night. He will receive $15 million of the $23-plus million remaining on the second year of his deal. Once he clears waivers, he will become an unrestricted free agent.
The move comes on the eve of Chicago's first day of training camp. Thus, ending a summer-long negotiation process after Wade decided to accept his player option in late June. That, of course, came before the Bulls traded away Jimmy Butler on draft night.
Wade spoke about his future with the AP on Sunday night, giving his thoughts out immediately to make his intentions clear:
"I'm going to take tonight and some of tomorrow and speak to the teams or players that are on my list and go from there," Wade said. "My decision is a pure basketball decision, and I'll make the one that fits me best at this point in my career and with what I feel I have to offer a team that needs what I have to offer."
Wojnarowski also reports a small list of teams Wade will be interested in joining, including the San Antonio Spurs, Cleveland Cavaliers, Miami Heat and Oklahoma City Thunder. Each team has the ability to fit him into limited cap space.
Since Wade already has a free $15 million in his back pocket via Chicago, the amount of money he receives from his new team will not play a meaningful role in his decision. His agreement to leave a rebuilding Bulls team signals his desire to win, not to make as much money as possible.
That said, which situation is the most appealing for the 35-year-old?
Cleveland Cavaliers
When considering Cleveland, potentially linking up with LeBron once again has to be a huge plus for Wade. We all know how deadly the pair was while he was still in his prime. And, the two undoubtedly still have enough skill to rekindle their chemistry on the court. Without Kyrie Irving, Wade could be a perfect option as a secondary ball handler to run the show when James is on the bench.
Wade is not an efficient shooter from three-point range. Therefore, he's not a great fit with Cleveland's starting five. The Cavs offense has been most lethal with four shooters surrounding LeBron. Plus, Wade's defense might not warrant a ton of playing time, especially when minutes will need to be spread out among other players like Kyle Korver, Iman Shumpert and Richard Jefferson.
It's not a perfect fit, but joining Cleveland clearly gives Wade the best shot at returning to the NBA Finals. The Eastern Conference is even weaker than last year. The pressure would be off his shoulders for the first time since LeBron was still in Miami.
Miami Heat
The opportunity to come back home has to be appealing for Wade as well. Heat fans would welcome him with open arms, and the team around him is desperate for a veteran presence. Miami memorably finished last season with a 30-11 record. But, they would barely miss the playoffs thanks to a last-week survival effort by Wade's Bulls.
In theory, he would slide in as the starting shooting guard ahead of Dion Waiters. It's easy to assume the confident Waiters wouldn't be willing to give away his starting role, especially after inking a new deal for $52 million this summer. However, the two had a clear bromance on social media in July after Waiters jokingly recruited Wade to come home in order to "check it off his bucket list."
The elephant in the room is Pat Riley in this scenario. The whole reason Wade left is because Riley was stingy in negotiations, only willing to pay Wade for his skill level at the time rather than giving him the max for everything he's done in the past. Whether he and Wade can get along will be resolved behind closed doors. If they don't, Wade will likely end up somewhere else.
Oklahoma City Thunder
If Sam Presti manages to pull this off, he's the clear favorite for Executive of the Year. Adding both Paul George and Carmelo Anthony into the fold were already two completely unexpected moves. Adding Wade would only add fuel to the fire.
Oklahoma City looks great on paper, but nobody can be sure how the pieces will fit together on the court. So, why not throw Wade into the mix and see what happens? It's not like he'd clamp their spacing any worse than Andre Roberson already does on the wing. The Thunder also lack bench depth after shipping Enes Kanter and Doug McDermott to the Knicks. Wade would help alleviate the losses a little bit.
The bigger question is whether or not Wade is willing to play in the West. He's been in the East his entire career. And, he would likely never be an All-Star again if he finished his career in OKC. But if he is looking to take a big chance for a chance to take down the Warriors, the Thunder are a viable option.
San Antonio Spurs
Every player in the league should be intrigued at the opportunity to play with Gregg Popovich. Having an opportunity to mentor Kawhi Leonard would be a great chance for to make an impact as a veteran as well.
Compared to his other options, San Antonio just isn't a good fit, though. There's no chance Popovich would start him over the defensive-minded Danny Green. Plus, they already have the task of implementing fellow veteran wing Rudy Gay into the mix. Additionally, having an injury-prone guard in Tony Parker might make the Spurs even less interested in picking him up.
Envisioning what Popovich could do with Wade in the post is very appealing, however. Yet, due to the circumstances, Wade would likely choose playing with one of his close friends (James in CLE, Anthony in OKC) or to go back home (Miami) over learning how to be a part of the Spurs system.
Bulls News

Delivered to your inbox

You'll also receive Yardbarker's daily Top 10, featuring the best sports stories from around the web. Customize your newsletter to get articles on your favorite sports and teams. And the best part? It's free!
MORE FROM YARDBARKER
Bulls News

Delivered to your inbox

You'll also receive Yardbarker's daily Top 10, featuring the best sports stories from around the web. Customize your newsletter to get articles on your favorite sports and teams. And the best part? It's free!