We've updated our Privacy Policy.
By continuing to use this site, you are agreeing to the new Privacy Policy.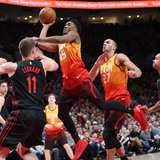 The abridged first week after the All-Star break always marks a transition, but it will be different this year with the trade deadline already complete. Some teams had more time to incorporate new additions as franchises push towards the playoffs or fire up the tank.ThursdayNets at Hornets, 7 p.m.: At nine games under .500, Charlotte needs a serious push if they want to make the...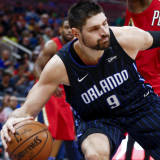 Magic center Nikola Vucevic fractured the first metacarpal on his left hand in tonight's game, tweets Josh Robbins of The Orlando Sentinel. The injury occurred midway through the first quarter of the contest at Washington, and Vucevic was taken to the locker room for X-rays that revealed the fracture.Vucevic is expected to have surgery on the hand and miss six to eight weeks, according...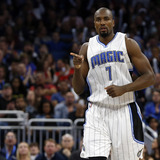 As it turns out, Serge Ibaka might not be much more than a rental piece for the Orlando Magic.According to a report by Sean Deveney of the Sporting News on Monday, the Magic "have picked up their attempts" to trade the three-time All-Defensive First Teamer ahead of the February 23 deadline.The 27-year-old Ibaka, who is averaging 14.9 points, 6.8 rebounds, and 1.6 blocks in 30.2 minutes...
LIKE WHAT YOU SEE?
GET THE DAILY NEWSLETTER: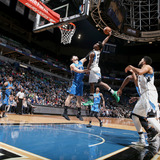 Wolves forward Andrew Wiggins continues to improve with each passing game and is really starting to develop into a star.Wiggins can pull up and drain jump shots, he cleans up the glass, and man, he can dunk. Nikola Vucevic learned that lesson in Monday's game, when Wiggins elevated, reached back and threw down this slam over the Magic's center. Wiggins is a determined scorer and...
A dual citizen of both Montenegro and Belgium, Orlando Magic center Nikola Vucevic was impacted a great deal by the terrorist attacks in Brussels on Tuesday. While his family members and friends are safe, the deadly terrorist attacks took a toll on the young man: "It's sad that things like that happen at all anywhere in the world. It's just sad that people died like that and...
Point Guard: Brandon Knight, Milwaukee Bucks Bucks Point Guard Brandon Knight Knight has burst onto the scene this year under new Bucks coach Jason Kidd. Knight was better known for getting posterized by DeAndre Jordan, and for getting his ankles broken by Kyrie Irving in the Rookie-Sophomore game. Since coming to Milwaukee as a sign-and-trade for Brandon Jennings, Knight has...
This just in: Nikola Vucevic has been really good for the Orlando Magic. The franchise center has averaged 18.1 ppg and 11.3 rpg on 52.6 FG% in 29 games so far this season. It's appropriate to point out that Vooch deserves strong All-Star Game consideration, something that the 24-year-old has wanted to accomplish during his NBA career. There's two ways of playing in the New York...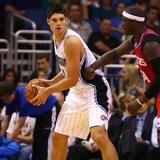 Orlando Magic center Nikola Vucevic chose to avoid not playing for the Montenegrin national team during its attempt to qualify in August for next year's EuroBasket competition. Neither did Nikola Pekovic. These two big men are the country's best talents. Still, Montenegro had enough talent to qualify for EuroBasket 2015. They didn't and it's appropriately being seen as a big failure...
Serbia as well as Bosnia and Herzegovina – the two Western Balkan countries - have recently been hit by the worst floods scene in that area in the last 120 years. An outpouring of resources from various countries and public figures around the globe is underway. The Orlando Magic joins center Nikola Vucevic in his efforts to raise funds for flood victims. Both countries neighbor Vucevic...
MORE STORIES >>
Magic News

Delivered to your inbox

You'll also receive Yardbarker's daily Top 10, featuring the best sports stories from around the web. Customize your newsletter to get articles on your favorite sports and teams. And the best part? It's free!