The Rewind: Vince Carter's graduation day celebration that wasn't
Vince Carter missed the would-be series-winning shot in the 2001 NBA playoffs Game 7 matchup between the Toronto Raptors and Philadelphia 76ers.
Yardbarker Illustration/Getty Images
Welcome to The Rewind, where we dig through tapes, YouTube videos and streaming services and revisit some of the most interesting games in history. There is something special about revisiting a favorite movie, a favorite show no longer on the air, or even just pulling out an album and giving it a spin the whole way through for the first time in a long while. Inevitably you pick up on the things you missed the first time around: a quiet moment in a song, a piece of scenery falling in the background, a joke that flew by you before — or maybe you just want to laugh at a joke you've already laughed at a hundred times before. Why don't we do the same with sports? We do in a way, highlight reels, maybe we have a DVD of the time our favorite team won a championship. But sitting through an entire game the whole way through when you know the final score? Frankly, that's the good stuff. Watching an entire game plan develop, figuring out which changes to the rules over the years would have resulted in a different outcome and seeing green rookies before they're superstars.
In today's NBA, if you don't have LeBron James or a juggernaut with three or four high-end All-Stars, you aren't really in the championship conversation. Take this year's ho-hum, lopsided postseason that has seen the Cleveland Cavaliers and Golden State Warriors quite literally cruise through the playoffs to the point it's never too early to preview that matchup.
This is not a new phenomenon, as back in the day if you didn't have a guy named Michael Jordan or, say, a couple or more future Hall of Famers a la the Houston Rockets or Utah Jazz, you weren't getting to the NBA Finals. The same wasn't entirely true in the early 2000s, however. Yes, there were the juggernaut Los Angeles Lakers led by Shaquille O'Neal, Kobe Bryant and Phil Jackson, but the East in particular was a wide-open affair. Never was that more evident than the 2000-01 season, and no series was more dramatic than the Eastern Conference Semifinals between the top-seeded Philadelphia 76ers and fifth-seeded Toronto Raptors.
Game 7 of that series comes to mind today because it's a game that featured prominent names who will take part in Ice Cube's BIG3 this summer, including Allen Iverson, Charles Oakley and Jerome Williams. Oh yeah, there was also this guy named Vince Carter, who continues to defy Father Time, even playing earlier this postseason with the Memphis Grizzlies.
While the 2000-01 season belonged to the Philadelphia 76ers, a team that: jumped out to a 10-0 start to the season; led the East from start to finish; and had the MVP in Iverson, Coach of the Year in Larry Brown, Sixth Man of the Year in Aaron McKie and Defensive Player of the Year in Dikembe Mutombo, for whom they traded injured All-Star center Theo Ratliff, all talk before Game 7 centered around Carter and his unusual day. If you don't recall exactly what the hype was about, it was centered around Carter's decision to attend his college graduation from the University of North Carolina after working to earn his degree during his playing days. His graduation was the morning of Game 7 in Philadelphia, and when Vince decided he was going to fly to get his degree and then fly to Philly for the game, he was widely panned — and the criticisms of his decision came fast and furious before, during and after the game.
The lead-up: How they got here
Under the tutelage of Larry Brown and on the strength of Allen Iverson's defiant shoulders, the 76ers had risen to become a legitimate threat in the East. Following back-to-back trips to the East semis in which the Sixers were bounced by Brown's former team, the Indiana Pacers, the Sixers earned the top seed in the East, Iverson won All-Star MVP in one of the most epic All-Star comebacks of all time — teaming with his soon-to-be teammate Mutombo in the victory — the awards rolled in for the squad, and the Sixers exorcised their Indiana demons, rolling through the Pacers in four games in the first round.
They were back in the Eastern Conference Semifinals this year, only this time there were no more big dogs to slay in their way. As the top seed, their sights were set on the Eastern Conference Finals and beyond.
As for the Raptors, they were like the Sixers a few years prior, a squad with a young superstar that was learning how to win. The year before, they made the postseason for the first time in franchise history, and this year, with Carter firmly entrenched as a mega-star, they hoped to take the next step or two. They accomplished that by also defeating the team that had beaten them the year before. In the 2000 playoffs, the New York Knicks swept Toronto out of the first round in three quick games, but in 2001, the Raptors outlasted New York in five to advance and face the Sixers.
Carter was leading the charge, Hall of Fame coach Lenny Wilkens was manning the sidelines and the two teams had similar traits: one huge star surrounded by heady, veteran, hungry role players who were happy to let the lead dog cook. It made for a very exciting potential matchup, one that wouldn't disappoint.
The lead-up take two: The back-and-forth series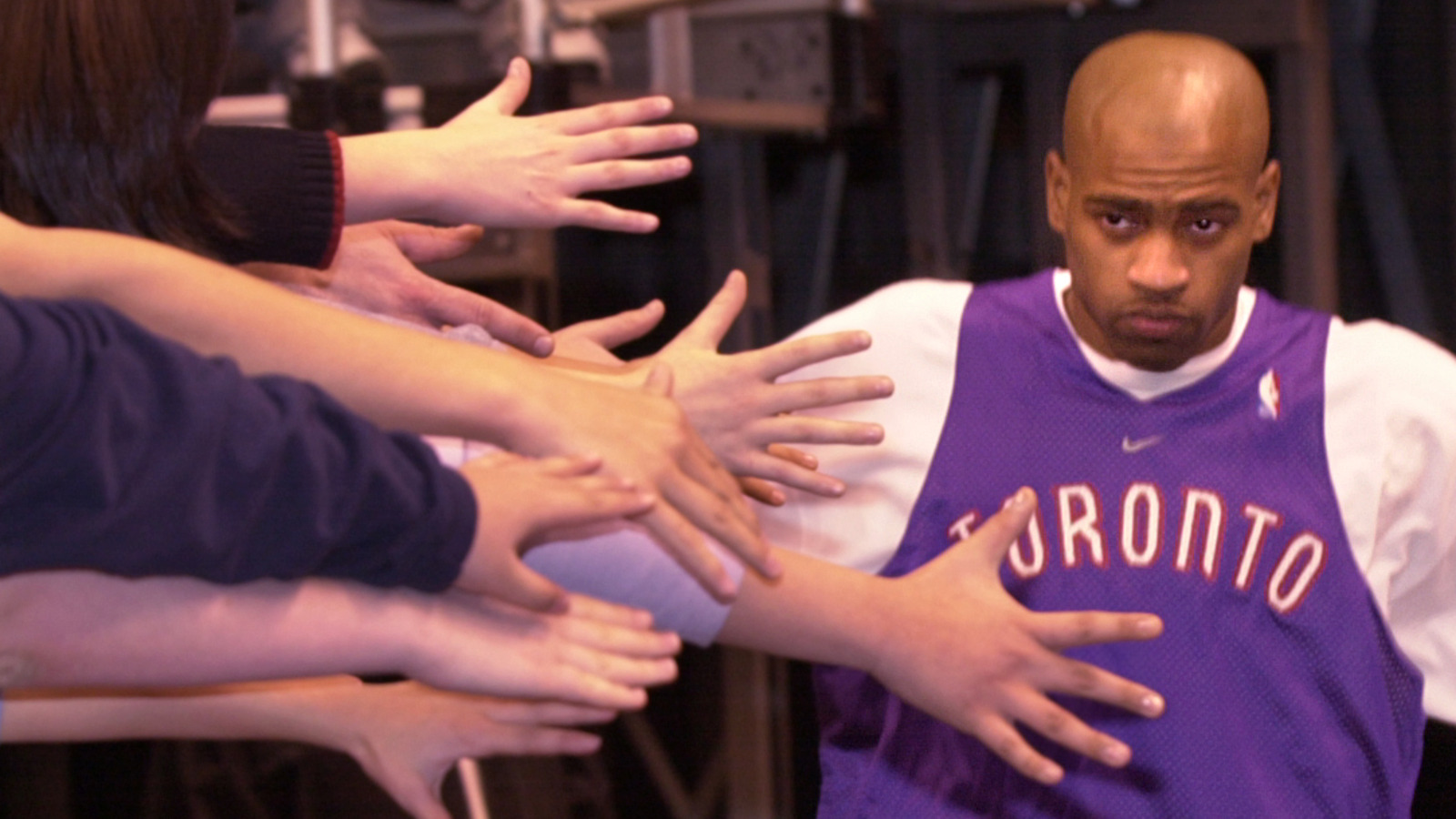 All eyes were on Vince Carter for his decision to attend his college graduation on the same day as Game 7.
Rick Madonik/Getty Images
In Game 1, both Carter and Iverson lit it up, with Vince putting up 35 points, seven assists and two blocks to Iverson's 36 points, eight rebounds, four assists and seven — yes seven — steals. Despite his slightly superior stat line, the Sixers lost their home-court advantage, 96-93, because Carter simply got more help than Iverson.
Four of Carter's teammates chipped in double digits in points compared to Iverson's two, and Dell Curry's — yes, the father of reigning two-time MVP Steph Curry — 20 points off the bench proved too much for the Sixers to handle.
Game 2 was another tightly contested affair, and Iverson was simply too brilliant to let his team lose, scoring 54 points to even the series. However, the victory came with a cost, as defensive stalwart and starter George Lynch — tasked with guarding Carter — broke his foot in the contest, rendering him out for the remainder of the postseason.
After that game, Oakley declared Iverson would not score 50 points again. In Game 3, he didn't, but Carter did, putting up 50 exactly in a 102-78 blowout victory in Toronto to regain the series lead for the Raptors.
Game 4 was more like the first two games than the third. Again, the Raptors were balanced with all five starters scoring in double digits, but the bench was only able to chip in four points on the night. Meanwhile, Iverson put up 30, Mutombo had 17 boards and 13 points, and the Philadelphia bench doubled Toronto's output, giving Philly the 84-79 win and evening the series yet again.
In the pivotal Game 5, you could see Iverson feed off the home crowd, a crowd that wasn't shy in getting on Oakley for his comments about Iverson. As it turned out, A.I. would make Oak eat crow, netting 52 points — his second 50-point outburst of the series — in Philadelphia's 121-88 evisceration of the Raptors. With that, it looked as though the Sixers were ready to assert themselves and move on. Or so we thought.
While Carter wasn't able to match Iverson again with another 50-point follow-up, Vinsanity did outplay Iverson in Game 6, putting up 39 to Iverson's 20, and the Raptors stayed stayed alive on their home court to force a game seven with the 101-89 victory.
Game 7: Graduation day
The morning of Game 7, Vince Carter, who left UNC early for the NBA, decided to attend his college graduation. He promised his mother he'd get his degree, and he did — so he wanted to be there to celebrate the accomplishment. Unfortunately for him, it also happened to fall on the exact same day as the biggest game of his basketball life to date.
Now, the game was later in the evening, a 5:30 p.m. EST tip time. His graduation in Chapel Hill was early in the morning. Timing-wise, there was no issue. Vince attended, looked happy as a clam getting his diploma and flew up to Philadelphia with no issues.
However, that didn't stop the critics from weighing in, both before and after, calling Carter selfish and tossing about absurd questions like: "Did Vince Carter do the right and wonderful thing by taking a break from his team to attend his college graduation? Or the wrong and selfish thing by abandoning his teammates and his employer and distracting himself from the biggest game of his life?"
That is the nature of the beast, and the beast was unleashing itself on Carter, rightly or wrongly.
The game: Sloppy start
With Bill Walton, Doug Collins and Mike Breen calling the game, the Sixers won the opening tip, but what unfolded only vaguely represented basketball. Full of errant passes, bricked shots and even unforced errors like Morris Peterson fumbling the ball out of bounds with an uncontested layup in front of him, neither team looked in rhythm, including the two stars.
"The first eight minutes are all energy, emotion. The last 40 minutes comes down to the best team, execution. As guys start to get tired, they slow down, they perform better," Collins explained.
That seemed to be true. Antonio Davis scored the first points of the game more than a minute in, and it took the Sixers even longer before Aaron McKie opened the scoring. Still, the play was frenetic, and neither team could really get going.
An Iverson three after a Carter put-back of his own miss did put the Sixers up five, but Antonio Davis, who was leading everyone in scoring early on, answered to make it a three-point game. That's when Larry Brown called a timeout with a little over five minutes left in the opening quarter.
The game: The No. 1 seed asserts itself
If there's one thing above all else Larry Brown teams are known for, it's executing out of timeouts. The Sixers did exactly that, going on a quick 10-0 run to extend their lead to nine, highlighted by Charles Oakley trying to save a defensive rebound as he was falling out of bounds, only to throw it right to Iverson for an easy score.
The 10-0 run extended Philadephia's lead to 13, capping a 21-6 run before Carter finally hit a jumper to stop the bleeding. However, Philadelphia responded right away to go back up 13 thanks to a pair of free throws, a common thread in the opening quarter. It was the Sixers' seventh and eighth free throws of the game, making them all, while the jump-shooting Raptors still had not earned a trip to the charity stripe.
A few minutes later, Carter finally got Toronto its first freebies, hitting a pair, but neither he nor Iverson were getting their usual trips to the line. Neither player was exactly lighting it up either.
The game: Bench players swing the momentum
It seemed innocuous at the time: Chris Childs hit a three with 37.2 seconds remaining in the opening frame to bring the Raptors within 10 to close out the first 12. He then hit another jumper to open the scoring in the second quarter, bringing his team to within single digits, and you could sense the momentum swinging.
Childs got the Raps to see the ball go through the hoop, so the shooters kept shooting. Curry, following Childs, hit a pair of jumpers, and suddenly Toronto was on an 8-0 run. Davis, continuing his fine play, then threw down an emphatic slam on a feed from Carter, capping the Raptors' 10-0 run, with eight of those coming to open the quarter.
Jumaine Jones, another of the role players who showed up, finally ended the dry spell for Philadelphia, but Childs matched him, and the Sixers were on the ropes.
Then, in an almost eerily similar way Childs got the Raptors going, Jumaine Jones got the Sixers back on track. He ran the floor on a missed Curry three, which Eric Snow kicked ahead to Iverson, who lobbed a layup oop to Jones. He then put back an Iverson miss to get the Sixers on a mini-run, prompting Collins to say, "If Iverson takes 30 shots, they can still win with him making 10 of them, Bill, because they'll get to the offensive rebounding, they'll get second-chance points, they'll get to the foul line."
Jones tipped in another basket to put the Sixers back up nine. Things went back and forth from there, with a few highlight plays from Iverson and Carter sprinkled in between more clutch makes from the role players.
The Raptors kept it close, trailing by eight at the half. Carter had 11 points and four assists, while Iverson had 13 points and nine assists, shooting a paltry 5-17.
The game: Raptors get hot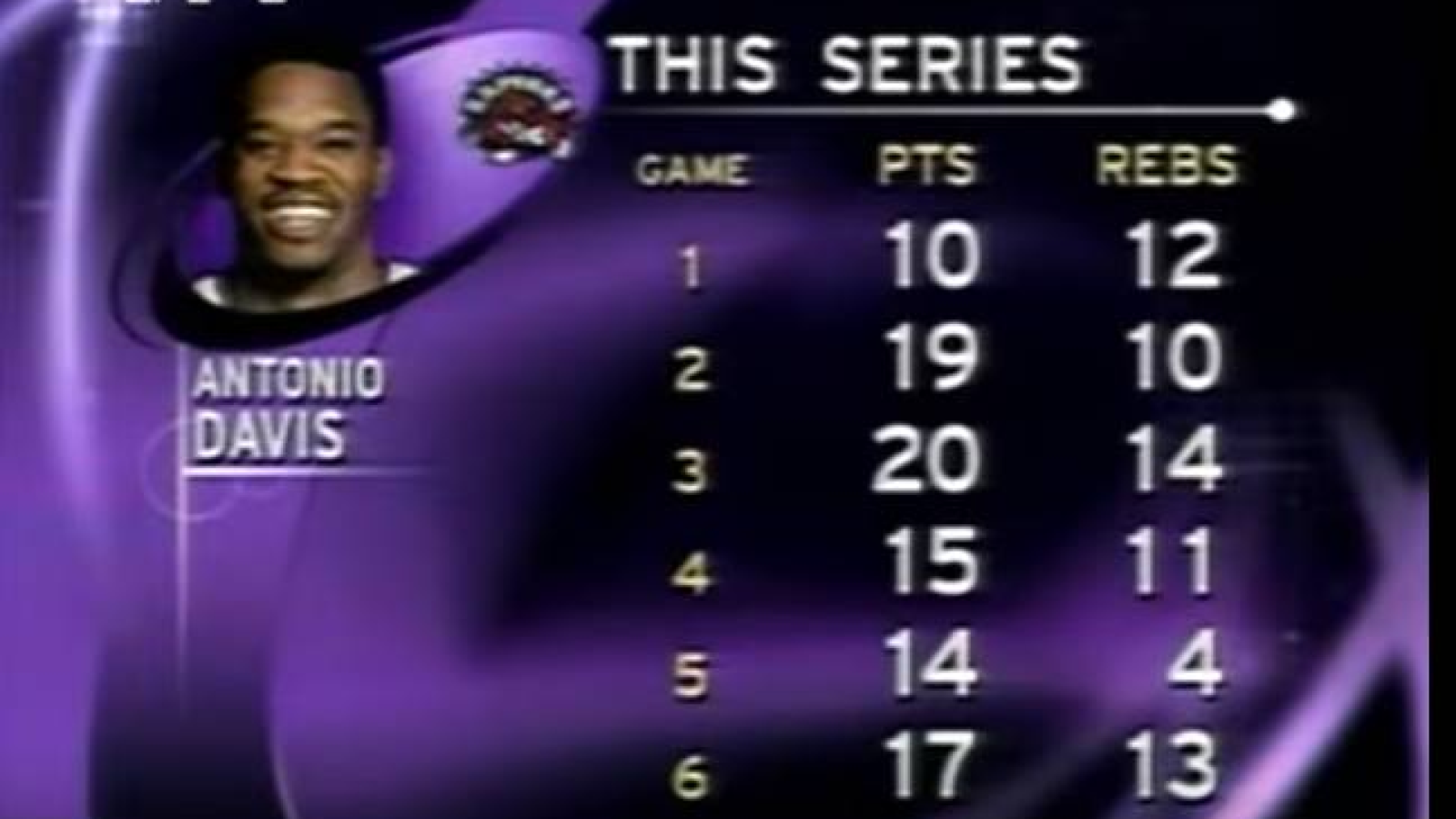 Antonio Davis was strong in the series vs. the 76ers.
YouTube
Out of the break, Toronto went streaking. The team started 5-5 from the floor, including an improbable Oakley three to get things really cooking. The Raptors just keep coming and coming. Antonio Davis continues scoring. A Morris Peterson, a rookie, jumper here, Alvin Williams floater there, and suddenly it's a real game.
Then, with both stars relatively quiet, Carter drives, scores and gets fouled, tying the game. His and-1 free throw gives Toronto its first lead since it was 6-4 in the first. The First Union Center (now the Wachovia Center) was tense, and now the one seed was on the ropes.
The game: The home team responds
Vince put the Raptors on his back. Now it was Iverson's turn to lift his team up. He gives his team a lead courtesy the foul line, and Eric Snow follows suit, Sixers up four. They hold a three-point lead as the third comes to a close.
Of important note, Antonio Davis, who looked to have an issue with his shoulder, heads back to the locker room. This is big news, as Davis has been huge all night.
The Sixers stretch the lead to five to start the third, as Iverson, who already set a playoff career high in assists, sets up Jones for a dunk.
The Raptors respond, and we're on the see-saw. And again, both teams are mirroring each other. With the defenses throwing doubles at the stars, both Iverson and Vince play the role of distributor. Guys like Childs, Davis, Curry hit shots for Toronto, with McKie, Jones and Snow feasting off A.I. dimes.
The Raptors look out of sorts with Davis on the bench, getting outscored 15-4 with him not on the court, but he does return. His presence gives them a boost, and the game stays close. However, some more mistakes creep in. Childs, who played so well before, tenses up and makes some mistakes.
In a four-point game, Carter goes to the line. As he hits both, Breen and Collins comment on Carter's frequent-flier day:
"So much made about what he did earlier today, but it doesn't seem like it's had any effect in terms of what he's done on the floor," said Breen.
"I agree with that. This has not been a distraction. Don't look and say that he's 6 for 17. They've been swarming him. But more importantly, he's given the ball up to his teammates. Now is when you're gonna judge Vince Carter," Collins adds.
Vince does cut it to two, but following a timeout from Larry Brown, Iverson hits Snow for his 15th assist of the game, putting the Sixers back up four. The top seed stretches it to six with Iverson holding 21 points and 15 assists, forcing a Toronto timeout.
The game: Raptors keep clawing
Antonio Davis scored out of the timeout yet again to bring Toronto within four. A Dell Curry three shortly thereafter made it a one-point game with 52 seconds left. This leads Breen to exclaim: "The Raptors will not go away!"
On the ensuing play, Iverson missed, but McKie got the board and found Snow. Snow missed a three, Davis came up huge again with another board and the Raptors got the ball over halfcourt and called timeout with 3.6 seconds remaining. The timing was interesting. Toronto still held a full timeout, meaning Davis could have called TO right away and saved some time, still advancing the ball.
No matter, the Sixers had a foul to give and gave it after an inbound out of the timeout. Two seconds remained with Philadelphia still holding a one-point advantage.
The game: The shot
Toronto called its final timeout, as a shot panned to Sixers president Pat Croce pounding his chest in anxiety and anticipation. Dell Curry is set to inbound, and when he gets the ball, Oakley sets a great screen to free Carter. Curry finds Carter, who fakes as Tyrone Hill flies by. He then quickly releases the jumper on a very well-designed play, only to see it clank off the iron. Sixers win, advance and move on to the Eastern Conference Finals. Vince Carter and the Raptors are headed home.
Neither Iverson nor Carter had a good shooting night, but both had tremendous impact on the game. Iverson shot just 8-27 from the field, but he found a way to score 21 points and really made his presence felt with a playoff career-high 16 assists. He chipped in four boards, two steals and a block for good measure. Carter was no slouch himself, scoring 20 points with nine assists, seven rebounds, three steals and two blocks. Unfortunately for him, he was just 6-18, with that last miss all anyone really remembers.
This was, however, a game of the role players. Antonio Davis was Toronto's most effective player all game, scoring a game-high 23 points with nine boards, two blocks and playing through tremendous pain. Oakley and Childs, former teammates with the Knick as well, each had 11, Oak with a double-double thanks to his 10 boards, while Curry and Williams hit timely shots. Williams also hounded Iverson all night.
For the Sixers, Mutombo was his usual monster self on the boards, nabbing a game-high 17, nine of them on the offensive end, to go along with his 10 points, two steals, one block and countless altered shots. McKie scored a team-high 22 points, had seven assists and made Carter work. Jumaine Jones added 16 points, while an injured Eric Snow scored 13 points off the bench.
Still, the game centered before and after on Carter, both for his decision to attend his graduation that morning and the way he shot and missed the potential game-winner that evening.
The aftermath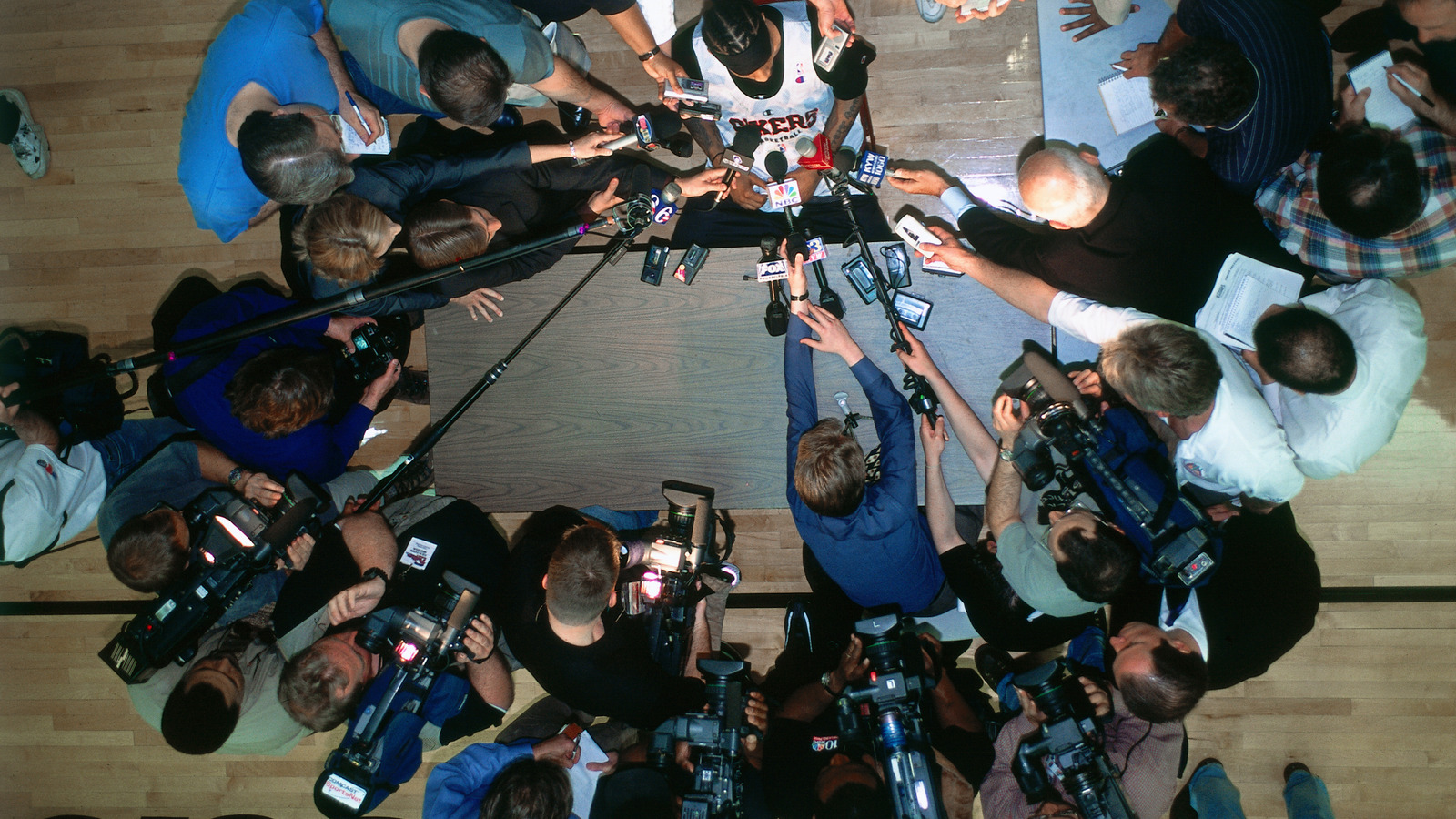 Allen Iverson was always surrounded by media during his days in Philadelphia.
Jesse D. Garrabrant/Getty Images
For the Philadelphia 76ers, this was another step forward, a graduation to the Eastern Conference Finals, as Chris Broussard noted in the New York Times.
Iverson told USA Today: "I wanted to do something special, but the way you draw it up — if you're a scorer — is having a great scoring night. In a million years I'd never believe I'd come out and have a career high in assists," Iverson said.
"I feel so good about this win because I really, really know inside and believe that I have a team, for the first time in my life, that I feel we can win a championship with."
The Sixers didn't win that championship, and Iverson never did either. However, Philadelphia did beat Milwaukee in another seven-game series, then defeated the previously undefeated-in-the-postseason Lakers of Kobe and Shaq in Game 1 of the NBA Finals, an overtime thriller now infamous for Allen Iverson stepping over current Cleveland Cavaliers head coach Tyronn Lue. The Sixers lost the next four, and it was the pinnacle of the Iverson-era Sixers. Larry Brown left a couple seasons later, leading the Detroit Pistons to a NBA title, and Iverson had an unceremonious trade out of town, then a forgettable end to his NBA career after a couple nice seasons in Denver.
He's doing alright, though, as he was recently enshrined in the Naismith Memorial Hall of Fame. 
It didn't go quite as well for Carter and the Raptors. Things began to deteriorate for Vince in Toronto from there. He was accused of quitting on the team, suffered some injuries, stopped dunking. And it got ugly, quickly. Finally, he eventually asked for a trade and was granted one, getting shipped to the New Jersey Nets, where he'd play in the NBA Finals with Jason Kidd and Richard Jefferson.
However, he was no longer the high-flying dunk contest winner everyone loved to watch. Vince took more jumpers and dunked less, losing favor with many. Plus, he suffered injuries and began to bounce around the league, going from Jersey to Orlando to Phoenix to Dallas and finally to Memphis, where he helped the Grizzlies to the playoffs this year.
It may have all stemmed back to that missed shot and the shots fired his way for the graduation decision. If he makes that shot, no one cares that he made the right decision in attending his graduation. Maybe he stays in Toronto and the team becomes a power alongside Chris Bosh. Heck, maybe the Raptors even have a ring and Vince plays his entire career North of the Border. We may never know, because on Carter's graduation day, the Raptors didn't pass the test, and they're still waiting on their degrees.  
MORE FROM YARDBARKER:
QUIZ: Name every NBA Rookie of the Year
Can you name the 67 NBA Rookies of the Year since the award was first given out? An asterisk (*) denotes a season when two players won the honors.
MORE FROM YARDBARKER
NBA News

Delivered to your inbox

You'll also receive Yardbarker's daily Top 10, featuring the best sports stories from around the web. Customize your newsletter to get articles on your favorite sports and teams. And the best part? It's free!