Why wait? Our too soon Cavaliers-Warriors NBA Finals preview
Kevin Durant and LeBron James met in the 2012 NBA Finals, with James' Heat defeating Durant's Thunder.
Brian Spurlock/USA TODAY Sports
LeBron James and the defending champion Cleveland Cavaliers. Steph Curry, Kevin Durant and the 2015 champion Golden State Warriors. NBA fans have been waiting months for the trilogy, the rubber match, the third and decisive NBA Finals battle between these two teams. We don't want to wait any longer, so here's our too soon 2017 NBA Finals preview.
Background
The Cavaliers come into the Finals off a four-game sweep of the Washington Wizards. LeBron James averaged a quadruple-double in points, rebounds, assists and windmill dunks. He played all of Game 4 left-handed, including his chase-down block of John Wall's game-winning layup attempt in the final seconds. 
The team continued its arrogant play, with Kevin Love drinking chocolate milk during plays and a visibly hung over J.R. Smith playing with dark glasses on. The final insult came when the Cavs spent a defensive possession doing a Mannequin Challenge, and Brandon Jennings still missed a layup.
Meanwhile, the Warriors are coming off a three-game sweep of the Spurs after Gregg Popovich controversially rested his entire team in Game 3. The Warriors ended up doing an intra-squad scrimmage instead, while JaVale McGee did a very impressive aerial demonstration with his drone. Kawhi Leonard was so upset that he momentarily frowned and muttered, "Dammit," before returning to silent stoicism.
Let's check out the matchups!
Rest and health
Both teams come in well-rested, with the Warriors taking turns napping in sideline sleep pods during the final two games of the Western Conference Finals. (Joe Lacob claimed he's not a sleep numbers guy, but the pods were "light years ahead.") Meanwhile, LeBron spent most of the lead-up to the Finals on a trip with his good friends Chris Paul, Dwyane Wade and Carmelo Anthony, all napping together in what he called a "banana bed." 
JaVale McGee's sore hand is almost completely healed, an injury that occurred after he dunked 42 times in the Spurs series. For the Cavs, Richard Jefferson and Deron Williams are feeling fresh after doing a ton of HGHsteroids yoga.
Coaching
Both Steve Kerr and Tyronn Lue won titles in their first years as NBA coaches.
Andrew D. Bernstein/Getty Images
Tyronn Lue returns to the Cleveland bench after coaching the Eastern Conference Finals via hologram, as he vacationed in Fiji. It was both a luxury trip and a safety precaution after Kelly Oubre body-slammed coach James Posey during the national anthem of Game 1. Though Lue will be there in his corporeal body, the Cavs have also added a hologram of Tupac Shakur to the coaching staff as a concession to LeBron's desire to attend Coachella.
As we all now know, Steve Kerr's problem back was cured after being beamed into space by his alien consort, Shi'ar Empress Lilandra, after she fell in love with his gorgeous motion offense. He's back in the coaching box along with interim coach Mike Brown and newly hired assistant Xephor'r Prime, android captain of the Imperial Guard and pick-and-roll defense expert. Kerr's procedure also gave him limited psychic powers — namely, the ability to alert his mama when a man is about to go.
Point guard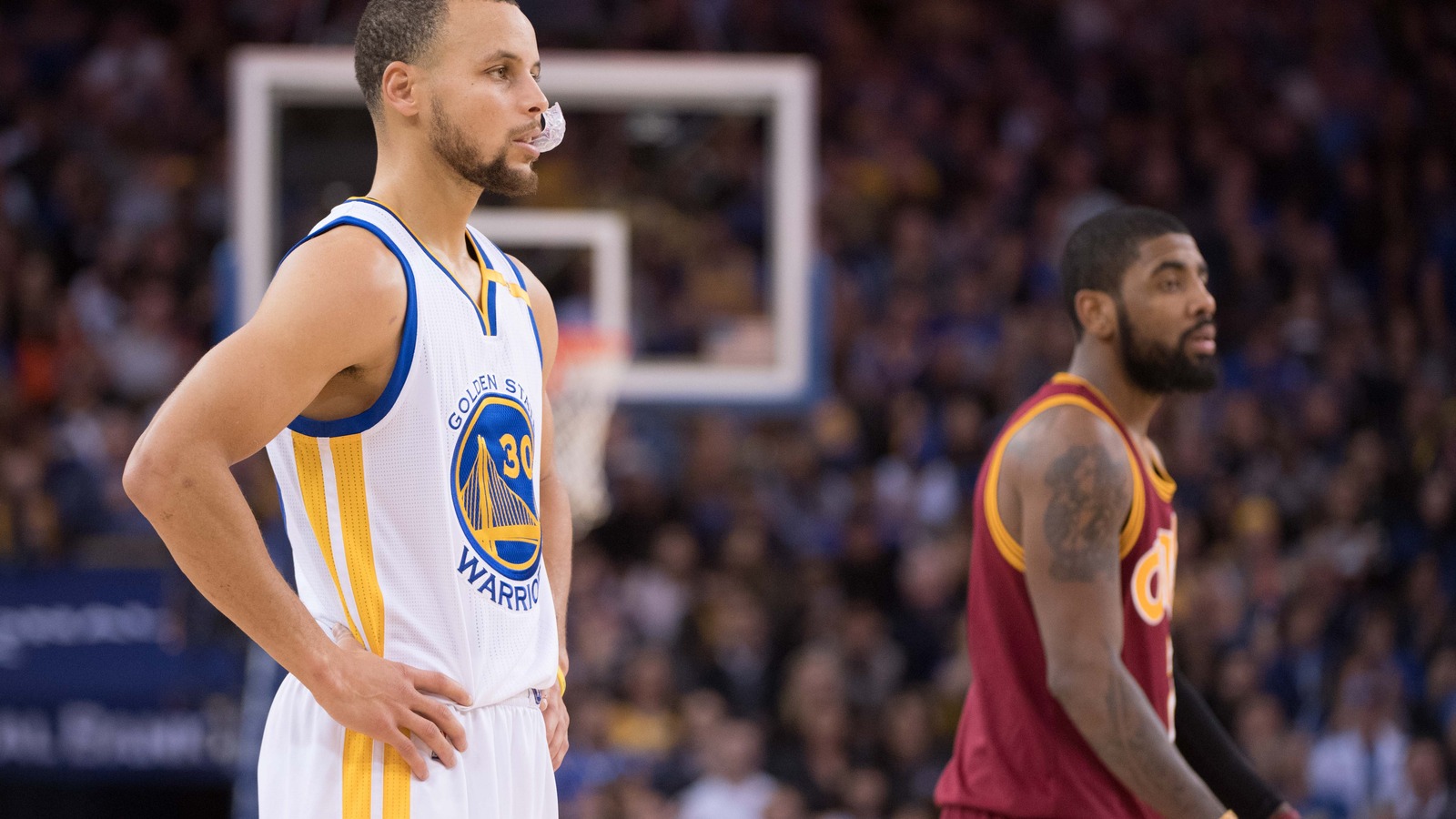 Stephen Curry has the MVPs while Kyrie Irving currently holds championship bragging rights.
Kyle Terada/USA TODAY Sports
Steph Curry faces Kyrie Irving in a matchup of All-Stars. Irving shot 79 percent in the Conference Finals, including 90 percent while wearing full Uncle Drew makeup in both home games.
Cleveland's usual strategy on Curry is to deny him the ball as much as possible and, when possible, rough him up. He'll always have a defender face-guarding him, often ignoring the rest of the play so as not to let Curry get free. Plus, the Cavs will grab and bump Curry constantly when he's off the ball, assuming the refs can't call a foul every time. This is known as Marcus Smarting. Expect Curry to play with the ball in his hands more and rely less on screens, including a ton of pick-and-roll with Draymond Green.
Meanwhile Kyrie Irving is the inferior defender, but his shooting range and shot-making abilities make him a difficult cover for Curry. They'll try to hide him on J.R. Smith as much as possible, which is also Cleveland's strategy for all illicit materials. Weed? An unlicensed gun? Eh, hide it on J.R. Often Kyrie simply spots up as a passing option for LeBron, but he's fully capable of taking over and cooking his defender when Cleveland needs scoring. He's also capable of cooking for his defender, as seen when he presented Bradley Beal with a delicious crème brûlée at halftime of Game 2.
Shooting guard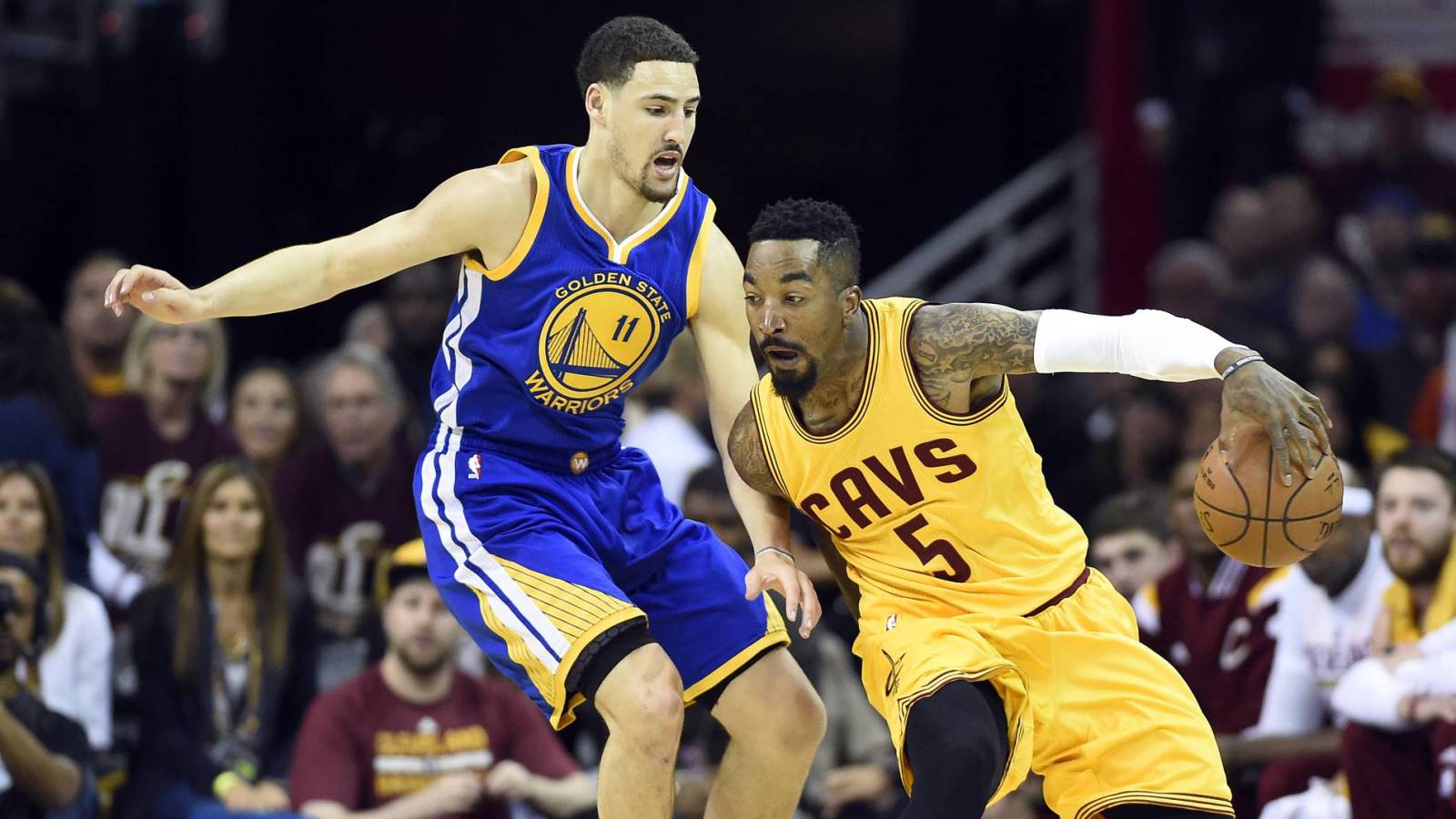 Klay Thompson and J.R. Smith have very different styles on and off the court.
Bob Donnan/USA TODAY Sports
There's evidence that Klay Thompson plays much better in games when the weather is nice, while J.R. Smith plays much worse on days that follow heavy-partying nights, aka Sundays. Overall, this bodes well for Cleveland, as the long-range forecast suggests Oakland could see scattered showers for Games 1 and 7 of the Finals, whereas J.R. Smith will only face two Sunday games and no Saturdays. Also, while Ohio passed a medical marijuana law last year, it doesn't fully take effect until 2018, another disadvantage for Klay.
J.R. Smith is an underrated defender who locked down DeMar DeRozan in the second round. He can limit Klay, though on offense he's purely a catch-and-shoot player. Expect Klay to light it up in every way in 420-friendly California, but in Cleveland, the main thing limiting J.R. is that he has to play with his shirt on. When J.R. sits, Klay should excel, as long as he isn't distracted by shiny objects or by Iman Shumpert's hair.
Small forward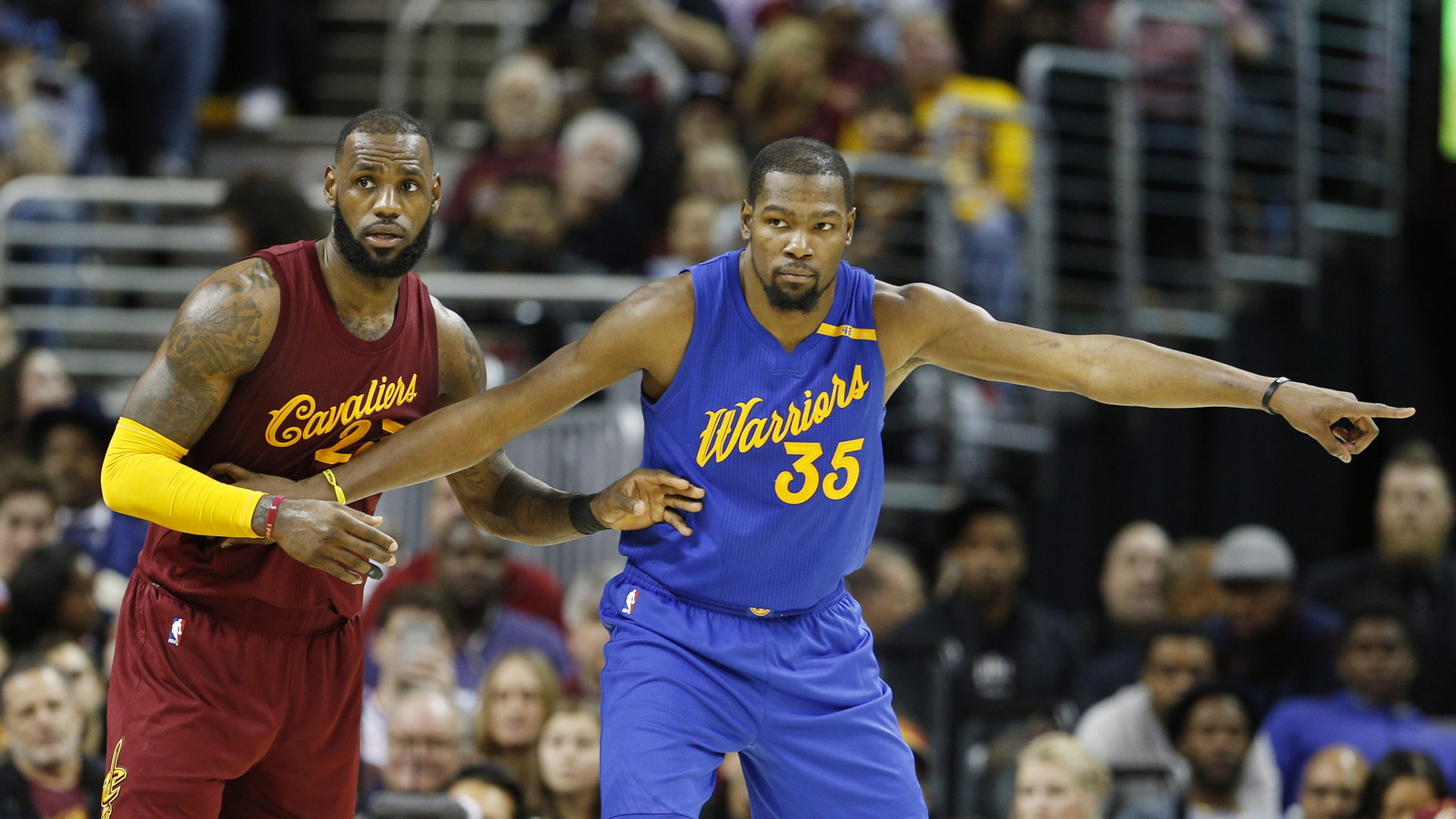 LeBron James and Kevin Durant have covered each other a lot throughout their careers.
Brian Spurlock/USA TODAY Sports
What's left to say about LeBron James and Kevin Durant, two of the top five players in the NBA, arguably top three? They're both long, freakishly fast block machines. LeBron is a superior passer, while Durant is the superior shooter. In addition, they both played isolation-heavy offense as young players before moving to teams that emphasized more ball movement and outside shooting. Durant is only 5-18 lifetime against LeBron — and 1-4 in the Finals — though he averages 29 points per game. He is on a one-game winning streak, however, thanks to finally having teammates who happily pass him the ball.
It's a unique superstar matchup in that both stars will be guarding each other quite a bit. Magic Johnson didn't guard Larry Bird. Michael Jordan didn't check Karl Malone; he just stole the ball from him at a key moment. The Cavs love to force switches of Curry or Zaza Pachulia onto LeBron, but the Warriors have adopted countermeasures to let Steph escape back to his guy or leave Durant lurking near the rim like a goalie. 
Meanwhile Durant is almost unguardable when he goes one-on-one, so the Cavs will hope he settles for mid-range jumpers. And misses a bunch. Neither got a defensive challenge in the previous round, as Markieff Morris was ejected from every game, and the Wizards got so desperate they tried Otto Porter Sr. for a quarter. Between Kawhi Leonard's injured ankle, LaMarcus Aldridge's sprained knee and Manu Ginobili's osteoporosis, the Spurs struggled to check Durant at all.
Power forward
Draymond Green loves to get under opponents' skin, while Kevin Love has heard it all.
Kyle Terada/USA TODAY Sports
Kevin Love and Draymond Green are both playing some of their best basketball going into the Finals. Love has rediscovered his personal specialties. He's shot great from long range, rebounded voraciously, and during the pre-Finals break, continued his uncle's family tradition and filed a series of lawsuits against Brian Wilson. Meanwhile, Draymond has been the best rim protector of the playoffs despite barely standing 6'5", he's nailed his own three-point shots and he's reached new levels of trolling. He's trash-talked a team in the opposite conference he wasn't ever going to play, he's made fun of fans, he's taken revenge on a beef from a six-year-old college game, and last round, he infuriated San Antonio fans by making fun of the Riverwalk and Tim Duncan's wizard tattoo.
Draymond as playmaker is pretty tough for Love, however. The Warriors take it fast, and Love would rather take it slow. That's the pace he wants to go. Especially with Draymond is shooting threes, Love doesn't have fun, fun, fun trying to deal with him. Expect Cleveland to play a lot of minutes with LeBron at the four, or even the undead Richard Jefferson, as Love sits on the bench, feeling so broke up and wanting to go home. Can he contribute enough on defense and the boards to counter Draymond's offense? God only knows.
Center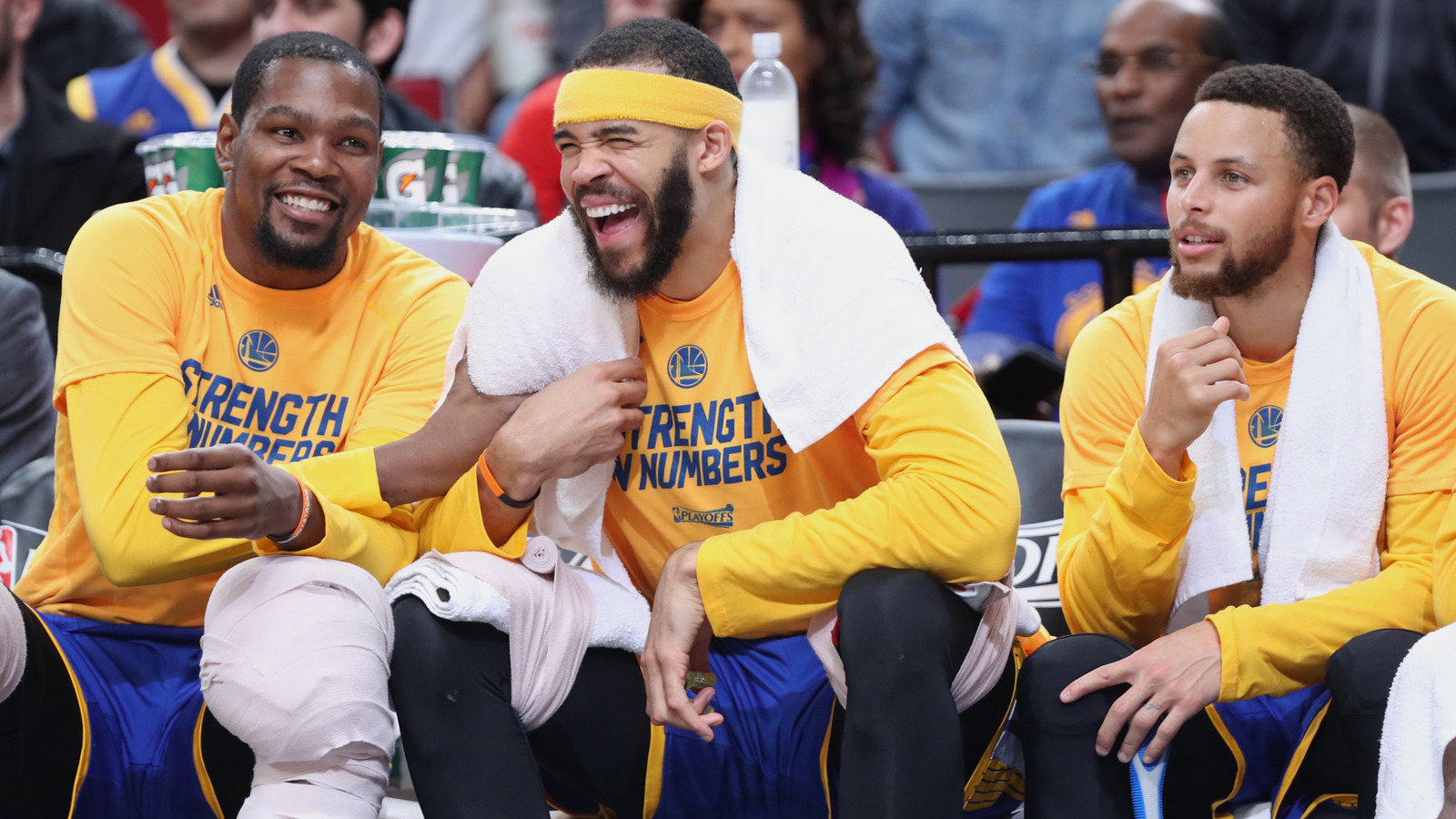 JaVale Mcgee has been all smiles since joining Steph Curry and Kevin Durant on the Warriors.
Jaime Valdez/USA TODAY Sports
This the most tenuous position for either team for a few simple reasons. Both teams have a bunch of older bigs who can't play heavy minutes. Both teams are inclined to go small, playing a non-traditional big who can shoot, like Channing Frye or Draymond with Andre Iguodala at a wing. There's also a huge amount of volatility and worry. 
For the Warriors, it's the reliance on JaVale McGee, who is the most devastating shot-blocking and defensive force that's ever appeared on Shaqtin' A Fool every single week. For Cleveland, it's that Tristan Thompson is dating a Kardashian. Historically, that has not gone well for James Harden, Lamar Odom, Kris Humphries, Reggie Bush or even Ray J. Sure, Thompson's rim protection, speed and rebounding have hurt the Warriors before, but what if Kanye drops a new album in early June? Or Ryan Seacrest decides that consoling Thompson after a Finals sweep would make a great storyline?
Bench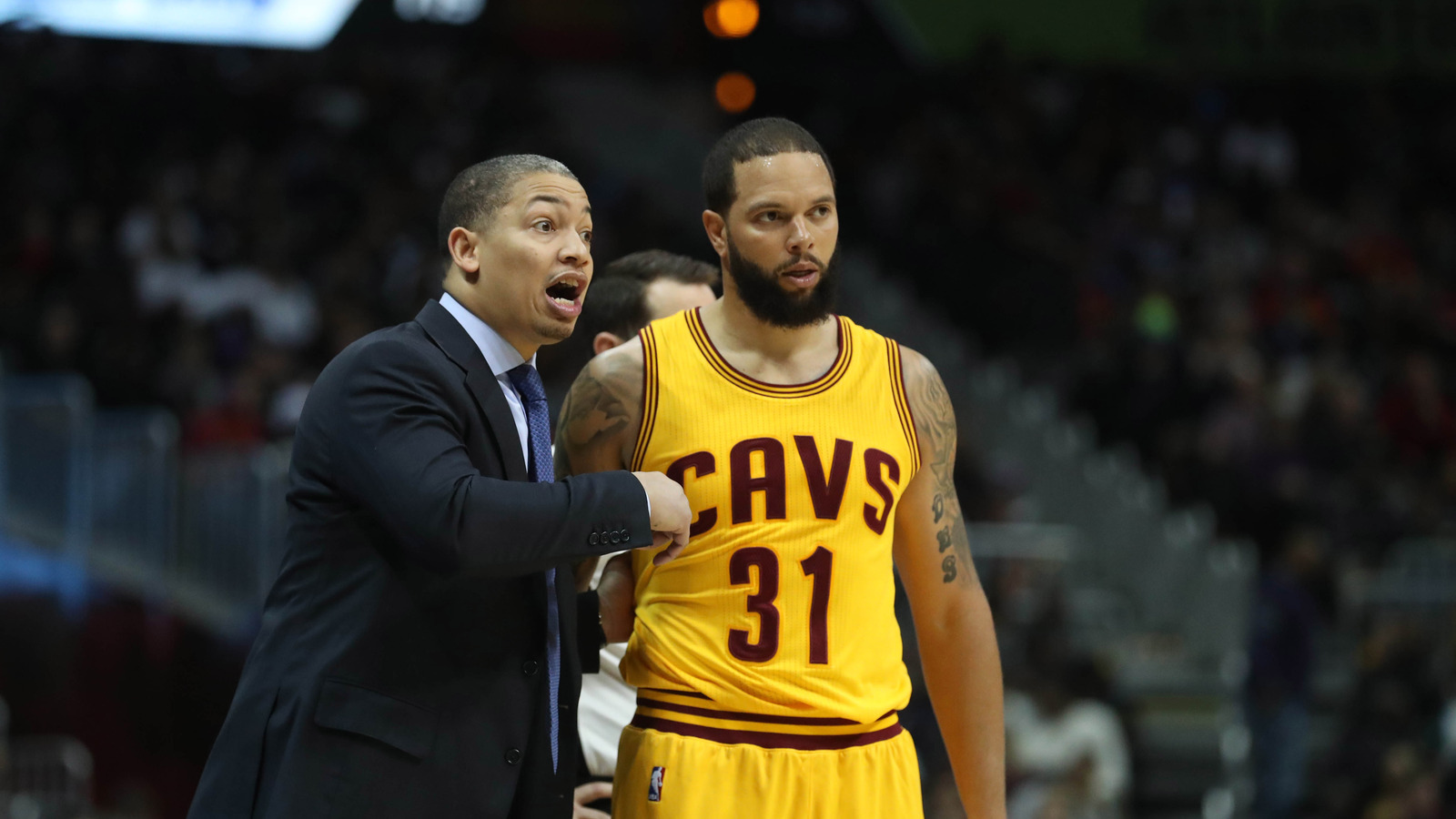 Deron Williams gives Tyronn Lue and the Cavs a veteran point guard off the bench to spell Kyrie Irving.
Jason Getz/USA TODAY Sports
The Cavs run out a bench lineup where everyone is 32 and older, and when they play with LeBron, they're devastating. Frye, Kyle Korver and Deron Williams can all hit threes, while Richard Jefferson… has a very entertaining podcast. Not only can this lineup put up points, but they also go to bed at a reasonable hour, invest their retirement money wisely and embarrass their children with terrible puns. They're all crafty veterans, and their only weakness is athleticism. Or emojis. Still not great with emojis.
Meanwhile, the Warriors have Andre Iguodala, possibly Sixth Man of the Year, who has made a full recovery from chase-down block-related PTSD, courtesy of LeBron. Shaun Livingston's length and post-up abilities have frustrated Cleveland in the past, while Matt Barnes and David West provide toughness and a disincentive for Dahntay Jones to pick a fight. The main advantage the Warriors have is the ability to keep two All-Stars in the game at any time. Can Ian Clark hold up against Cleveland's bench? Probably won't matter, because they'll just bench him.
What's the biggest bench factor? Probably Williams' jersey trolling. When he signed with Cleveland, he was definitely thinking about this series when he chose No. 31. That's 3-1, in case you missed it.
Prediction
The Cavaliers have been able to neutralize Curry and Thompson in the past, but it's going to be tough for them to also contain Kevin Durant. They've got to hope the Warriors miss open shots on the perimeter and that J.R. Smith turns down free shots on Saturday nights. 
It's hard to pick against Cleveland, especially after the team's average margin of victory over Washington was 27 points, and LeBron got short-listed for the Nobel Prize, but the Warriors are like Idaho — wide open spaces and way too many weapons. The pick is Warriors in 5, which is good because Kerr has to return to space for his follow-up appointment in mid-June.
MORE FROM YARDBARKER:
QUIZ: Name every player on the 2015-16 Cleveland Cavaliers Finals-winning team
The Cavaliers brought the city of Cleveland its first sports championship in 52 years after a historic comeback over the Golden State Warriors. Can you name the 15 players on that championship Cavs roster?
MORE FROM YARDBARKER
NBA News

Delivered to your inbox

You'll also receive Yardbarker's daily Top 10, featuring the best sports stories from around the web. Customize your newsletter to get articles on your favorite sports and teams. And the best part? It's free!