The Rewind: Michael Jordan's last All-Star Game
By Jason Clinkscales | Last updated 2/17/17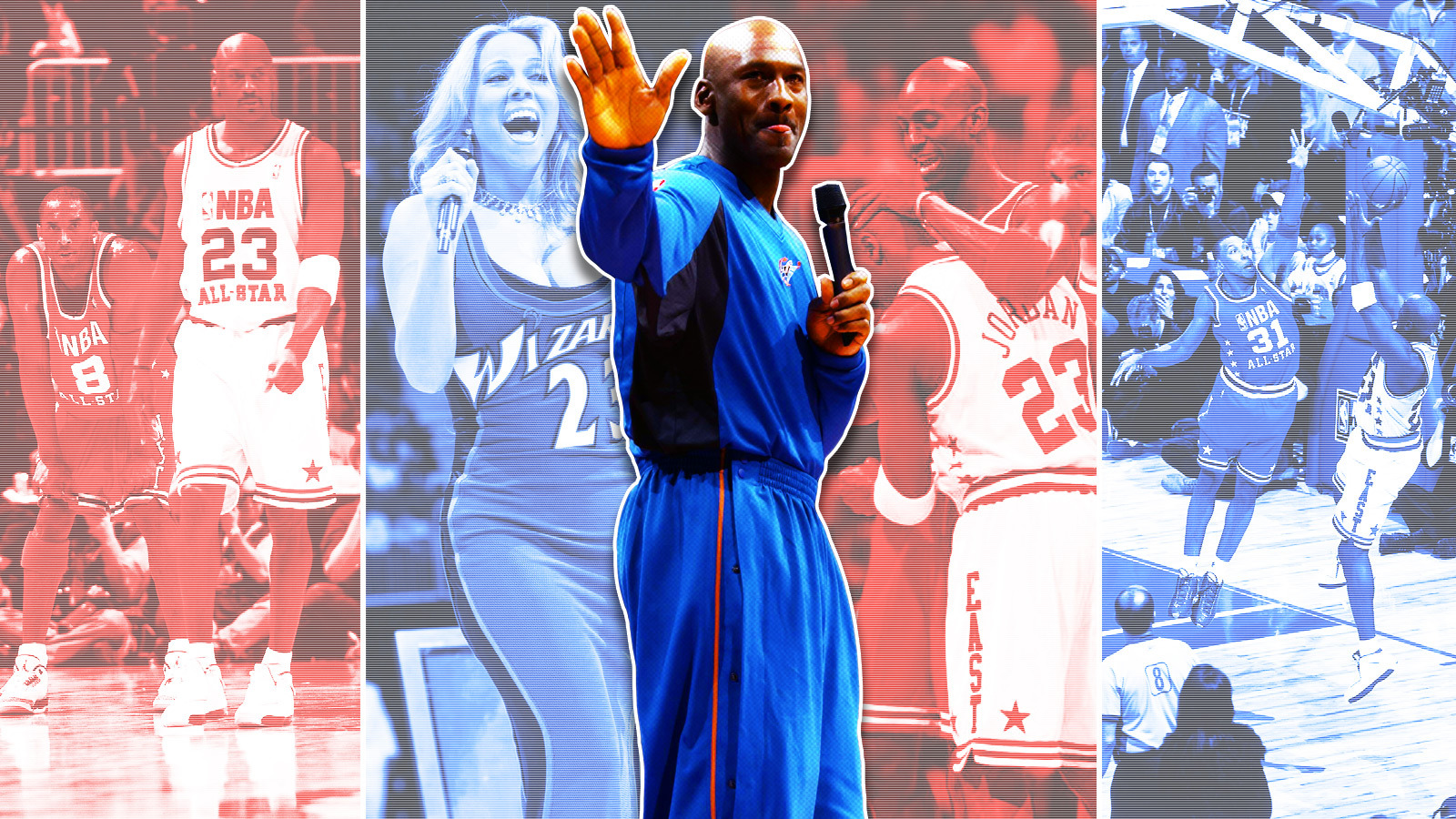 Yardbarker Illustration
Welcome to The Rewind, where we dig through tapes, YouTube videos and streaming services and revisit some of the most interesting games in history. There is something special about revisiting a favorite movie, a favorite show no longer on the air, or even just pulling out an album and giving it a spin the whole way through for the first time in a long while. Inevitably you pick up on the things you missed the first time around; a quiet moment in a song, a piece of scenery falling in the background, a joke that flew by you before – or maybe you just want to laugh at a joke you've already laughed at a hundred times before. Why don't we do the same with sports? We do in a way, highlight reels, maybe we have a DVD of the time our favorite team won a championship. But sitting through an entire game the whole way through when you know the final score? Frankly, that's the good stuff. Watching an entire game plan develop, figuring out which changes to the rules over the years would have resulted in a different outcome and seeing green rookies before they're superstars.
---
Michael Jordan wasn't supposed to be in Atlanta on February 9, 2003. That's somewhat literal—he was going to turn 40 years old over a week later and should have been throwing an absurdly lavish gala in his mansion or playing a round of 18 at his favorite golf course.
Yet, he wasn't supposed to be there in another sense. Because of his very brilliance, he had inspired a globalized evolution of the NBA and the game of basketball. He was and remains the prototype of a shooting guard, but he (among many other legends) was also inspiring players who would have grown up to be post-dominant forwards and centers to handle the rock and shoot in space. His work was already done when the Washington Wizards came calling.
After his front-office involvement was brokered by then-NBA Commissioner David Stern, Jordan would suit up for the Wizards for parts of two seasons in hopes of trying to pull this dormant franchise into the black with his presence. His time in the nation's capital somewhat scrubbed from memory of his biggest fans—he was 'Floor Jordan' in those days instead of reshaping the air around him.
There were few highlights when he wore the Wizards blue, but highlights that nonetheless helped make the case for All-Star nods in both seasons. While the 2002 festivities were known for his missed dunk, it was the 2003 All-Star Game that rightfully captivated us then and should hold your attention now. In re-watching the game, you'll see Jordan going back to the future for an evening, playing with and against many of the very young men whose styles were influenced by him.
For his 40th birthday, the brilliant Sports Illustrated scribe Jack McCollum said what was both incredible and painfully obvious about the legend:
"Though Jordan was still scoring 18.8 points per game at the All-Star break—respectable by any measure, extraordinary for a 39 year-old—he rarely faces double teams, and even at the ends of games he does not get doubled. During the 1980s and '90s, when Jordan had the ball in the final seconds, he looked like a bank robber being cornered by the cops, so dense and frenetic was the defensive pressure. 'You still have to guard him, but it's no longer worth the risk to leave somebody else open,' says one Eastern Conference coach, requesting anonymity for fear that Michael would make him eat those words later this season."
Even in an exhibition, that coach's quote was exactly what teams had done with Jordan 3.0. It was even more telling considering the huge controversy leading up to his inclusion into the All-Star Game. Vince Carter, a predetermined heir apparent to Air Jordan who ended up carving a great career in his own right, was voted as a starter for the East despite playing in just 13 games. The hot takes about the then-Toronto Raptors star were plenty leading right up to the public address announcement that he gave his spot to Jordan after all.
And so here was the final grand stage to star Michael Jeffrey Jordan.
Q1-11:25: Jordan gets the ball and the crowd love for the first time after a Ben Wallace rebound. The cheers were going to be loud anyway, but add the "oh, it's on now!" factor when the guy who guards him is Jordan's greatest imitator, Kobe Bryant. The first one-on-one lasts a mere two seconds as Wallace comes to screen Bryant off of Jordan. Jordan misses the long three over the very long Yao Ming, to which then-TNT analyst Jeff Van Gundy quips "Yao probably never, ever thought he would be matched up one-on-one against Michael Jordan in an All-Star Game."
Q1-9:55: Ever the mimic, Kobe tries a baseline up and under, but was met by three defenders, including Jordan, at the rim. It may have not been a direct homage or even a challenge, but it was funny to see that the student couldn't quite pull off one of the master's signature moves.
For the remainder of the first quarter, Jordan just keeps missing shots that he had always made. It was almost getting to the point where you would wonder if there would be any magic to be had. Missing mid-range jumpers that were his bread and butter, the voice of the Jordan era, Marv Albert, chimed that "this crowd wants, so badly, for Michael to hit that first shot. He's 0-for-3."
Q1-6:04: But we almost get the Mike of old for a brief moment. Allen Iverson gets a steal and sprints up court, looking for a trailer. That doesn't materialize and the ball gets to Wallace in the post, waiting for someone in the perimeter. He dribbles away from the hoop and sees His Airness cleared for takeoff. A finger roll from the left side misses the mark. MJ gets his own rebound on the baseline, but misses another shot. 0-for-5 and a lot of "what in the hell?" in Atlanta.
Jordan is starting to turn up his on defensive effort a bit because he's getting antsy about not having scored yet.
Q1-2:52: After a Brad Miller rebound, Jason Kidd pushes for a transition bucket and sees MJ to his right, but it's a 3-on-2 advantage in the West's favor. Kidd knows he'll get Jordan the closer they get to the rim. Either because it was the usual poor defense of the All-Star Game or a bit of sympathy, Mike gets the rock for an unchallenged layup. 1-for-8, tying the game at 18 each.
Jordan would make another shot a couple of possessions later, saying "it's about time" as he tracked back on defense. He finally took to the bench with just over a minute left in the first quarter. Yet as soon as he left the court, the new era of the NBA shows itself in the second quarter. As Marv brings up the "intriguing dynamics" of the East team after the late Craig Sager's bench interview with Jordan, here came acrobatic alley-oops from Vince Carter and Shawn Marion from both ends. As the commentating table brought up the combative history between Jordan and East All-Star coach Isiah Thomas, they ignore the long flowing mane of Dirk Nowitzki tallying the nine of the West's next 11 points.
With the East leading 43-36 late in the 2nd quarter, Jordan comes back to the game as well as his shadow, Bryant. As both teams trade possessions, TNT's other analyst Mike Fratello opines that the game settled back down from the lob passes and careless ball handling because both of them "bring a sense of order to the game." Yet, you could also argue that things slowed down because most of the players knew the crowd wanted to see Old Man Mike work himself at his pace for as long as he remains in the game.
Sidenote: At the end of the half, the West's coach Rick Adelman threw out the possibly the biggest lineup in history: Yao at center, Shaquille O'Neal at power forward, Tim Duncan at small forward and Kevin Garnett at shooting guard, being defended by Jordan. (Dirk Nowitzki wanted to run point, but it ended up being West starter Steve Francis). Believe it or not, they ran a fairly efficient offense to end the first half.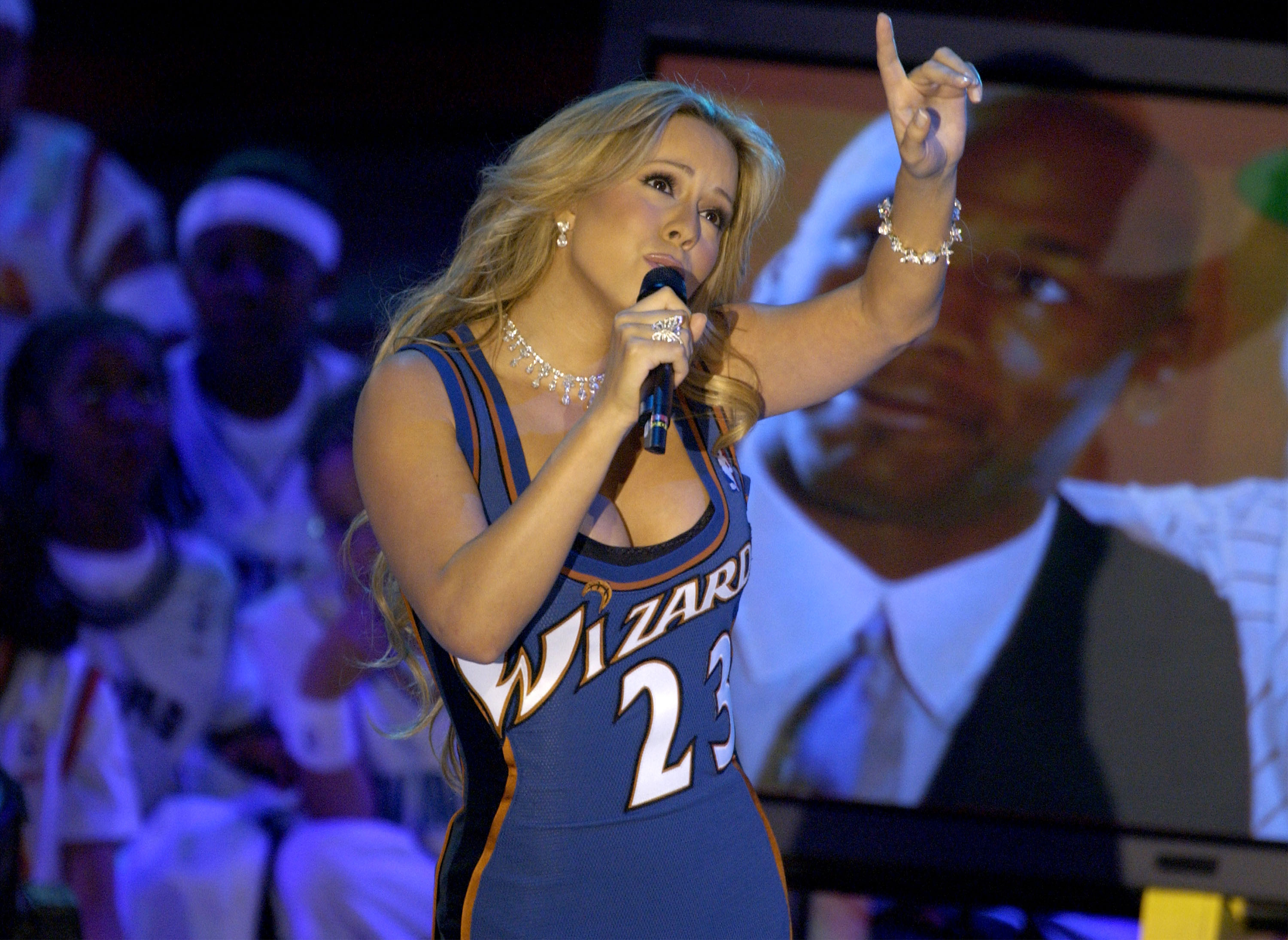 Vince Bucci/Getty Images
We get to the halftime show, a total homage to Jordan which included the biggest high school prom attire inspiration in NBA history.
Q3-4:40: Jordan comes off the bench to start the second half, which is what he said he wanted to do all along until Carter gave up his spot. Already passing the great Oscar Robertson for 2nd all-time in career All-Star Game scoring, he's three points behind Kareem Abdul-Jabbar for the top spot. Off a Jermaine O'Neal screen, he tries one of those tongue-wagging finger rolls, but is emphatically rejected by Shaq. The crowd isn't pleased. Jordan is 3-for-13.
Q3-3:07: Jordan runs point with Tracy McGrady, Carter, Jermaine O'Neal and Wallace. He takes it back to the 1996 NBA Finals by posting down Seattle's Gary Payton into his signature fadeaway. Maybe he was finding his rhythm.
Just let this play through to the next beat. 
Q3-2:04: Bringing the ball up court, he's fouled on a reach around by Payton, putting him at the free throw line after the TV timeout. He sinks both free throws to pass the legendary center. A McGrady three and Jamal Mashburn's sweet dish to a cutting Wallace gave the East a nine point advantage. Thing was, while all eyes were on Mike, T-Mac almost quietly scored 17 of his 22 points (and counting) in the third quarter.
Jordan starts the fourth quarter with ten points despite some bad shooting. Both teams have kept the contest close as the East has a 93-88 lead. It's normally in the fourth when every player decides it's time to get a little serious while putting on a show. The West, largely through Shaq, ends up tying the game and the lead is tossed around for much of the period.
Q4-7:52: It's taken all evening, but Jordan finds some sort of flow from here on out. He tallies a transition assist off of a Jermaine O'Neal layup. Iverson, who was a surprisingly great pass-first playmaker all night, follows up a Jordan miss with his own make on the next possession, yet MJ has some more bounce to his step. With just under six minutes left, Jordan then gets a fast break bucket himself from an Iverson assist after then-Dallas Maverick Steve Nash inexplicably misses a free throw. After a timeout and another missed free throw, Jason Kidd finds MJ for an 18-footer to seemingly keep the West at bay. Later, Kidd connects with Jordan again for a jumper inside the three-point line.
So here's the thing. Jordan getting so much playing time wasn't going over very well with some of the East stars. Boston's Paul Pierce and Antoine Walker had told Craig Sager to "ask the coach" about their playing time in the second half. Thomas himself proclaimed "it's my team." 
While that happened, Kobe does this.
You would have thought that the East could have comfortably pulled away, especially after Jordan used and abused Nowitzki for an up-and-under and the 120-112 lead with two minutes left. But then Garnett and Duncan decided to take over, propelling the West's 8-0 run and bringing the game's first overtime. Jordan twice had storybook chances to give the East the win, but was denied on a Shawn Marion block and missed a fadeaway jumper with three seconds left. Isiah Thomas didn't freeze him out.
Jordan started overtime on the bench, the teams stayed in fourth quarter mode, which set up perfectly for a quintessential MJ moment. Halfway through the extra period, Jordan re-enters the game as Iverson and Bryant were trading shots.
OT #1-:23: The game was tied at 136 after Shaq made one of two free throws when that moment – you know, that moment – finally came. Jason Kidd milks the play clock as much as he could before giving #23 the ball with nine seconds left.
Yet, that wasn't the finisher for the East. Kobe Bryant made two of three free throws resulting from being fouled on a game-winning three-point attempt. Kevin Garnett would take over the extra frame for the West en route to All-Star MVP honors.
The game was seemingly grooved with Jordan's third and absolutely final retirement in mind, even if his aching knees were telling him to ease up. There he was, hoisting up shots for a crowd starved for a glimmer of his prime, trying to prove he could still run with basketball's best of the best for one night. If you ignore the first quarter and overtime, he actually did.
Jordan was on the floor with flashes of his athletic prime evident in Bryant, Carter and McGrady. Combo guards like Iverson, Francis and Stephon Marbury shared his rim-attacking tenacity. As one of those evolved big men, Garnett had the competitor's spirit combined with a guard-like fluidity. The closest player to mirror his larger than life personality was Shaq. And the fruits of his global reach were evident in the German-born Nowitzki and Yao, the league's first Chinese superstar.
During halftime, Michael Jordan said a few words to the crowd after a stirring video tribute and Mariah Carey's wardrobe homage. There was one quote in particular that you wish he said during his infamous Basketball Hall of Fame induction six years later. "Thank you for your support. Now I can go home and feel at peace with the game of basketball." Perhaps after this night in Atlanta with his legacy on prime display, he finally did.
MORE FROM YARDBARKER
NBA News

Delivered to your inbox

You'll also receive Yardbarker's daily Top 10, featuring the best sports stories from around the web. Customize your newsletter to get articles on your favorite sports and teams. And the best part? It's free!