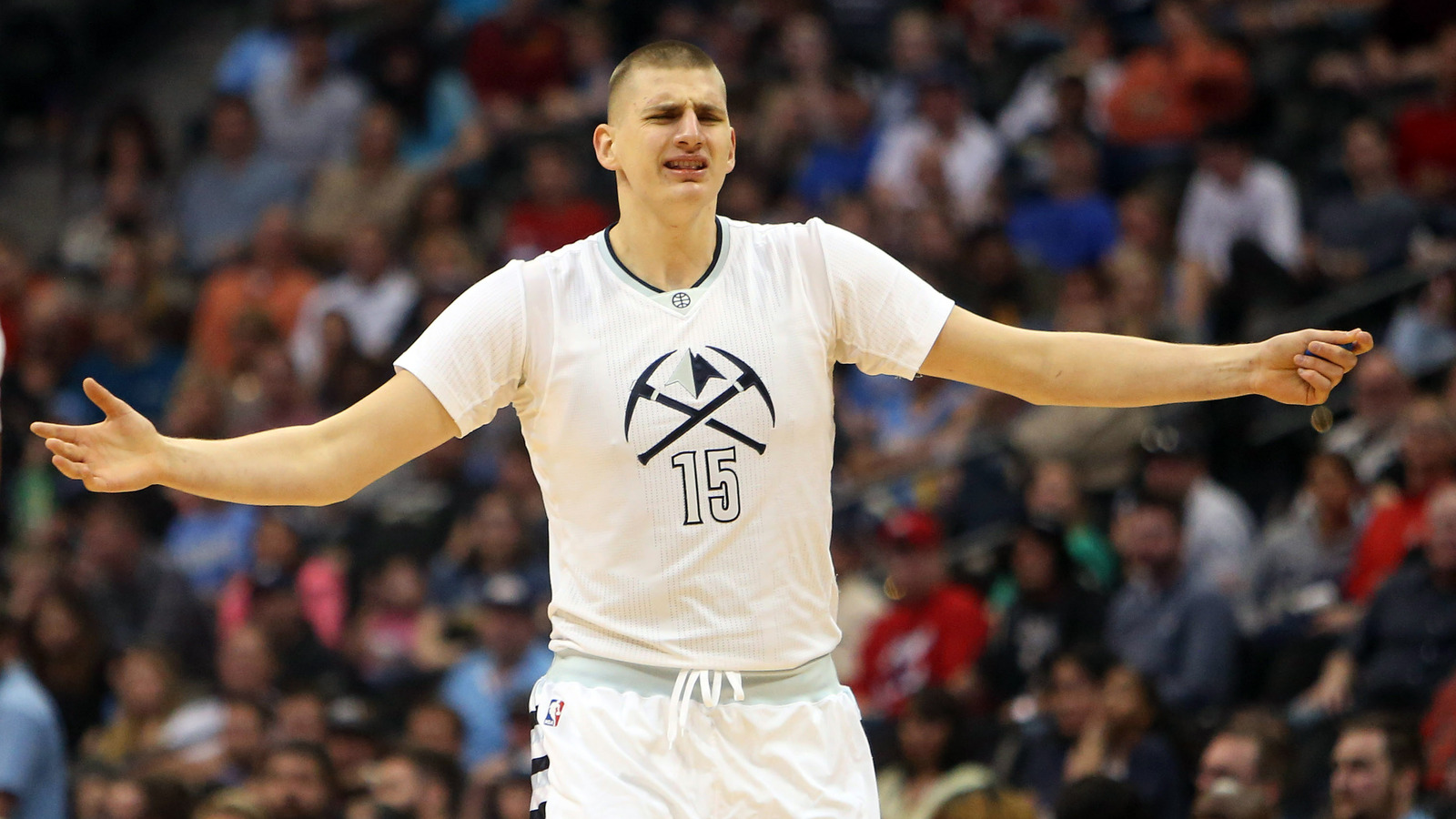 Denver Nuggets center Nikola Jokic emerged in the 2016-17 season.
Chris Humphreys-USA TODAY Sports
Throughout the offseason, we'll be counting down the Top 50 players in the NBA from 50 to 1. Who will just miss the cut? Which names do you expect to see? Regardless, you'll be able to find them all right here.
Why He's Great: After earning a full-time starting role, Nikola Jokić averaged 5.8 assists per game. Here is a list of players who did not average 5.8 assists per game last season:
Kemba Walker
Giannis Antetokounmpo
D'Angelo Russell
Tony Parker
Dwyane Wade
Derrick Rose
Here is some pertinent information: Nikola Jokić is a center. What am I supposed to do with that information? How would you react to a tight end leading the NFL in rushing? The most optimistic comparison for Jokić is Bill Walton, but BILL WALTON never did that.
And all of this happened in Jokić's second NBA season. Where the hell is this going? Could he average a triple-double? Could he post a quadruple-double in a game? Heck, could he average 10 rebounds per game and shoot 40 percent from three-point range?
Projection is the most fun NBA parlor game, and Nikola Jokić, a former No. 41 overall pick who has played 153 NBA games, is suddenly the third-most fascinating long-term prospect in the NBA behind Joel Embiid (Hakeem Olajuwon… but he can shoot three-pointers) and Giannis Antetokounmpo (LeBron… but longer). This is by a wide margin the least likely development of the past decade of NBA history. It's likelier that the Warriors win the next 10 championships than this happening again. Nikola Jokić might be our chance to see what Arvydas Sabonis would have done with a full NBA career, and he came completely out of nowhere.
Why He's Below No. 26 (Paul Millsap): Because Paul Millsap plays defense. Offense is more important than defense, but Millsap and Hassan Whiteside (No. 28) are around even on that end. Millsap is a better offensive player by a decent margin, which pushes him past both Whiteside and Jokić. A great defensive player who is also very good on offense is better than a great offensive player who doesn't do much on defense.
That's a long-term concern for Jokić. He doesn't have the body of a modern center. He was flabby when he was younger and even still isn't in perfect shape. Moreover, he's never going to be the sort of mobile, switchy defensive big man teams crave right now. He's good enough on offense for that to matter less than it does for lesser players, but it has to matter on lists like this. That's the biggest obstacle between Jokić and MVP candidacy.
MORE FROM YARDBARKER:
QUIZ: Name every foreign country represented by active NBA players
There are 43 foreign countries represented by active players in the NBA as of the start of the 2016-17 season. How many of these countries can you name?
MORE FROM YARDBARKER
Nuggets News

Delivered to your inbox

You'll also receive Yardbarker's daily Top 10, featuring the best sports stories from around the web. Customize your newsletter to get articles on your favorite sports and teams. And the best part? It's free!