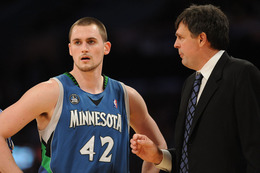 For the first time in three years, the Minnesota Timberwolves are looking to win consecutive games in April. Whether star Kevin Love will be on the court to help them accomplish that remains to be seen. The Timberwolves look to build on their first victory in almost a month while trying to avoid a 16th straight April home defeat Sunday night against the Golden State Warriors, who hope to avoid a ninth consecutive loss overall. Minnesota (26-38) had lost 27 straight games in April dating to 2009 before snapping an 11-game overall skid with a 91-80 win at Detroit on Thursday. "We finally got a win," said guard J.J. Barea, who had 13 points, 12 assists and six rebounds. Hit hard by injuries, the Timberwolves are looking for anything positive to finish the season after falling out of playoff contention in the Western Conference. "Hopefully, we can win out and build on this," forward Anthony Randolph told the Timberwolves' official website after he had 15 points and 10 rebounds against the Pistons. "We're all competitive. Everybody wants to win and this has been a tough season. We lost a lot of important guys. If we had everyone here and we were healthy, we would have make the playoffs, no problem." It's uncertain if Love will miss a sixth straight game with a concussion. Averaging a career-high 26.0 points with 13.3 rebounds, Love went through a light practice Saturday and has passed all the required post-concussion tests. "I just want to be back out there and be part of the team again," Love said. "If I'm able to play, I'll go out there. If not, then so be it. But I'm just trying to work back." Though the Timberwolves have no real reason to play Love, they could certainly use their All-Star as they try to snap a six-game home skid. Minnesota has dropped 15 in a row at home in April dating to a 110-101 overtime victory over Milwaukee on April 16, 2008. Minnesota split the first two meetings this season with Golden State (22-41). Love had 29 points and 12 rebounds in the Timberwolves' 97-94 home loss to the Warriors on April 4. Golden State, however, has allowed 110.0 points per contest on 49.9 percent shooting during a season-high six-game road skid since that victory in Minnesota. The Warriors' 99-96 defeat at Houston on Saturday also extended their season-high overall skid to eight games. Rookie guard Klay Thompson scored 24 points as the depleted Warriors lost for the 20th time in 24 games. The end of the season likely can't come soon enough for Golden State, which has been hampered by injuries to forwards David Lee (groin and stress reaction), Andris Biedrins (concussion) and guard Stephen Curry (ankle). The team announced earlier Saturday that Curry and Andrew Bogut would undergo surgery on their injured ankles, then went out and shot 49.3 percent to remain competitive against a club fighting for a playoff spot. "I was really proud of my guys," coach Mark Jackson said. "We were short-handed, but put ourselves in position down the stretch to win the ballgame." Thompson has averaged 24.0 points on 47.1 percent shooting in the last six games.

Read the rest of this story...
MORE FROM YARDBARKER
NBA News

Delivered to your inbox

You'll also receive Yardbarker's daily Top 10, featuring the best sports stories from around the web. Customize your newsletter to get articles on your favorite sports and teams. And the best part? It's free!